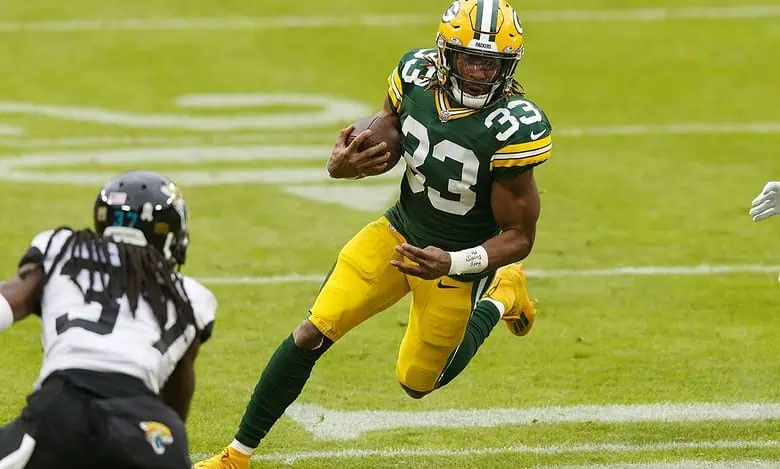 Week 1 of the NFL season is here, and there is a monster game to kick things off on Sunday afternoon in Chicago. The Bears are hosting the Green Bay Packers, and this is one of the best rivalries in the entire world of sports.
Green Bay failed to reach the playoffs a season ago, and this team made some big changes to their roster in the offseason. The Packers are expected to be a playoff contender in 2023, but they are no longer the big favorite to win the NFC North.
Chicago ended the 2022-23 season with just three wins, but they were actually a much better team than that. The Bears are hoping to surprise many people by being a playoff contender this season, and they feel like they have the talent to get that done.
Chicago is a one-point betting favorite over their rivals in this Week 1 matchup on Sunday afternoon at Soldier Field.
Packers Going With Love
The Green Bay Packers made the interesting decision to move on from Aaron Rodgers this offseason, and they will be turning to Jordan Love. There is plenty of hype surrounding Love and his potential, but he hasn't exactly proven that he can be a great player in this league.
Running back Aaron Jones is expected to remain a huge part of this offense, and Green Bay will need to find balance on offense. The Packers will no longer scare teams when they have the ball, at least until Love proves that he can be elite.
Green Bay should be a solid defensive team this season, as that unit was starting to really play well at the end of last year.
Time for Fields to Shine
The Chicago Bears are putting all of their faith in Justin Fields, and he will have to dominate for this team to play well. Fields rushed for over 1,100 yards a season ago, but the Bears are more interested in seeing him throw the football this season.
Wide receiver D.J. Moore will give the Bears the best weapon that they have had in years, and he will be a big part of the offense. Chicago typically wins games with defense, but this season, it will be the offense that should stand out.
There are some serious concerns on defense for the Bears, and that could end up causing some issues for this team. The defense simply needs to give the offense a chance to step up and win this game.
Bears Blow Out the Packers
This rivalry always seems to deliver some classic games, and it's a great way for the NFL to start things off this season. Green Bay is coming into the year with a big question mark at the quarterback position, and that is going to create some real issues.
Justin Fields and the Bears simply have to win this game, and that offense is going to have a great day in this one. Green Bay is going to look like a mess on offense at times in this game, and they just won't be able to keep up.
Bet the Chicago Bears -1.0 as they are going to put on a show at Soldier Field on Sunday afternoon to pick up a blowout win over the Green Bay Packers.