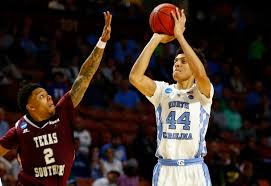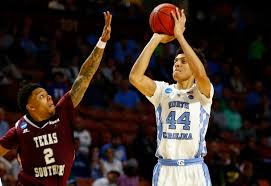 We have two 2017 March Madness Second Round South free picks, #10 Wichita State at #2 Kentucky at 2:40 p.m. ET. The second game offers #8 Arkansas playing #1 North Carolina. That game tips off at 6:10 p.m. ET. There's one more South Region game, which will be played tonight. That contest is between #6 Cincinnati and #3 UCLA. It's the finals game of round two, starting at 9:30 p.m. ET.
After today's games are finished, we'll be down to the Sweet 16. That round will be played on Mar. 23 and 24 with the fourth round, the Elite Eight, being played on Mar. 25 and 26. Here's how we see these two contests going.
#10 Wichita State at #2 Kentucky
2:40 PM CBS
Bankers Life Fieldhouse, Indianapolis, Indiana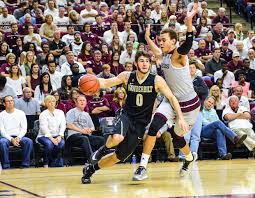 The #10 Wichita State Shockers took down the #7 Dayton Flyers in round one 64-58. The game was close all the way to the end. The Shockers, the underdogs in the contest, pulled out their 16th-straight win. Now they must meet the Kentucky. The #2 Wildcats easily took out the #15 Northern Kentucky Norse 79-70. Kentucky freshman Bam Adebayo had 15 points and 18 rebounds in the win.
Wichita State
The Shockers played decent defense against the Flyers on Saturday. They'll need to show some prowess in that area once again if they are going to have a chance to move forward. Wichita State is averaging 82 PPG, 41 RPG, and 7 SPG. All of which offer promise in this game. Markis McDuffie, Darral Willis Jr., and Shaquille Morris each offer double-digit scoring chops all each also averages five rebounds per game. Freshman guard Landry Shamet, who is averaging 11 PPG, hits 45% of his threes. Five players come off the bench to offer quality minutes.
Kentucky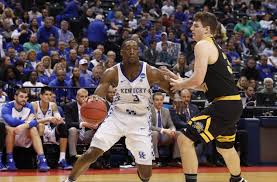 For the Wildcats, freshmen Malik Monk, De'Aaron Fox and Edrice Adebayo are all tough to stop. Guards Monk and Fox connect from the field about 45% of the time. Monk is tops in scoring, averaging 20.2 PPG, while hitting 39% of his threes. Fox is one of those players who can just about do it all, scoring, rebounding, and setting up plays. One thing he cannot do is hit threes. Adebayo leads the team in rebounds with 8.1 per game and is averaging 13.3 PPG while hitting 61% from the field. Sophomore Isaiah Briscoe is averaging 4.2 APG, 5.5 RPG, and 12.7 PPG.
Kentucky is favored by 4.5 points and the totals bet is at 149.0 . The Shockers are five percentage points better from the three-point arc and four points better from the foul stripe. The Wildcats are averaging four more points per game than Wichita State. Each team is averaging 80-plus points per game. Take the over at 149.0 and the Shockers at +4.5.
2017 March Madness Second Round South Free Pick: Wichita State at +4.5 and over 149.0.
#8 Arkansas at #1 North Carolina
6:10 PM TNT
Bon Secours Wellness Arena, Greenville, South Carolina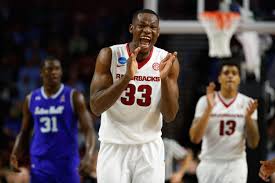 The Arkansas Razorbacks won their first round contest, beating the Seton Hall Pirates 77-71. The teams were tied at the half with each having 37 points. With 57.8 seconds left in the game, Jaylen Barford put in the go-ahead layup, which helped the Razorbacks take down the Pirates. Barford had 20 points in the game. The Tar Heels played true to their number one seed designation. Beating 16-seed Texas Southern 103-64.
Arkansas
The Razorbacks are averaging 80 PPG. At the same time, they have some very fine defensive players who should prove to be troublesome to the Tar Heels. In the frontcourt, Moses Kingsley is posting 2.6 BPG while pulling down 7.8 RPG and scoring 12.1 PPG. Senior guard Dusty Hannahs leads all Arkansas players with 14.6 PPG. He's good on 39% of his shots. Daryl Macon and Jaylen Barford are both averaging 13 PPG.
North Carolina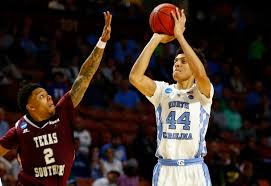 The Tar Heels have a dynamic frontcourt that includes Justin Jackson, Kennedy Meeks, and Isaiah Hicks. Jackson is averaging 18.1 PPG, Meeks is good for 14.5 PPG, 3.2 RPG, and 3.7 APG, and Hicks is grabbing 9.0 RPG while scoring 12.6 PPG and connecting in 61% of his shots. Guard Joel Berry III hits from the field and beyond the arc 45% and 41% of the time respectively, while averaging 14.5 PPG and 3.7 APG.
The Tar Heels are pulling down 44 RPG while the Razorbacks are taking in 36. Arkansas is better at the foul line by six percentage points. North Carolina holds the advantage in average points 85 to 80. The Tar Heels are at -11.5. We're taking the Razorbacks and the under at 165.0.
2017 March Madness Second Round South Free Pick: Arkansas at +11.5 and the under at 165.0
2017 March Madness Second Round South Free Picks
That's it for our first two 2017 March Madness Second Round South free picks for Sunday. We'll have one more posted shortly. We expect the two games above to be quite competitive.