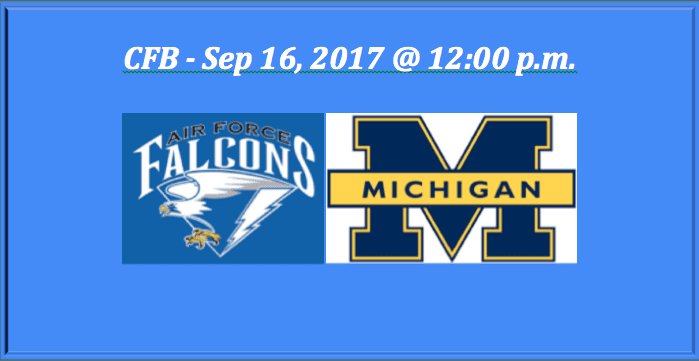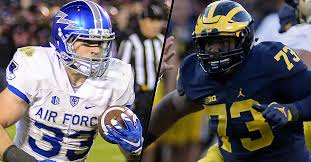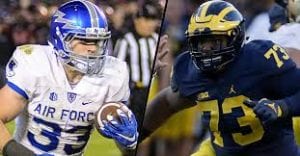 The high-flying, high scoring Air Force Falcons (1-0) will play the stout defense of the #7 Michigan Wolverines (2-0) at noon. In their first game of the 2017 season, the Falcons, who reside in the Mountain West Conference Mountain Division, beat VMI 62-0. Michigan, of the Big Ten, took on #17 Florida, beating them 33-17, and then Cincinnati, taking them down 36-14. Our Air Force plays Michigan 2017 college football pick has the Wolverines at -23.0 and the totals at 51.5.
Air Force Offense vs. Wolverines Defense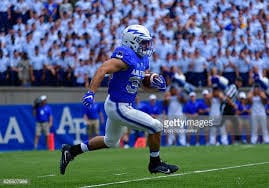 The Air Force offense is based on rushing. In the first game, seven different players ran for TDs. RB Timothy McVey had 98 yards on 10 carries and one touchdown. RB Parker Wilson averaged 16.0 YPA. The ground game is loaded. The pass attack will be minimal, but it can be used at opportune moments to score.
The Michigan defense is loaded with experienced players. This unit has three touchdowns thus far this season. Deep back/safety Tyree Kinnel (15 TCKLs, 1.0 SCKs, 2.5 TFL) is a major force as is LB Devin Bush (14 TCKLs, 3 SCKs, 4 TFL). The D has forced four fumbles thus far.
Michigan Offense vs. Falcons Defense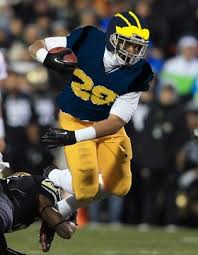 Although QB Wilton Speight has completed just 52 percent of this passes while giving up two picks, he has over 400 yards and three TD passes. The Wolverines offer a more balanced attack than the Falcons. Senior RB Ty Isaac is averaging 8.0 YPA and has 247 totals rushing yards over two games. Sophomore RB Chris Evans, who has 93 yards total, is averaging 3.4 YPA. Three different receivers have caught one TD pass each with each averaging at least 14 YPC.
The Falcon defense has 10 new starters and has yet to be tested. They could prove to be vulnerable to both the pass and run. Last season, they struggled against the pass. DL Santo Coppola comes to this game with one sack and one TFL.
Air Force Plays Michigan 2017 College Football Pick
Our Air Force plays Michigan 2017 college football pick likes the Wolverines at -23.0 and the under at 51.5. We think this game will end with a score that greatly favors Michigan.
Air Force Plays Michigan 2017 College Football Pick: Michigan at -23.0 and under 51.5