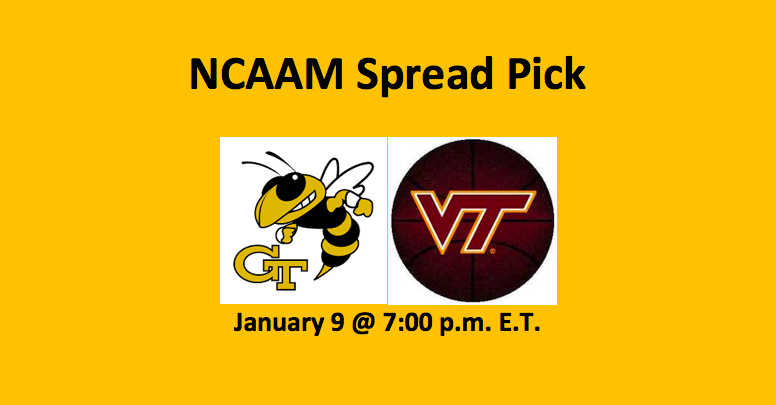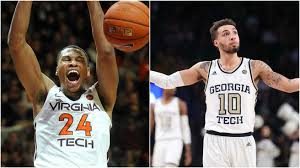 For tonight, Wednesday, Jan. 9, it's our Georgia Tech vs Virginia Tech preview and pick. The #9 Virginia Tech Hokies (13-1 Overall, 2-0 ACC) come into this game with an offense that is churning on all cylinders. The Hokies have won eight games straight and are 9-1 over their last 10 contests. The unranked Georgia Tech Yellow Jackets (9-6 Overall, 1-0 ACC) have a bit of a winning too. GT has won four games without a loss. They are 6-4 for their last 10 games. The Jackets last played on Jan. 5, beating Wake Forrest 92-79. VT also last played on Jan. 5. They took down Boston College 77-66. Our Georgia Tech vs Virginia Tech preview and pick has the Hokies favored by 7.0. They opened at -8.0.
Player Performance
Here are the players on each team who look to be important contributors in tonight's contest. How they go, so too goes the game.
Georgia Tech
The Yellow Jackets are led by sophomore guard Jose Alvarado and senior guard Brandon Alston. Alvarado is first for GT in scoring (13.1 PPG) and assists (3.3 APG). He's a 42% shooter from the field, but is hitting just 25% of his threes. Alston, who's good on 49% of his shots from the floor and 42% of this three-pointers, is second in points per game with 10.4. In the paint, junior forward James Banks III is bringing down 8.2 RPG while blocking 2.5 shots per game. The 61% shooter is averaging 9.8 PPG. Finally, freshman guard Michael Devoe is sinking 43% of his field goals while averaging 9.1 PPG.
Virginia Tech
Our Georgia Tech vs Virginia Tech preview notes that the Hokies are a team that likes a lot of ball movement, and they possess the potential to be a scoring machine. When it comes to ball movement, senior guard Justin Robinson, who's averaging 6.0 APG, has some fine playmaking chops, as does sophomore guard Nickeil Alexander-Walker, who comes to the game averaging 3.4 APG. Alexander-Walker leads the team in scoring, with 18.8 PPG. He's hitting 58% of his shots from the field and 47% from downtown. Robinson is third in scoring, averaging 13.3 PPG. Together, Robinson and Alexander-Walker are making 4.2 steals per game. Junior forward Kerry Blackshear Jr. is a solid inside presence. He's second on the Hokies in points per game, averaging 14.1, and first in rebounds with 5.9 per game. Another important contributor is senior guard Ahmed Hill, who been sinking 47% of his threes and averaging 12.6 PPG.
When it comes to offensive weapons and depth, then VT has a clear advantage. On defense, Georgia Tech can be tough in the paint, while the Hokies offer pressure in transition and in the backcourt. VT rises above when it comes to player performance.
Edge: Virginia Tech
Stats to Consider
The Yellow Jackets top the Hokies in BPG (5.4-to-2.6) and RPG (35.2-to-34.1). The two teams are just about even in steals, 7.4 PG for the Hokies and 7.9 PG for the Jackets. When it comes to scoring, VT leads in every category. Scoring offense, it's 81.1 PPG-to-72.8 PPG, while scoring defense has the Hokies at 57.9 PPG and GT 63.1 PPG. Others categories where Virginia Tech excels include field goal percentage (51.4%-to-45.9%), free throw percentage (74.1%-to-73.1%), and three-point percentage (44.2%-to-30.5%)
In the long and the short, our Georgia Tech vs Virginia Tech preview and pick finds that the Hokies are clear winners in the stats category. It's true that the Yellow Jackets are tops in blocks and rebounding, but then VT takes over after that.
Edge: Virginia Tech
Five Keys to the Game
Our Georgia Tech vs Virginia Tech preview sees the following as being keys to this contest.
VT 3-point shooters may take over
GT has to win battle in paint
Hokies passing and playmaking will generate lots of chances
Yellow Jackets need to slow down tempo of game
GT defense has to play every second of this game
Edge: Virginia Tech
Georgia Tech vs Virginia Tech Preview – Our Pick
Our Georgia Tech vs Virginia Tech preview and free picks likes the Hokies at -7.0. Virginia Tech has a lot of firepower and the team is deep. The Yellow Jackets stand to be outmatched completely tonight. Game time is 7 pm ET.
Summary Georgia Tech vs Virginia Tech Preview Pick: Hokies at -7.0