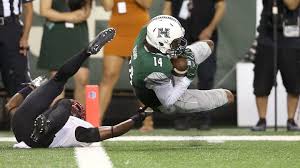 Our second free pick for week 11 of the 2016 college football season has the #22 Boise State Broncos (7-2) at the unranked Hawaii Rainbow Warriors (4-6). In our free pick featuring Boise State playing Hawaii, the Broncos are favored by 18 points. The Broncos, who are 4-1 in the Mountain West Conference, are second in the Mountain Division. The Rainbow Warriors, who occupy second in the West Division have a conference record of 3-3.
Boise State has lost one of its last five games. That one loss was a big one. It was to Wyoming 30-28, and it gave the Cowboys first in the Mountain Division. Last week, the Broncos beat San Jose State 45-31. The other wins were against BYU (28-27), Colorado State (28-23), and the University of New Mexico (49-21).
Hawaii has lost three of its last five games. Presently, they have a two-game losing streak, as they were beat last week 55-0 by San Diego State. The week prior, the Rainbow Warriors lost to the University of New Mexico 28-21. The other loss was to UNLV 41-38. There were two wins, one on either side of that loss. Prior to losing to UNLV, the Warriors beat San Jose State 34-17, and their last win, which was on October 22, occurred against the Air Force Academy 34-27 in OT.
Boise State Broncos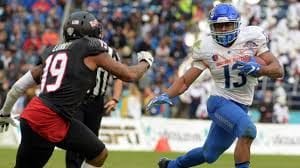 Boise State has won the last five meetings against the Rainbow Warriors by an average of 45.4 points. It should be noted that the Warriors were hammered last week 55-0 by the West Division's top team. Hawaii is allowing an average of 38.2 PPG, and they will have their hands full with this dynamic Bronco offense, which is scoring on average 34.8 PPG..
Junior RB Jeremy McNichols (226 ATT, 1216 YDs, 5.4 AVG, 18 TDs) should be able to rack up the yards against a defense that is giving up close to 260 ground yards per game. On average, Hawaii is allowing a total of 468.3 yards of offense. This season QB Brett Rypien (63.6 COMP%, 18 TDs, 6 INTs) has passed for more than 2,500 yards. He could have a very productive day today. WRs Thomas Sperbeck (57 REC, 909 YDs, 15.9 AVG, 7 TDs) and Cedrick Wilson (37 REC, 686 YDs, 18.5 AVG, 8 TDs) will be his main targets.
Essential to the Rainbow Warrior defense is sophomore middle linebacker Jahlani Tavai, who leads the club in tackles with 91. Senior cornerback Jalen Rogers, who has notched three picks, will be important in terms of limiting Bronco passing.
Hawaii Rainbow Warriors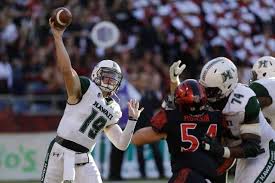 The Rainbow Warriors are scoring an average of 26.8 PPG. Boise State is allowing 22.7. Hawaii has a tough time moving the ball. If they are going to have a chance of winning this game, they will need to utilize their air game effectively. The Bronco rushing defense is too tough. That puts the onus on QB Dru Brown (61,5 COMP%, 9 TDs, 6 INTs). His main outlet is WR Marcus Kemp (55 REC, 910 YDs, 16.5 AVG, 6 TDs). They'll need to connect a lot. At the same time, the running game will need to be established. Expect RBs Steven Lakalaka (88 ATT, 380 YDs, 4.3 AVG, 10 TDs) and Diocemy Saint Juste (120 ATT, 690 YDs, 5.8 AVG, 2 TDs) to work hard to keep the ground attack on track.
There is hope for the Warriors. That's based on the fact that this season the Bronco defense has struggled. They have just one interception and three sacks. In their last two games, they gave up an average of 30 points.
Free Pick Featuring Boise State Playing Hawaii
In our free pick featuring Boise State playing Hawaii, the point spread stands at 20.5. The big question is will Boise State be able to make some big defensive plays? They have had very few this whole season. They'd need a few scores by their D to beat the spread, as we expect their offense will score around 34 points, while Hawaii will be good for about 20. With all of that in mind, we're taking Hawaii at +20.5. Kickoff is 7 p.m., Saturday, November 11.
Free Pick Featuring Boise State Playing Hawaii: Rainbow Warriors at +20.5