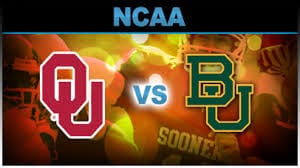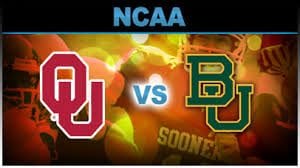 It's week 11 of the 2016 college football season, and as the season speeds towards Thanksgiving, there are a lot of important games on tap. In our first week 10 Saturday NCAA football free pick Baylor plays Oklahoma. Both teams are in the Big 12 with the 7-2 Sooners sitting in first with a 6-0 conference record. The 6-2 Bears are 3-2 in the Big 12 and are in fourth.
The Baylor Bears have lost two straight, including a surprising loss to the TCU Horned Frogs. The Bears started the 2016 college football season with six straight wins. Their two losses, which were both to Big 12 opponents and in the last two weeks, included a close loss to Texas 35-34 and the 62-22 defeat by TCU.
The Sooners come to this game with a six-game winning streak and a 14-game streak against Big 12 teams. This formidable Oklahoma looked like they could be a contender for one of the top four spots at the end of the season. But two early losses to Houston (33-23) and Ohio State University (45-24) pushed them out of contention. The Sooners are fresh off a 34-24 win against Iowa State University (ISU). ISU is 0-6 in the conference and in last place.
Baylor Bears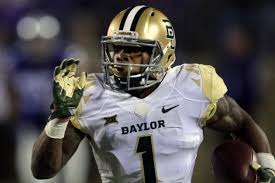 The Bears bring a productive offense to the field that is fueled by their running game, which is averaging 278.4 YPG. That's tops in the Big 12. They will be challenged by Oklahoma's ground defense, which is holding teams to just 123.6 YPG. RB Terrence Williams (121 ATT, 691 YDs, 5.7 AVG, 8 TDs) can churn out yards, but he's listed as questionable for today. Still, he is expected to play. Baylor coach Jim Grobe has suspended the team's second major rushing threat, Shock Linwood, for this game.
Still, Baylor QB Seth Russell, who's averaging 5.3 YPG and has eight touchdowns, is a major threat. He's the type of unpredictable running quarterback who can elude the Oklahoma defense. Russell, who has tossed 19 TD passes but is only completing 55.5% of his throws, will look to connect in the air with WRs KD Cannon (14.0 AVG, 6 TDs) and Ishmael Zamora (15.7 AVG, 5 TDs). The Oklahoma D is ranked 122nd in passing yards allowed, as they are giving up 297.7 YPG.
Oklahoma Sooners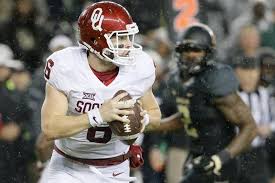 The Sooners feature a solid and balanced attack in the air and on the ground. Oklahoma's passing game, which is ranked eighth in the nation, is averaging a hefty 342.3 YPG. QB Baker Mayfield (71.2 COMP%, 31 TDs, 6 INTs) favorite outlet is WR Dede Westbrook (64 REC, 1166 YDs, 18.2 AVG 12 TDs). Together, they're a dynamic scoring duo. The ground game includes RBs Joe Mixon (119 ATT, 813 YDs, 6.8 AVG, 5 TDs) and Samaje Perine (88 ATT, 475 YDs, 5.4 AVG, 6 TDs). Over the course of their last two games, the Baylor rush D has allowed an average of 344 YDs.
Free Pick Baylor Plays Oklahoma
Both teams will challenge one another, but it is the Sooners that bring the one-two punch in terms of both a powerful ground and air attack. The spread stands at 17.5. We think that the Bears can stay within the spread despite their recent difficulties against the run. In our week 11 free pick Baylor plays Oklahoma and we choose the Bears at +18.5.
Free Pick Baylor Plays Oklahoma: Baylor at +18.5