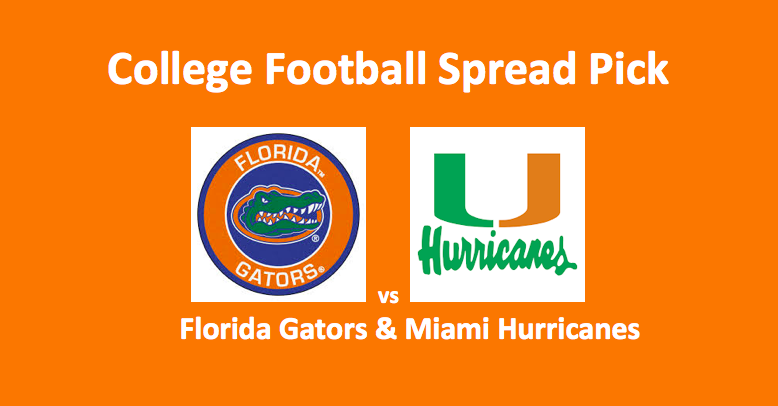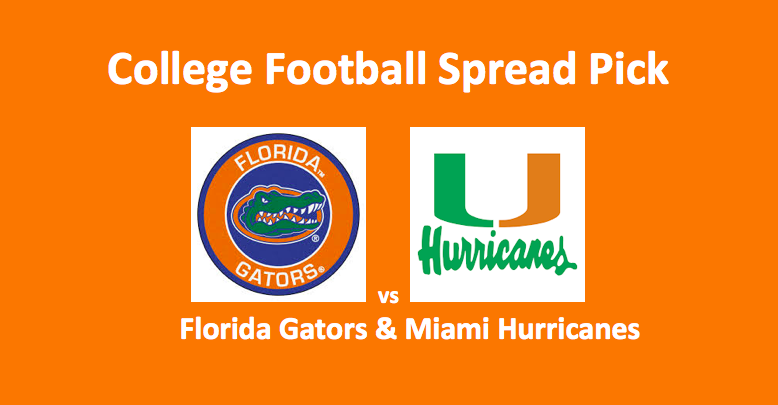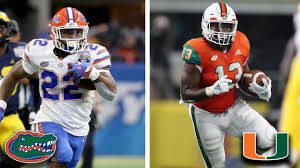 Our Florida vs Miami spread pick is our first prediction for the 2019 -2020 college football season. In addition, this Florida vs Miami contest is also the initial game of the season. Billed as the Camping World Kickoff, the contest will be played Saturday, August 24, 2019 in Orlando. The game starts at 7:00 pm ET. The #8 Florida Gators come to this contest favored by seven points. The Gators are ranked as the second-best team in the SEC East with the Georgia Bulldogs above them. The Miami Hurricanes are considered to be the top team in the ACC Coastal.
Florida vs Miami – History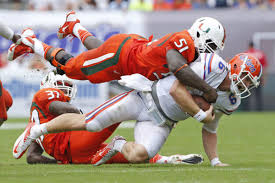 These two teams last met is 2013, and Miami won that game 21-16. In that loss to Miami, the Gators possessed a statistical advantage that their five turnovers negated. Another bright point for Miami, the Hurricanes are 33-2 in nonconference games against other Florida teams. However, they've lost their last two season openers when meeting a Power Five opponent. Florida is 28-1 in season openers. In that one loss, which was in 2017, Michigan beat the Gators 33-17 at a neutral site.  Orlando is a neutral site. One final note, Miami has won seven of their last eight and 12 of 16 against Florida.
Florida Gators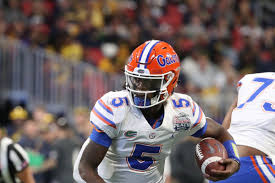 Our Florida vs Miami spread pick notes that the Gators are coming off a big 10-win season that saw them win their final three regular season games. That included a 41-14 drubbing of Florida State. Ranked tenth in the nation, the Gators went on the take down #8 Michigan 41-15 in the Peach Bowl.
In this game, look for Florida to be extremely active in the air and to balance that off with their rush attack. The O-line has been completely rebuilt, and that could prove to be a challenge today. That being the case, Florida will the go to the air quickly and often. On defense, the line, which includes senior end Jabari Zuniga, a masterful pass rusher, is solid and the secondary is one of the better ones in the SEC. There's concern in the linebacking unit, which sees just one starter return. However, that starter in MLB David Reese, who's a strong anchor. Finally, special teams are in all-around good shape. On returns, Freddie Swain may just bring a punt back today for a TD.
Miami Hurricanes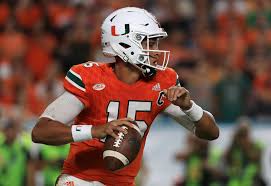 New head coach Manny Diaz commands the helm. Diaz, a rookie, spent the last three years as Miami's DC. Prior to that, he served in the same position at Mississippi State and Louisiana Tech. Miami is coming off of a 7-6 season and a 3-35 loss to Wisconsin in the Pinstripe Bowl.
Red-shirted freshman Jarren Williams has won the quarterbacking contest, beating out sophomore Ohio State transfer Tate Martell and sophomore N'Kosi Perry, who started last season. Miami has a good group of receivers, but we don't expect massive passing yards from Williams in his first start. At the same time, the offensive line is inexperienced and the running game is questionable. Miami will try to win this with their defense, which includes a fine D-line and perhaps the top LB unit and secondary in the ACC. On special teams, kicking and punting are weaker than one would like, but the return game has the potential to put points on the scoreboard.
Florida vs Miami Prediction – Five Factors
Here are five factors that will help determine this Florida vs Miami spread pick.
Florida possess quarterbacking edge
Miami defense is experienced, skilled and talented
Gators coach Mullen comes with experience, 10 years (10-3 Florida, 79-49 Overall)
Hurricanes have seven receivers returning
Florida's O-line has four new starters and may be shaky
Canes offense may sputter against good enough Gator D
Our Florida vs Miami Spread Pick
In our Florida vs Miami spread pick, we do like the Gators. After all, they bring a lot of experience to this game and in just about every area. However, the very fine Miami defensive line will test the Florida offensive line. Still, Florida's junior QB Feleipe Franks will handle the pressure. With a rookie coach and rookie QB, Miami is likely to struggle. Considering everything, take the Gators at -7.0. For access to our complete college football preview and betting guide for 2019, click here.
Florida Gators vs Miami Hurricanes Spread Pick – Florida Gators at -7.0