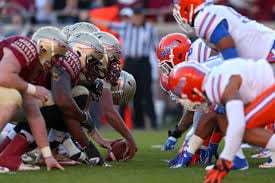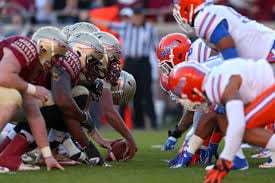 Our Florida plays Florida State college football free pick is our final one of the regular season. This non-conference matchup is for state bragging rights and, possibly, a nudge up in the national rankings. The Seminoles bring a productive offense to this game and an adequate defense, while the Gators offer a very tough defense and an average offense. Which will it be, offense over D, or defense taking down O?
The Florida Gators(8-2), who will finish first in the SEC East Division and take on Alabama next week for the conference championship, is 4-1 for their last five games. On either side of the two wins is the team's 31-10 loss to Arkansas on Nov 5. Before that loss, the Gators beat Missouri 40-14 and Georgia 24-10. Over the last two weeks, Florida took down South Carolina 20-7 and a very tough #16 LSU team 16-10.
The Florida State Seminoles (8-3), who are third in the Coastal Division of the ACC, come into this contest with a three-game winning streak. Over their past five games, they are 4-1. The team's one loss was to #3 Clemson 37-34. After that loss, which was on Oct, 29, they beat North Carolina State 24-20, Boston College 45-7, and Syracuse 45-14.
Florida Gators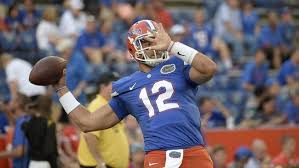 The Gators have two solid quarterbacks, Oregon State transfer Luke Del Rio and Purdue transfer Austin Appleby (61.8 COMP%, 6 TDs, 2 INTs, 7 Sacks). Del Rio, who was the primary starter, will not play due to injury. Appleby, who started and won the last two games, will be the quarterback in this contest. He'll be passing to Antonio Callaway (37 REC, 545 YDs, 14.7 AVG, 2 TDs) and Brandon Powell (31 REC, 296 AVBG, 9.5 AVG, 2 TDs); they are number one and two for Florida in receptions. Sophomore running back Jordan Scarlett (140 ATT, 725 YDs, 5.2 AVG, 6 TDs) will be the primary ball carrier. The Gators are averaging 150.0 YPG on the ground and 25.2 PPG.
The Florida defense is only permitting opponents 160.0 yards per game of passing. They are also holding teams to 122.4 yards per game on the ground. Teams are scoring only 13.0 PPG against them. They've posted 28 sacks, 61 TFL, and 57 QB hurries. The secondary has a dozen picks and 30 passes defended. Of those 12 picks, three were run back for scores.
Florida State Seminoles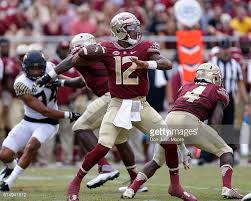 The Seminoles have an active offense that on average is posting 482.3 YPG with 279.4 in passing and 202.9 in rushing. They are scoring 35.6 PPG. Freshman QB Deondre Francois (60.8 COMP%, 17 TDs, 5 INTs, 32 Sacks) has played well, but is vulnerable to the sack. Florida State will want RB Dalvin Cook (242 ATT, 1467 YDs, 6.2 AVG, 17 TDs) to keep the staunch Gator defense busy. They will also look to RB Jacques Patrick (59 ATT, 350 YDs, 5.9 AVG, 4 TDs) to create some yards. WR Travis Rudolph (49 REC, 794 YDs, 15.2 AVG, 6 TDs) is the team's main threat on the receiving end.
The Seminole defense may allow yardage and more points that one would like, but they are still effective. The team has made 41 sacks and 70 TFL. Those two stats are extremely strong. They also have 14 INTs. Florida State is giving up 25.5 PPG and 370.8 yards total. Of those yards, 232.9 are in the air and 137.9 on the ground.
Florida Plays Florida State College Football Free Pick
Our Florida plays Florida State college football free pick considers this game to be a battle between the Gator defense and the Seminole offense. At the same time, the Florida State defense is better than its overall stats indicate. Still, we expect the Gator D to be able to put pressure on the Seminole passing and running games. If they can make some key sacks and rushing stops, they will win.
The spread has the Seminoles favored by 7.5. We like the Florida Gators in this one. Kickoff will be 8:00 p.m. on Saturday, November 26.
Florida Plays Florida State College Football Free Pick: Florida Gators at +7.5