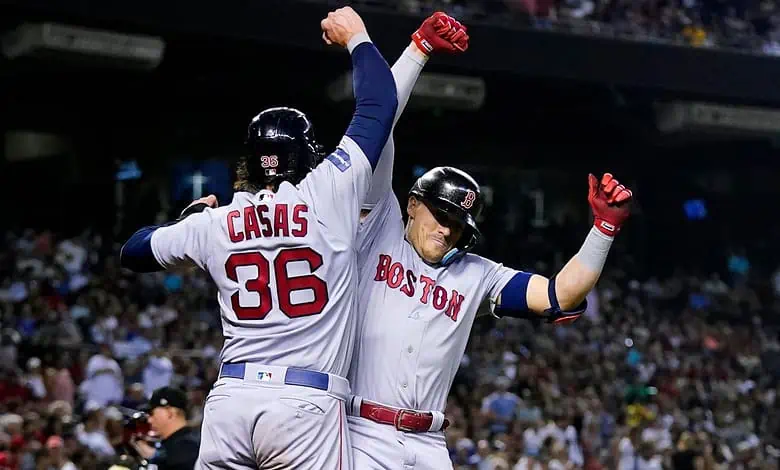 Boston has a chance for a sweep in the May 28th Red Sox at Diamondbacks betting matchup as they wrap up a 9-game road trip. The Sox may be getting anxious to return back home and have an off day on Monday after going 2-4 in visits to the Padres and Angels prior to this series at Chase Field.
Arizona tries to salvage their weekend with a win on Sunday, and they had won four of five prior to the visit from Boston. The D'Backs are still a -125 favorite in the series finale, with the Red Sox having some obvious value at +105 as they try to sweep things up in the desert.
Why Boston Has Value on Sunday
The Red Sox are a solid play at +105 as they go for the sweep on Sunday, especially after just getting swept by the Angels this week. Boston started off their road trip well with 6-1 and 4-2 victories in San Diego, but their offense went in a rut scoring 4 total runs over a four game losing streak.
Boston's offense wasn't great on Saturday managing just 6 hits and 2 runs, but they held Arizona to just 3 hits in the 2-1 victory. The Red Sox did score 7 runs on Friday while getting 7 hits from the top 3 spots in the lineup, but it's looking like another bleak offensive outing on Sunday.
Tanner Houck (3-3, 4.99 ERA) shouldn't expect a ton of offensive support in the May 28th Red Sox at Diamondbacks betting matchup, kind of like his last outing where he allowed 3 hits and just an ER over 6.0 IP to the Angels but still suffered a 2-1 defeat. Houck is coming off his best start of the year though, something to build on as Boston goes for the sweep.
Why the Diamondbacks Have Value on Sunday
Arizona had won five of six before their current three game losing streak that started with a 6-5 loss in Philadelphia on Wednesday and continued with the 7-2 and 2-1 defeats to the Red Sox. The Diamondbacks remain 1.5 games back from the Dodgers in the NL West, so it's definitely been a good start to the season for a team that was 37 GB at the end of 2022.
The Diamondbacks offense only managed 3 hits on Saturday, but there is optimism facing Houck who has a 5.56 ERA in May. The Red Sox starter allowed 13 ER over 16.2 IP in his first three starts of the month before throwing the gem against the Angels – which was still Boston's fourth loss in Houck's last five outings.
Even if the D'Backs offense doesn't show up on Sunday, Merrill Kelly (5-3, 2.98 ERA) doesn't need a ton of run support as he has allowed 2 ER or less in five of his last seven starts. Arizona is 3-1 when Kelly takes the mound this month.
Free May 28th Red Sox at Diamondbacks Betting Pick
83% of the betting public likes Arizona here which isn't great. The price is moving in the Diamondbacks direction after a -108 so the obvious trap isn't there, but this is still a hard play on the Red Sox the way Kelly has pitched lately. The best pick here is on a low scoring game.
Free Pick: Under 9