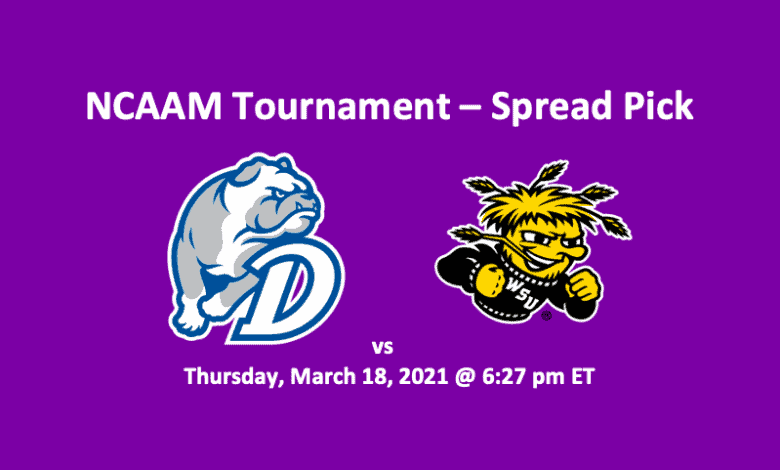 Our Drake vs Wichita State pick is for the second First Four game, which will be played on Thursday, March 18 at 6:27 pm ET. This West Region play-in contest will be held at Mackey Arena in West Lafayette, IN. Whoever wins this game will meet #6 USC in the Round of 64 on Saturday, March 20 at 4:30 pm ET at Bankers Life Fieldhouse in Indianapolis, IN.
In the regular season, the Bulldogs finished just behind the Missouri Valley Conference's top team, the Loyola Chicago Ramblers. Drake lost to Loyola Chicago in the conference tournament final 76-65. In their last five games, the Bulldogs have gone 3-2. In the American Athletic Conference, the Shockers were the top team. Like Drake, they lost their last game. In that contest, which was to earn a spot in AAC tournament final, the Cincinnati Bearcats took down Wichita State 60-59. Over their last five games, WSU is 4-1.
Drake vs Wichita State Pick – Stats
The Bulldogs come to this game shooting 49.4% from the floor. They're hitting threes 37.0% of the time, and their rate of completion on frees is 71.3%. Drake is averaging 77.4 PPG. They're grabbing 36.0 RPG while making 7.1 SPG. The team is dishing off 13.8 APG while recording just 10.3 TO.
The Shockers have struggled shooting this season. They've been good on 40.8% of their shots from the field, which is a full nine points lower than Drake's rate. Plus, WSU is shooting 34.2% from downtown and 68.9% from the charity stripe. They're averaging 72.4 PPG, 38.0 RPG, and 13.3 APG. Wichita State is recording 6.1 SPG and 11.3 TO. Thus, in this matchup, the stats definitely favor the Bulldogs.
Key Players
Drakes' leading scorer, forward Shanquan Hemphill, has been out since February with a foot fracture. He underwent surgery at the time. And although he did not play in the MVC tournament, he could be ready for March Madness. During the regular season, Hemphill averaged 14.1 PPG and 6.3 RPG while shooting 58.7% from the floor. The four other starters for Drake are also double-digit scorers with guard Joseph Yesufu putting up 12.1 PPG and guard Roman Penn hitting for 11.2. Penn leads the Bulldogs in assists with 5.5. In the paint, Darnell Brodie is bringing down an impressive 7.2 RPG.
When it comes to scoring, the Shockers rely heavily on their guards. In the backcourt, Tyson Etienne leads the team in scoring with 17.0 PPG. He's hitting 40% of his threes. Alterique Gilbert is the primary playmaker, as he's making 4.1 APG while averaging 10.3 PPG. Guard Dexter Dennis is contributing 9.4 PPG, while forward Morris Udeze is putting in 9.8 PPG. Also, in the paint, Trey Wade, who's good for 6.8 PPG, tops he team in rebounds with 5.6 PG.
Drake vs Wichita State Pick – Final Thoughts
Our Drake vs Wichita State pick notes that the Shockers are listed at -2.0 (-130) and the Bulldogs are at +2.0 (-110). Hemphill is a major question mark. If he plays, the senior forward will give Drake a big boost. Even if he doesn't play, we still like the Bulldogs in this contest. They are deeper, have a lot of guys who can shoot, and look better in almost every major statistical category. Take Drake. Additionally, see our other First Fours picks – Texas Southern vs Mount St, Appalachian State vs Norfolk State, and UCLA vs Michigan State.
#11 Drake Bulldogs vs #11 Wichita State Shockers
Drake Bulldogs at +2.0 (-110)