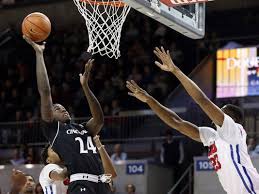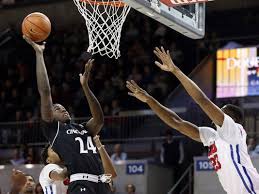 It's a major matchup in the American Athletic Conference as the first place Cincinnati Bearcats (22-2 Overall, 11-0 AAC), ranked 11th nationally, are at the second place Southern Methodist University Mustangs (21-4 Overall, 11-1), ranked 25th in the nation. The last time these two teams met, which was about a month ago in January, the Bearcats held on to win 66-64. Our Cincinnati plays SMU college basketball free pick has the Mustangs at -4.0 and the over/under at 128.
This is the only NCAA men's basketball game featuring two ranked teams. Yesterday, #1 Gonzaga played #20 St. Mary's and #2 Villanova played #22 Xavier. The number one and two teams won those contests and both covered the spread. For a consideration of what those games mean for sports bettors see our follow-up article.
The Bearcats arrive at SMU's Moody Coliseum in University Park, Texas, enjoying a 15-game winning streak. That includes an impressive 86-78 win against #24 Xavier on Jan. 26. They last played on Feb. 8 beating UCF 60-50. Just prior to that win they easily beat UConn 82-68.
Since the Mustangs lost to Cincinnati on Jan. 12, they have reeled off seven wins in a row. In addition, SMU has won 17 of their last 18 games. That includes an impressive win over the AAC's third place team Houston, which they beat 85-64 on Jan. 21. In their last game, which was played Feb. 9, they beat Temple 66-50.
Cincinnati Bearcats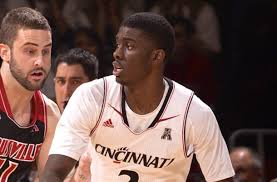 If consistency leads to victory, then Cincinnati may be onto something as they have eight players that have appeared in every one of the two-dozen games the Bearcats have played this season. That certainly helps to create a foundation for teamwork and overall solid individual play.
At forward, Kyle Washington (13.8 PPG, 7.2 RPG, 54 FG%) is a fine inside player who possesses an outside three-point show that's on target 45% of the time. Senior guard Troy Caupain (10.5 PPG, 4.9 RPG, 4.6 APG) is a fine setup guy who can hit from outside or drive the lane and score. He's solid on the boards too. Guard Jacob Evans (13.4 PPG, 4.2 RPG, 47 FG%) offers almost as many points as Washington, but his three-point grade of 38% is a good seven percentage points lower. Junior forward Gary Clark (10.1 PPG, 7.5 RPG, 56 FG%) is the final of four double-digit scorers on the team. Guard Kevin Johnson (8.2 PPG, 38 FG%, 1.3 SPG) offers solid D.
SMU Mustangs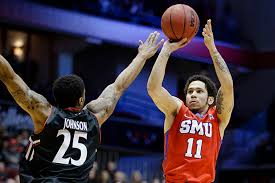 The Mustangs feature in the frontcourt leading scorer Semi Ojeleye (18.2 PPG, 6.8 RPG, 48 FG%) and top rebounder Ben Moore (11.6 PPG, 8.1 RPG, 57 FG%). Ojeleye has a three-point shot that's hitting 42% of the time while Moore is a top defender. Guards Shake Milton (13.7 PPG, 4.4 APG, 43 FG%) and Sterling Brown (12.0 PPG, 3.3 APG, 44 FG%) are top performers. Milton and Brown are both 40-plus percentage three-point shooters, while the former is knocking in 83% of his frees and the latter is grabbing 6.9 RPG.
Cincinnati Plays SMU College Basketball Free Pick
When it comes down to basic stats these two teams are fairly close on rebounds, field goal percentage, and steals. The Bearcats are scoring on average four more points per game than the Mustangs, but SMU is allowing opponents three fewer points per game. There's a large discrepancy on blocked shots as Cincinnati is averaging 5.6 per game and SMU 3.4. The Mustangs are better at threes making 39% to the Bearcats who are at 35%. In so many other areas, these teams are very close.
We are anticipating a close call here. One advantage the Bearcats hold is their depth. They can put in subs virtually at will, allowing them to hold their own while resting their starters. Our Cincinnati plays SMU college basketball free pick with SMU at -4.5 is the Bearcats at +4.5 and over 127.5.
Cincinnati Plays SMU College Basketball Free Pick: Cincinnati +4.5 and over 127.5