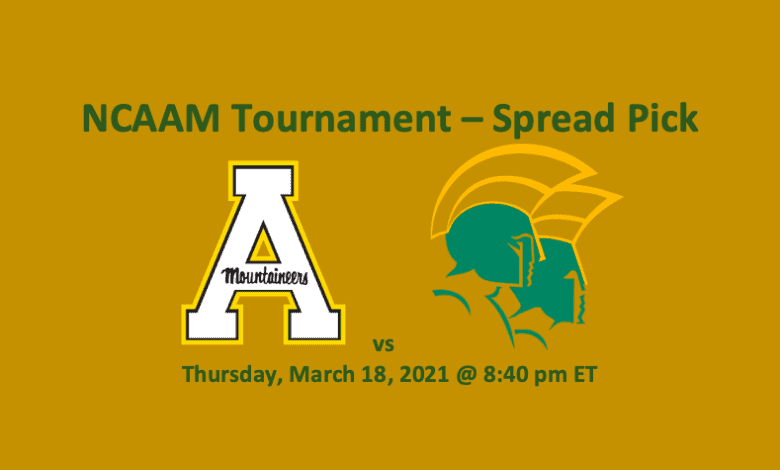 Our Appalachian State vs Norfolk State pick has the winners of the Sun Belt Conference Tournament, the Mountaineers, going up against the winners of the Mid-Eastern Athletic Conference, the Spartans. In the regular season, Appalachian State was tied for third in the SBC. They managed to take the tournament by posting four straight wins, including two in OT. In the game that clinched their ticket to the Big Dance, they beat Georgia State 80-73. Norfolk State, which comes to this game with a six-game winning streak, topped the MEAC in the regular season, and then beat Morgan State 71-63 in the final tournament game.
This is the second West Region First Four game that will be played on Thursday, March 18. Tipoff will be at 8:40 pm ET. This game will be held at Simon Skjodt Assembly Hall in Bloomington, IN. The winner of ASU vs NSU will meet the #1 Gonzaga Bulldogs on Saturday, March 20 at 9:40 pm ET. The Zags are undefeated at 26-0. See our other four picks for Thursday – Texas Southern vs Mount St Mary's, Drake vs Wichita State, and UCLA vs Michigan State.
Appalachian State vs Norfolk State Pick – Stats
On paper, the Spartans look like the dominant team. However, it's important to understand that the SBC is a tad more competitive than the MEAC. Still, the statistical comparison is worth making. NSU is averaging 75.2 PPG, while ASU is putting in 70.9 PPG. Additionally, the Spartans are completing 43.6% of their shots from the field, 36.8% of their threes, and 70.6% of their frees. On the other hand, the Mountaineers' shooting stats are 41.5 FG%, 32.4 3PT%, and 73.7 FT%. In two out of three shooting categories, Norfolk State betters Appalachian State.
In a few other areas, these teams are very close. The Spartans are a bit better in rebounds (37.0-36.0) and in assists (12.3-11.9). On the other hand, ASU is favored in steals (8.0-6.3), and they have committed fewer turnovers. The difference in blocked shots is negligible.
Key Players
The Mountaineers come to this game with four guards who are all averaging double-digits in scoring and two forwards who are a contributing substantially. In the backcourt, Adrian Delph,
Justin Forrest, and Michael Almonacy are each hitting for about 13 PPG, while guard Donovan Gregory is good for 10.7 PPG. Gregory, who can battle inside and hit from the outside, leads the team in rebounds with 6.0 PG while being a 50% shooter. Forwards Kendall Lewis and James Lewis Jr. are averaging 9.9 PPG and 8.0 PPG and 4.1 RPG and 5.1 RPG respectively. They're a solid tandem around the rim.
Norfolk State guard Devante Carter can win games. He leads the team in scoring (15.5 PPG), assists (4.0 APG), and rebounding (5.3 RPG). Also, in the backcourt, Jalen Hawkins hits threes at the rate of 41.1%, while Joe Bryant Jr. is this team's only other double-digit scorer (11.6 PPG). In the paint, J.J. Matthews is averaging 8.4 PPG and 4.8 RPG while shooting 52.4%.
Appalachian State vs Norfolk State Pick – Final Thoughts
Our Appalachian State vs Norfolk State pick notes that the Mountaineers come to this game at -3.0 (-150), while the Spartans are at +3.0 (+130). There's a push by bookmakers to get people to wager on Norfolk State. By our estimates, we are looking at a seven to nine-point win by ASU. We like the Mountaineers' depth and their ball handling
#16 Appalachian State Mountaineers vs #16 Norfolk State Spartans
Appalachian Mountaineers at -3.0 (-150)