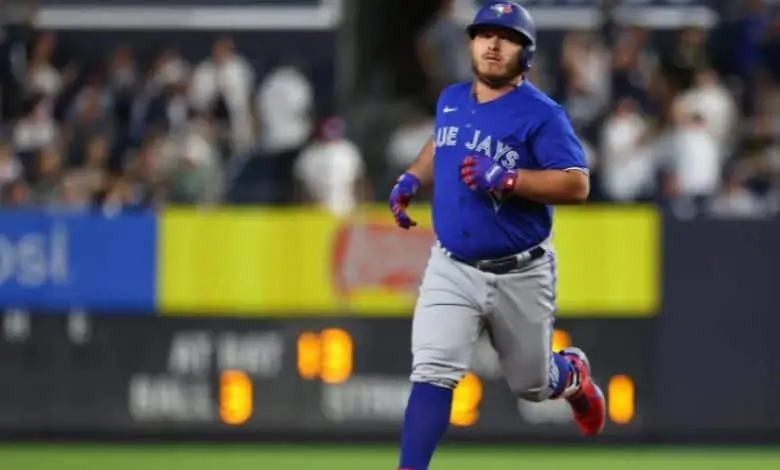 Toronto is red hot coming into the September 8th Blue Jays at Yankees pick, winners of six in a row and 9 of their last 10. Despite that remarkable run – which includes victories over New York the last two nights – the Blue Jays are +107 underdogs heading into game three of a four game set in the Bronx.
New York was red hot on a 13-game win streak from August 14th to 27th, but they've burned away all that equity while losing 8 of the last 10. The Yankees once seemed destined for a postseason berth after their hot streak, but now hold just a 1/2 game lead for the top wild card spot, with five teams within four games battling for two spots. One of those chasers is the Blue Jays, who are just 2 back for the top spot.
Good Value With Toronto Offense
The Blue Jays offense makes you sit back and say wow right now. They've gone for 5+ runs in each contest during a 6-game win streak and have hit 8+ in four of their last five. Toronto has outscored the Yankees 13-1 the last two games even though New York has started Jameson Taillon and Gerrit Cole – arguably their top two healthy starters – in those losses.
Cole leaving Tuesday's game after just 3.2 IP with a hamstring injury was a big boost for the Blue Jays offense, but Toronto is in a good spot for another big outing as the Yankees have expanded their rotation and brought Luis Gil up as a 6th starter down the stretch. Gil has been good in not allowing a run over 15-2/3 in three starts this season, but also hasn't pitched in the majors since August 17th.
The rookie Gil has been impressive but he's still thrown just thrown in just three games in his MLB career. The Blue Jays offense can exploit that, led by Marcus Semien who went yard Tuesday for his 6th deep ball in the last six games. Vlad Guerrero, Jr. also has three 3-hit games over his last five, which should help extend an invitation for a rude awakening for the 23-year-old Gil.
Anybody on the Yankees?
It's looking like about just 40% of the public is on New York in the September 8th Blue Jays at Yankees matchup. Gil is very much unproven on the mound, and also hasn't started in the majors in three weeks splitting time between a starter and reliever down at Scranton Wilkes-Barre.
New York still comes into Wednesday's game the losers of four straight, which includes almost unfathomable defeats at Baltimore. The Yankees lost 4-3 to the Orioles on Saturday as -335 favorites and 8-7 on Sunday with a -321 price tag. New York has followed that wreck of a series up with scoring a total of 1 run in the first two games this week against Toronto.
New York is up against Alek Manoah (5-2, 3.63 ERA) on Wednesday night, which is a tough task as the Blue Jays have won 6 of his last 7 starts. Manoah has allowed 6 ER in a couple of his last four starts though, meaning the rookie could be up against the 1st year wall.
September 8th Blue Jays at Yankees Pick
The Blue Jays have some value here at +107 after hitting the cover off the ball recently and sending a pretty solid starter in Manoah to the mound. There must be a reason New York is still a -116 favorite despite losing in Taillon and Cole starts the last two nights and with 60% of the public backing Toronto. Read the line.
Yankees 6 – Blue Jays 4
Free Pick: Yankees -116