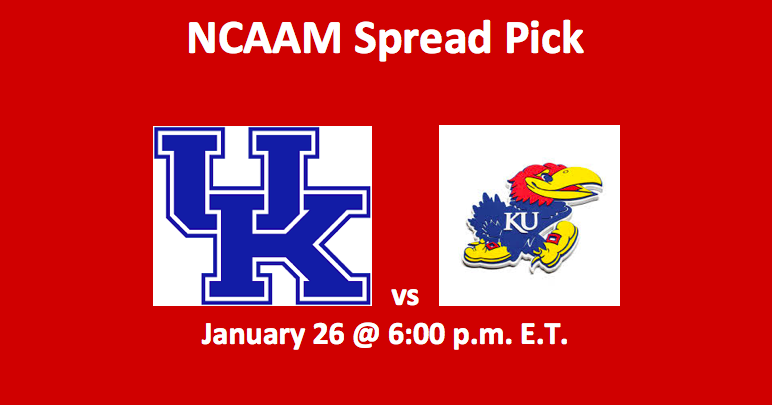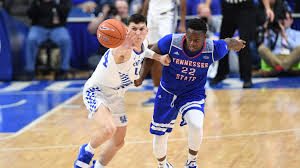 Along with our #8 Kentucky Wildcats (15-3 Overall, 12-2 Home) vs #9 Kansas Jayhawks (16-3 Overall, 1-3 Away) totals pick, posted earlier today, we're offering the point spread preview on that game. The Wildcats are third in the SEC, while the Jayhawks are the top club in the Big 12. This game, which is scheduled to tip off at 6 pm ET at the Rupp Arena in Lexington, KY, is expected to be a fierce battle. Our NCAAM Kentucky/Kansas spread pick has Kentucky favored by 5.0. There's a lot of trepidation about calling this contest. But we think that we have the skinny on this inter-conference game.
Stats and Facts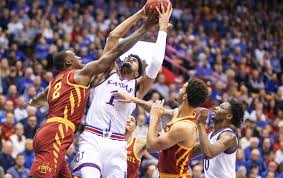 This matchup expected to be a close call, but there are a few stats that indicate a Wildcat win by six or more points. The Cats are averaging 80.0 PPG. And while the Jayhawks have been good for 78.1 PPG, the Kentucky D has held teams to 67.5 PPG. That's almost a 13-point margin in PF/PA. At the same time, Kansas has held opponents to an average of 70.2 PPG. That's almost an eight-point advantage. The difference in PF/PA between the two teams offers the home team a five-point margin.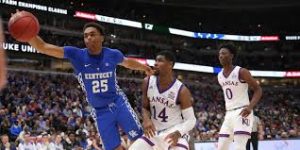 The Wildcats should be helped by their offensive rebounding, as they are averaging 12 ORPG to the Jayhawks' 10. That could yield four to six more points. Although that difference is slim, when you add to it the major difference between these two teams when it comes to free throw success, it is significant. The cats are completing 75.1% of their frees. On the other hand, Kansas is connecting on 67.3% of their shots from the charity stripe. Kentucky is putting in 18 frees per game while the Hawks are averaging 14. We can expect a few more calls to go the way of the home team tonight, giving them a chance to add to their free throw total.
Edge: Kentucky
Home vs Away Points and Record
Kentucky has a strong home record, as they are 12-2. Kansas has struggled when away, going 1-3. In home games, Kentucky is averaging 81.7 PPG. On the road, Kansas has been putting up 68.3 PPG. That's a difference of 12.7 points, and it's in favor of the Wildcats. When looking at these figures, our Kentucky/Kansas spread pick really likes the Cats at -5.0.
Edge: Kentucky
NCAAM Kentucky/Kansas Spread Pick – Key Payers
Jayhawks are without star junior center Udoka Azubuike and have been for 10 games. That hurts, especially in the paint
Top four scorers for Cats are averaging 15 PPG as well as 6 RPG each. Kansas needs to neutralize them
Kansas forward Dedric Lawson (19.5 PPG, 10.9 RPG) is always a double-double threat
Might Wildcats double-team Lawson to lessen his impact?
Inside game and staying out of foul trouble could equal a win. Both teams are averaging under 17 PFPG, but Cats have a better free throw percentage. Inside game a tossup
Edge: Kentucky
Our Jayhawks at Wildcats Spread Projection
As noted, this Kentucky/Kansas spread pick is a tough call. We can certainly see this game going either way. But our sense is that Kentucky at home will eventually take command. Our pick is the Wildcats at -5.0. We think they'll win by seven or eight. Remember, we also have the over/under on this Wildcats vs Jayhawks contest.
Summary NCAAM Kansas at Kentucky Point Spread Pick – Kentucky at -5.0