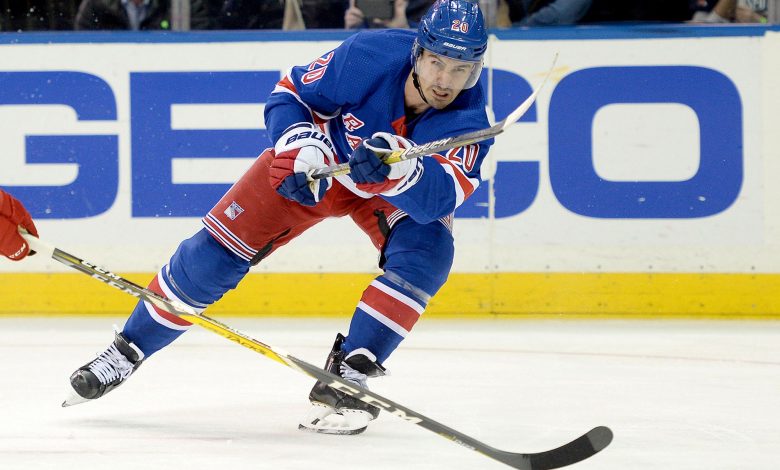 Monday's NHL slate features the Dallas Stars (29-18-4) in the Big Apple to take on the New York Rangers (25-21-4). The Stars have moved up into a tie for second place in the Central Division, while the Rangers are still seventh in the Metropolitan.
Here is a preview for Monday night's game, along with odds and a free pick.
By The Numbers
We'll start with the Stars, who opened up the second half of the season with two overtime wins and a loss at home. Right now, Dallas is near the bottom in most offensive categories, ranking 27th in both goals per game with 2.59 and with an 8.5 shooting percentage.
The Stars also rank 22nd with 30.6 shots on goal and a power-play percentage of 18.5.
Defensively, however, the Stars have brought their "A" game this year. Dallas is second in the NHL with just 2.49 goals allowed, giving up an average of 31.5 shots per game.
The Stars' penalty kill has also been strong, ranking sixth at 83.3 percent, and they generally do a good job of staying out of the box with an average of eight penalty minutes a night.
As for the Rangers, their post-All-Star schedule has started with back-to-back wins, albeit against the league's worst team in the Red Wings. This season, New York has actually been a very good team on offense, ranking 10th with 3.26 goals per game.
The Rangers have the sixth-highest shooting percentage in hockey at 10.7, despite ranking just 23rd with 30.4 shots per game. Their power play is strong, though, ranking eighth at 22.2 percent.
New York is an inverse of Dallas, meaning it has a strong offense but a lackluster defense. Right now, the Rangers are 23rd with 3.18 goals allowed and also give up 34.2 shots on net per game, the second-highest total in hockey.
Their penalty kill is 22nd at 78.9 percent, not great considering how the 12.3 minutes the Rangers spend in the box on average are the most in the league.
Who To Watch
After a slow start to the season, Stars captain Jamie Benn has started to rediscover his scoring touch. The former All-Star opened up the second half of the season with a two-goal performance against the Lightning, his first two-goal game since Nov. 19.
Benn has five goals over his last nine games, bringing him to 14 on the season. We'll see if he's able to continue to find the back of the net Monday night against a mediocre defensive team in the Rangers.
Dallas has also been getting some additional scoring lately from Denis Gurianov and Alexander Radulov. Even though Gurianov spends much of his time in Dallas' bottom six, the winger opened up play last week with back-to-back goals, giving him 13 this season.
Meanwhile, Radulov scored twice last week against Toronto, giving him 15 goals to go along with 15 helpers.
As for New York, center Mika Zibanejad is enjoying a breakout season in the blue sweater. After a torrid start to the season, injuries cost Zibanejad a few weeks of action.
However, he is up to 20 goals and 23 assists in 37 games, coming in as one of the most consistent offensive threats around. He's been red hot lately as well, registering two goals and two assists in the two games following the break.
Along with Zibanejad, Artemi Panarin and Chris Kreider are huge reasons why the Rangers have the offense they do. In his first season with New York, Panarin has scored 27 goals to go along with a team-high 43 assists.
As for Kreider, the All-Star has points in three straight games, giving him 18 goals and 17 assists. However, he is considered a game-time decision Monday night due to an upper-body injury.
Goalies
For the Stars, Ben Bishop will take a back seat to backup Anton Khudobin in this one. The veteran is 11-7-1 this year with a 2.30 GAA and a .927 save percentage.
As for the Rangers, it's Henrik Lundqvist's turn to man the net Monday night. "King Henrik" is 10-10-3 with a 3.05 GAA and a .910 save percentage, but he does have one shutout this year.
Odds and Pick
As a team in a solid playoff position, the Stars have the slight edge Monday night, according to oddsmakers. Dallas is -140 in its first trip to Madison Square Garden this season.
This game is ultimately a battle of two elite units: New York's offense versus Dallas' defense. But with those two essentially a wash, I believe the difference will be in net, where the Stars will have a much easier time finding the opportunity to score against an inferior defense and goaltender.
I think this game will err on the side of low scoring, but give me the Stars -140 to gut out the win.