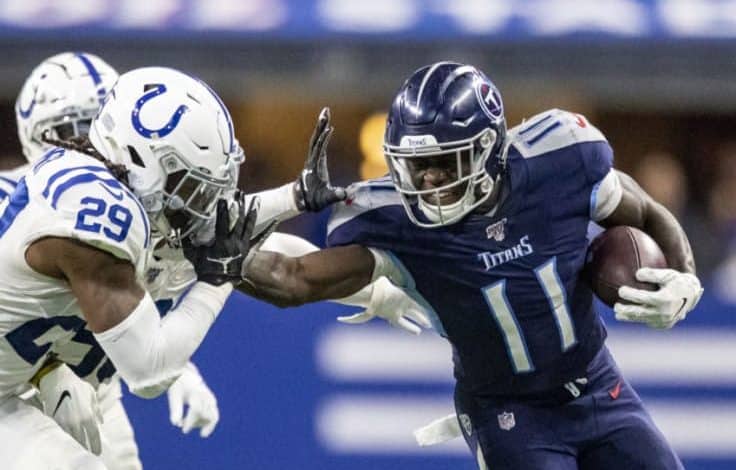 Oddsmakers are giving us one to think about in the NFL week 8 Titans at Colts matchup. Tennessee is coming off an absolute dismantling of Kansas City last week (27-3) yet are +2.5 underdogs in Sunday's visit to Lucas Oil Stadium?
Sure Indianapolis has looked good in winning three of four over the last month, but those opponents have been Miami, Houston, and San Francisco who have a combined 4-16 record. Does beating up on a few tomato cans give Indianapolis confidence heading into Sunday's tilt? Next question – how do they stop Derrick Henry?
Titans Passing Game Starting to Take Shape
Everybody knows Derrick Henry is one of the biggest offensive weapons in the league – and he can carry this Titans team as evidenced by games of 182, 157, and 140 yards rushing this season. When the Titans are most dangerous though is when their passing game is working as well.
Tennessee has battled through injuries to A.J. Brown and Julio Jones this season, but they are starting to get healthy and it's showing. Brown had 7 catches for 91 yards in the Monday night win over Buffalo while Jones broke free for a 48-yard catch in that contest. Brown added 8 catches for 133 yards vs. the Chiefs last week as Ryan Tannehill hit on 21 of 27 (77.8%) passes for 270 yards.
The Titans defense can't be overlooked for the number they pulled on the Chiefs last week. Kansas City was held scoreless in the 1st half for the first time in 82 games, and Tennessee was able to sack Patrick Mahomes four times, going just 20 of 35 passing for 206 yards.
What is the Colts Game Plan Here?
Kansas City stacked the box last week holding Henry to 86 yards, but when they did that the Titans pass game opened up. When you stop the passing game, Henry explodes for one of those 140 yard, 3 TD rushing games. Basically there aren't many people that envy Indy defensive coordinator Matt Eberflus coming into the week 8 Titans at Colts matchup.
This is the second meeting of the season between the two teams, with the Titans scoring a 25-16 win and covering the -4.5 spread in week 3 in Nashville. Henry had a manageable 113 yards in that game and Tannehill threw 3 TDs but also 2 INT. It should be noted Brown was injured and di not play in that contest for Tennessee.
Colts QB Carson Wentz did a good job navigating the team to a 30-18 win on Sunday night at San Francisco in basically a monsoon. The Titans bottled up the Chiefs passing game last week though, and Wentz was just 19/37 passing in Nashville earlier in the year with 194 yards and 0 TD. Indy's best bet is to get RB Jonathan Taylor going Sunday (100+ yards in 3 of 4) but Tennessee has the #9 rush defense in the league.
Week 8 Titans at Colts Pick
The line of Tennessee getting +2.5 points is a red flag, but then again this is a Titans squad that lost to the Jets earlier this season. Even so the Titans have beaten the likes of Buffalo and Kansas City the last two weeks, while Indy has been beating up on Miami and Houston over the past month. This could easily be a trap play, but it's best to not overthink it.
Titans 27 – Colts 13
Titans +2.5