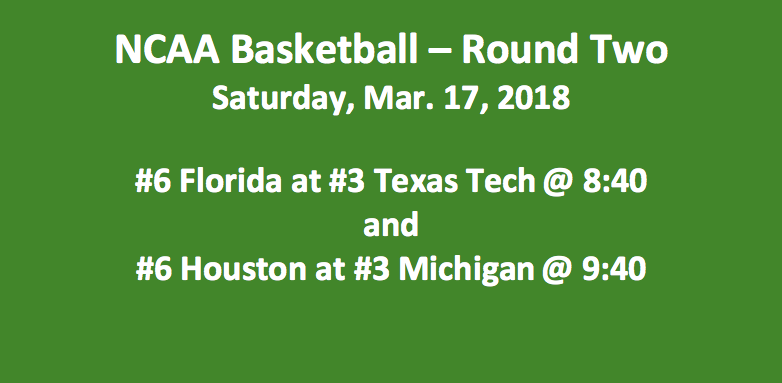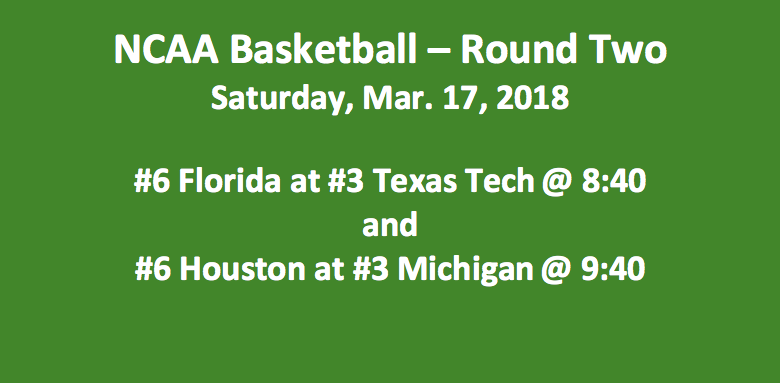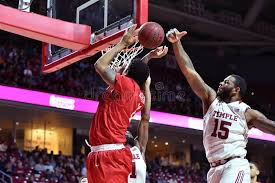 The first day of round two of the 2018 NCAA Tournament comes to a close tonight with two late-night games. In the first matchup, #6 Florida is at #3 Texas Tech for an 8:40 p.m. E.T. start. The second and last game to be played tonight, which is the eighth second round contest of the day. It offers #6 Houston at #3 Michigan. That tipoff is at 9:40 p.m. E.T. In this article, you'll find tonight's final Round One 2018 NCAA Tournament late night picks for both games.
The first game has Texas Tech favored by 1.5 and the over/under at 134.0. In the final game, Michigan is the favorite at -3.5. The over/under is at 135.5. Tomorrow, round two continues with eight more games. When all is said and done the 2018 NCAA Tournament will have come down to 16 teams. Best of luck tonight. Check out our picks for day two tomorrow morning.
#6 Florida at #3 Texas Tech
East Region at 8:40 p.m.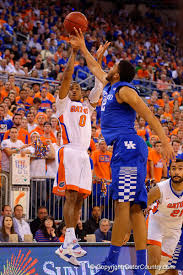 The Florida Gators (21-12) made it to round two by beating a tough St. Bonaventure team 77-62. Their opponents, the Texas Tech Red Raiders (25-9), were victorious over Stephen F. Austin by a score of 70-60. The major question concerning this matchup is does either team have a decided advantage?
Statistically, these two teams are very close in all major areas. They're scoring between 75 and 76 PPG and allowing between 60 and 62. Shooting percentage stands at 46% for Texas Tech and 43% for Florida.
For the Gators, junior guard Jalen Hudson (15.3 PPG, 45 FG%) is a top scorer who's putting in 40% of his threes. Senior guard Egor Koulechov (13.8 PPG, 6.5 RPG) is a sound outside player who can also bang the boards. Senior Chris Chiozza (11.1 PPG, 6.2 APG) is a fine playmaker.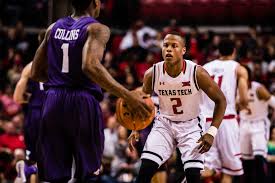 Texas Tech brings less experience to the court and, also, les of an inside game than Florida. Senior guard Keenan Evans (17.7 PPG, 3.2 RPG), who leads the team in scoring, works in the backcourt with two talented freshman, Jarrett Culver and Zhaire Smith. Each are averaging 11 points and 4.8 rebounds per game.
We like the Gators at +1.5 and over 134.0. We expect a decent amount of scoring in this game.
Our Picks: Florida at +1.5 and over 134.0
#6 Houston at #3 Michigan
West Region at 9:40 p.m.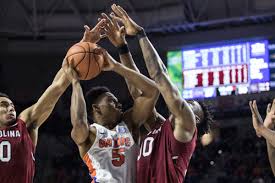 The Houston Cougars (27-7) barely beat #11 San Diego State 67-65 to get to this round. They will go up against a very tough Michigan Wolverines (29-7) team. The Wolverines are in round two after taking down #14 Montana 61-47.
In terms of stats, Houston is +5 in rebounds and +4 in scoring. These are not major differences. But the Cougars do own a major advantage when it comes to free throw percentage (72% to 66%) and a smaller but important advantage regarding three-point completions (39% to 37%).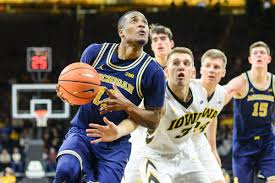 For the Cougars, solid play by senior forward Devin Davis (10.7 PPG, 6.2 RPG) and senior guard Rob Gray (19.2 PPG, 4.4 APG) will be essential. Junior guard Corey Davis Jr. (13.4 PPG, 3.1 RPG, 2.5 APG) will be looking to play an effective inside/out game. Michigan will look to forward Moritz Wagner (14.3 PPG, 7.1 RPG) to take charge of the boards, while Charles Matthews and Muhammad-Ali Abdur-Rahkman, each of whom are averaging 13 PPG, will work the outside game. Any one of this trio can pop out for a three.
We are going to take the underdog again, Houston at +3.5 and the over, which is 135.5. We like the statistical advantages the Cougars possess.
Our Picks: Houston at +3.5 and over 135.5
Round One 2018 NCAA Tournament Late Night Picks: Final Word
That's it for our Round One 2018 NCAA Tournament late night picks. We've given you 16 free picks today on eight games. Come back tomorrow for 16 more free picks and more March Madness.