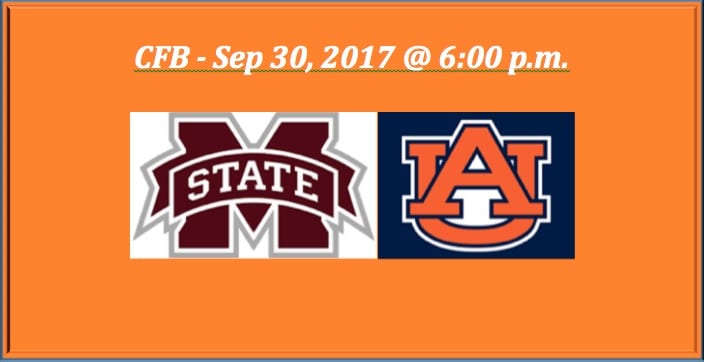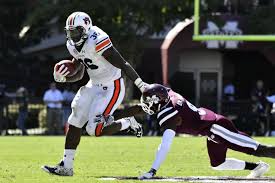 Two top 25 teams, both in the SEC West, play tonight at 6 p.m. E.T. It's the #24 Mississippi State Bulldogs (3-1) at the #16 Auburn Tigers (3-1). Our 2017 college football Mississippi State plays Auburn pick has the Tigers favored by either 7.5 or 8.0 and the over/under between 50.5 and 51.5. Interesting to note that MSST is 3-1 against the spread this year, while Auburn is 1-3. The Bulldogs got off to a solid start this season winning their first three, which included a 37-3 victory over #12 LSU. They lost last week to #11 Georgia 31-3. Auburn won its first game of the 2017 season, beating Georgia Southern 41-7. They then lost to #3 Clemson 14-6. Their last two wins were against Mercer 24-10 and Missouri 51-14.
Mississippi State Offense vs. Tigers Defense
Bulldog QB Nick Fitzgerald (57.6 COMP%, 7 TDs, 3 INTs) will try to recover from last week's performance against Georgia where he tossed two picks, completed just 48 percent of his passes and threw no touchdown passes. Fitzgerald, who is a dual-threat, having averaged 7.0 yards per rush and scored five TDs on the ground, will be looking to pass to sophomore WRs Keith Mixon (10 REC, 12.4 YPC, 1 TD) and Deddrick Thomas (8 REC, 14.4 YPC, 2 TDs). The Bulldogs have a stable of fine running backs, including leading rusher Aeris Williams who has run the ball 59 times, averaging 6.1 YPA and scoring one touchdown.
The Tigers D is giving up just 11.3 PPG. Total yardage allowed per game is 236.3 with rushing yards be limited to just under 98 per game and passing to under 137. LB Jeff Holland (11 TCKLs, 1.5 SCKs, 3.5 TFL, 1 PD, 1 FF) and LB/DB Tre' Williams (25 TCKLs, 2.5 SCKs, 2.5 TFL) have been major forces on the field this year. Also watch DL Marlon Davidson (7 TCKLs, 2 SCKs, 3 TFL, 1 FF), as he can be a major momentum changer. DB Carlton Davis, who has three passes defended this year, will be roaming in an attempt to disrupt the Bulldog passing game.
Auburn Offense vs. Bulldogs Defense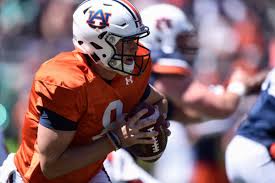 For the Tigers, sophomore QB Jarrett Stidham (70.6 COMP%, 3 TDs, 2 INTs) is a solid passer and good ball-control signal caller. Auburn to run a lot with it's top backs being Kam Martin (23 ATT, 9.1 YPA, 1 TD), Kamryn Pettway (56 ATT, 3.6 YPA, 3 TDs), and Kerryon Johnson (34 ATT, 5.4 YPA, 6 TDs). Both Martin and Pettway are nursing injuries but are expected to play today.
The Mississippi State defense is allowing offenses a mere 255.8 YPG with just 129 YPG in the air. Teams are scoring 14.8 YPG against them. For the Bulldogs, LB Gerri Green (12 TCKLs, 2 SCKs, 2 TFL, 2 FF) has been playing with verve, while DL Jeffery Simmons (17 TCKLs, 2.5 SCKs, 2.5 TFL, 1 FR) has been solid upfront. MSST has defended 11 passes with DB Mark McLaurin (19 TCKLs) defending two while intercepting one.
2017 College Football Mississippi State Plays Auburn Pick
Mississippi State has been averaging 36.5 PPG, but against a tough defense like Georgia's they score just three. Auburn has been good for just over 30 points per game, but, again, versus Clemson's D they put just three on the scoreboard. We think that defenses will step up today and keep the score under 51.5. Our 2017 college football Mississippi State plays Auburn pick is also taking the Tigers at -7.5.
2017 College Football Mississippi State Plays Auburn Pick: Auburn at -7.5 and under 51.5