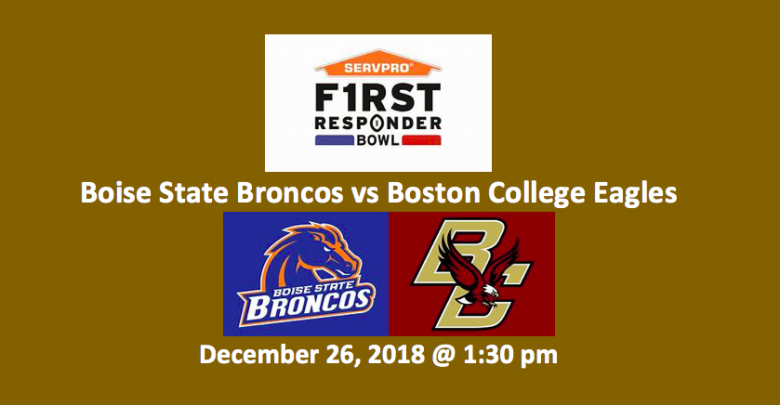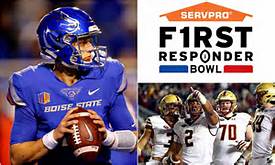 Our 2018 First Responder Bowl pick features the Boston College Eagles (7-5, 4th ACC – Atlantic) and the #25 Boise State Broncos (10-3, 1st MW – Mountain). It the first bowl game after the Christmas break. Kickoff is 1:30 pm ET at the Cotton Bowl in Dallas, TX. Our 2018 First Responder Bowl pick and preview offers the Broncos at either -2.0 or -2.5. The over/under ranges from 55.0 to 57.0.
The Eagles started the season with three straight wins and then enjoyed another three-game streak later in the season. BC struggled at the end, losing their final three games. Those losses included a 22-7 beating by #2 Clemson and a loss to #20 Syracuse 42-21. Also, #22 NC State beat the Eagles 28-23 in midseason. Although Boston College did notch seven wins, they lost all three games to nationally-ranked teams.
Boise State started the season with two wins, but then lost their first big test to #24 Oklahoma State 44-21. The Broncos then won nine-of-10, including #23 Fresno State (24-17) and #21 Utah State (33-24). Boise State made it to the Mountain West championship game where they enjoyed a rematch with #25 Fresno State. The Bulldogs beat the Broncos 19-16 in OT. Here's our 2018 First Responder Bowl preview and pick.
Boston College – Analysis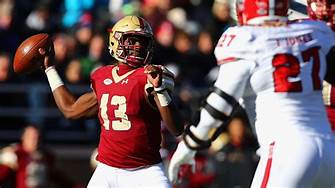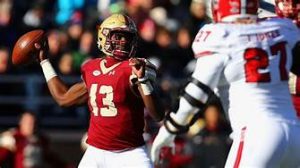 The Eagles averaged 32.0 PPG. They averaged 189.1 YPG on the ground and 215.3 YPG in the air. Our 2018 First Responder Bowl pick sees their QB Anthony Brown (55.4 COMP%, 20 TDs, 9 INTs) as being key to this team's success. He has three receivers who have a minimum of 20 catches. Senior Jeff Smith has 20 catches with six going for TDs. Running back A.J. Dillon gained a total of 1,108 yards this season, averaging 4.9 YPA and scoring 10 TDs.
On defense, the Eagles are allowing opponents 25.7 PPG. The gave up 396.2 YPS with 247.9 being passing yards and the remaining 148.3 rushing yards. The Eagles have two stalwart defensive ends in seniors Zach Allen (61 TKLs, 15.0 TFL, 6.5 SCKs) and Wyatt Ray (44 TKLs, 11.5 TFL, 9.0 SCKs). DB Hamp Cheevers has nabbed seven picks and defended seven passes. The Eagles have 18 picks and 53 PD.
Boise State – Analysis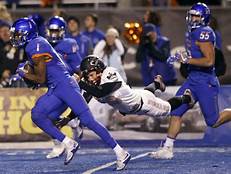 The Broncos averaged a hefty 292.0 YPG in passing. They also had 167.5 YPG in rushing. They averaged 35.4 PPG. QB Brett Rypien (67.3 COMP%, 30 TDs, 7 INTs) passed for a total of 3,705 yards. The Broncos have four pass catchers with 30 or more receptions, including senior WRs Sean Modster (68 REC, 14.4 YPC, 8 TDs) and A.J. Richardson (54 REC, 15.3 YPC, 8 TDs). Junior running back Alexander Mattison averaged 4.7 YPA and scored 17 times while gaining a total of 1,415 yards.
The Broncos allowed 22.1 PPG. Of the 355.9 YPG in opponent yards, 233 were in the air and 122.9 on the ground. Our 2018 First Responder Bowl preview notes that the Boise seconday is rather weak. They've totaled seven picks and 32 PD. In terms of the front men, junior Tyson Maeva (61 TKLs, 8 TFL, 4 SCKs) and sophomore Curtis Weaver (43 TKLs, 15.0 TFL, 9 SCKs) are top performers. Boise State has forced and recovered 16 fumbles.
Five Keys to the Game
Eagles pass D is very tough
Broncos pass offense is dynamic
BC's ability to run balanced offense essential
Boise State pass defenders must step up
Broncos have edge at QB
Our 2018 First Responder Bowl Pick
Overall, the stats for these two teams are very similar. Our 2018 First Responder Bowl pick thinks the Eagles have a shot. But their inability to beat a top 25 team does cause one to doubt them. Our 2018 First Responder Bowl pick is the Broncos at -2.0. We are going with the over at 55.0. That's our 2018 First Responder Bowl preview and pick. To connect to more of our free bowl picks just go to our 2018 college football bowl schedule.
Summary #25 Boise State Broncos vs Boston College Eagles Picks – Boise State at -2.0 and over 55.0