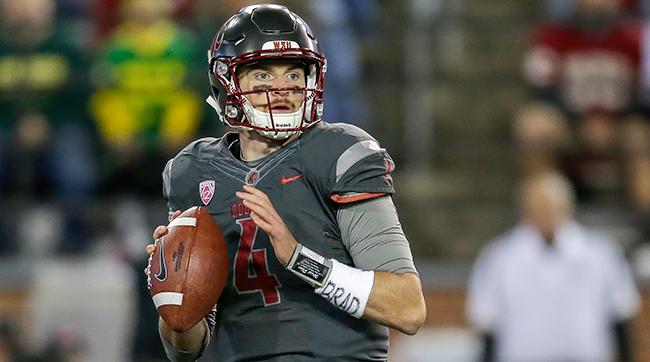 It's not an ideal situation for the College Football Week 6 Free Betting Pick with Oregon, hosting #11 Washington State (5-0) without the services of the Ducks starting QB Justin Herbert. The break star went down with a fractured collarbone in last week's 45-24 win over Cal and may miss up to a month. They'll trudge on nonetheless, welcoming in the 5-0 Huskies who are fresh off a win over USC last Thursday night. The College Football Week 6 Free Betting Pick has Washington State listed as -2 favorites, but do the Ducks have upset on their mind at Autzen Field?
Oregon Ducks: The starting quarterback should be no mystery #DoSomething https://t.co/rQmRYtBYPl

— Jared Farmer (@Mr_FarmGuy) October 7, 2017
How Does the Oregon Offense Respond Without Herbert?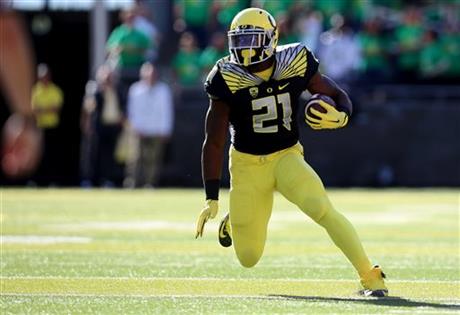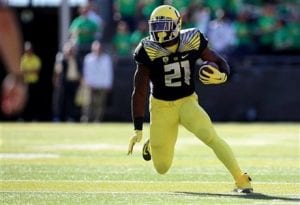 The Ducks starting QB was having an elite year throwing for 1264 yards, 9TD, and just 2 INT while completing nearly 70% of his passes. Now Oregon coach Willie Taggert turns to the combination of Senior Taylor Alie and Freshman Braxton Burmeister in an effort to upend the Huskie wagon train. Whichever QB gets a bulk of the work, they'll be taking over the reigns of the nation's #1 scoring offense (49.6 PPG) and 8th ranked total yardage (537.4) squad. They'll also have the luxury of handing off to RB Royce Freeman (592 yards, 9TD) who is one score away from becoming the all time leading TD maker in Ducks history.
WSU has ridden a notorious offense to their hot start, but it's the defense that is really making waves. Last week the Huskies held the highly touted USC QB Sam Darnold to just 164 yards passing and 0TD. They have the 7th ranked passing D in the nation (146.6) but are no slouch against the run either (129.4 YPG). It's not the best news in the College Football Week 6 Free Betting Pick for a staple of Oregon QB's that have a combined 35 college football pass attempts between them.
I hope Oregon stomps Washington State back into the mediocre (at best) football team they've always been

— Olivia Stewart (@liviaa_stewart) October 7, 2017
Will the Huskies Suffer a Letdown?
Washington State is starting to gain some national pub after their win over USC and QB Luke Falk, the selfie king, is quietly joining the Heisman running. Maybe not so quiet actually as Falk is 7th in the FBS in pass yards (1718) and 2nd in TDs (16). He has completed nearly 75% of his passes while throwing only 2 INT.
The Huskies have the #2 passing attack in the nation overall but only gain 81.8 YPG on the ground. The big question is how will the much-improved Oregon defense perform in this matchup? After finishing near dead last in total YPG last year, the Ducks now sport a top 30 overall YPG defense allowing 237.2 YPG against the pass and 95 YPG on the ground.
I cast my Heisman ballot for #LukeFalk! Click the player you think deserves the @NissanUSA #HeismanHouse vote! https://t.co/sZt43zb6CR

— Tracy Berry (@HalfNelsonBerry) October 7, 2017
College Football Week 6 Free Betting Pick
Oregon opened as just a +1.5 underdog and 71% of the betting public has pushed that line to Washington State -2.5. Falk threw for 371 and a TD in last year's WSU 51-33 win at Husky Stadium. With such a low line, it feels like a trap game. Oregon not only has their QB injured, but Freeman left with a sore shoulder last week as well. Washington State has gone 7-0 ATS the last 7 meetings between the two teams. The spread could conceivably be Washington State -6 or -7 and it would still have good value. What this points to is a possible Oregon upset, but at the same time a lot of points scored. The Over is 4-0 the last four meetings in Autzen and Falk and Co. will help it get there again tonight.
Pick: Washington State / Oregon *Over* 60.5