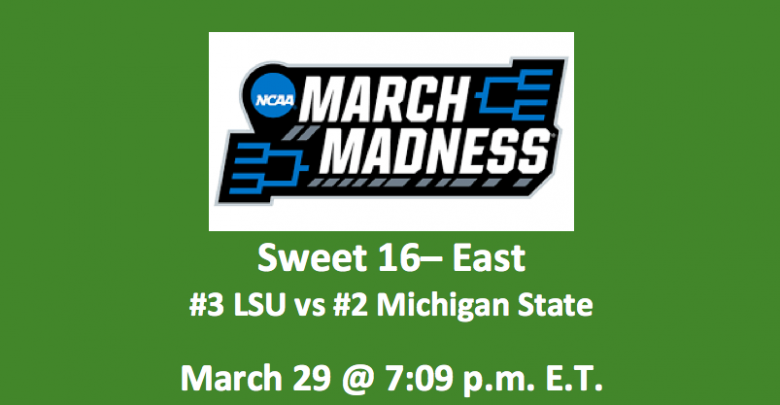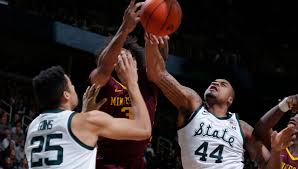 Our LSU vs Michigan State preview and pick has the Spartans at -6.0. This LSU vs Michigan State 2019 NCAA Tournament Sweet 16 contest will be played on Friday, March 29 at 7:09 pm ET. The two teams will meet in this East Region game at the Capital One Arena in Washington, DC. In the first day of Round Three play Gonzaga covered for the first time in the 2019 Tournament as they beat FSU. Also, Virginia beat Oregon but did not cover, and two underdogs won, as Purdue beat Tennessee and Texas Tech took down Michigan. Let's see if the second day of Round Three, Sweet 16 play will be as unpredictable.
LSU Tigers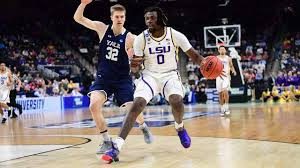 The Tigers of LSU (28-6) made it to the Sweet 16 by pulling out two close games. In the initial round of play of March Madness 2019, they beat a tough Yale Bulldogs team 79-74. In round two, the Tigers took down the Maryland Terrapins 69-67. Obviously, the ability to keep it close has helped LSU in this tournament. Our LSU vs Michigan State preview notes that Tiger shooters have been cold from downtown. In the first two games, they've hit just 26.3% of their threes. Also, their field goal mark of 41.4% has been low. They have averaged 72.5% from the charity stripe. The Tigers have grabbed 40 RPG, posted 12 APG, and made 6.5 STPG and 5.0 BPG. They've kept turnovers low and just committed 13.5 PF per game.
LSU will look to guard Tremont Waters to be the court coordinator. He's averaged 6.0 APG and 13.5 PPG. Also in the backcourt, Skylar Mays comes to this game as the leader in points. He's averaging 16.5 PPG. In front, Naz Reid has been consistent, with 13.5 PPG and 7.0 RPG. Reid posted a double-double versus Yale. Off the bench, forward Emmitt Williams and guard Javonte Smart have contributed 7.5 and 9.0 PPG respectively. Senior forward Kavell Bigby-Williams had 10 rebounds in each of the first two games, and with 10 points against Yale, had a double-double. He only scored two points against the Terrapins. In the first two games, Bigby-Williams has accumulated six blocks.
Michigan State Spartans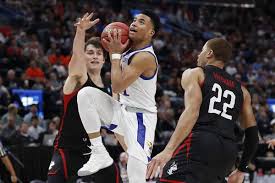 The Big Ten's Michigan State Spartans (30-6) had a tough time with the Bradley Braves in the first half of their Round One game. When they went into the locker room, it was Bradley 35 and MSU 34. But the Spartans turned it on in the second half, scoring 42 points to Bradley's 30 and winning 76-65. In their second game, despite committing 22 TOs and 18 PFs, Michigan easily beat Minnesota 70-50. Thus far in the tournament MSU's shot 48.8% from the floor and 33.2% from downtown. The team's free throw success rate is 84.4%. Overall, they shot much better against the Golden Gophers than they did versus the Braves. Other stats include 40.5 RPG, 12.5 APG, 3.5 STPG, and 4.0 BPG. The team has averaged 18 PFs per game.
Guard Cassius Winston is putting up 19.5 PPG and dishing off 6.5 APG. Upfront, forward Xavier Tillman, who had a double-double against Bradley, is averaging 16 PPG and 8.0 RPG. Also in the paint, Kenny Goins has pulled down 8.5 RPG, while Nick Ward has come off the bench to score 8.5 PPG and grab 6.0 RPG. Guard Matt McQuaid is putting up 9.5 PPG. Our LSU vs Michigan State preview finds that the Spartans do have some stellar shooters.
NCAAM Sweet 16 LSU vs Michigan State Preview – Our Pick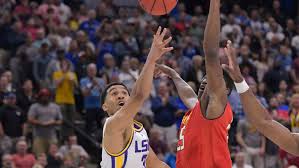 This LSU vs Michigan State preview sees this game as being very tight. In this 2019 NCAAM Tournament, the Tigers have not been shooting their best. However, the Spartans have been on target in both games. MSU does have a tendency to foul and free throws are the one area where the Tigers have excelled. Will that be enough for LSU to cover in this game? We're going to say "yes" and take the Tigers at +6.0.
Summary East Region, Sweet 16 – LSU vs Michigan State Preview: Pick is LSU Tigers +6.0