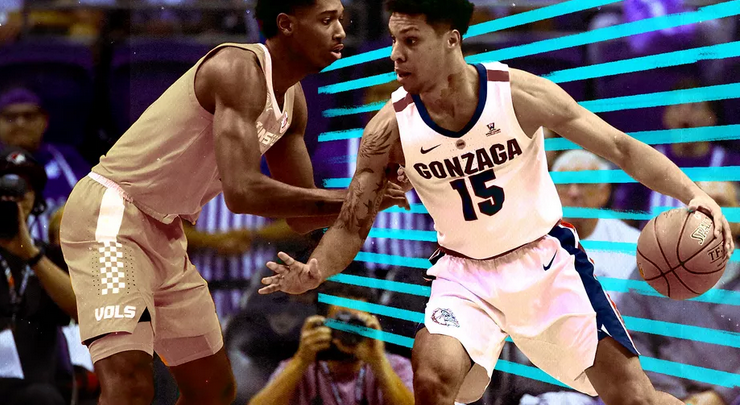 The West Coast Conference Tournament is playing out just like everyone thought it would, with the top two teams squaring off for an NCAA Tournament bid. Gonzaga and Saint Mary's have been the class of the West Coast Conference for the past decade, and these two teams are familiar with each other. Gonzaga swept the Gaels in their two regular-season meetings this season.
Gonzaga comes into this game as the number one ranked team in the country with an overall record of 30-2. The Bulldogs were a perfect 16-0 in West Coast Conference regular season play, and have had no trouble in the conference tournament. Saint Mary's went 11-5 in conference play, and are 21-11 overall this season. The Gaels are a whopping 14.0 point underdog in this matchup against Gonzaga.
Gonzaga Can Score in a Hurry
There is no doubt that this is the most talented team that Gonzaga coach Mark Few has ever had. The Bulldogs are loaded with potential NBA stars, and they are putting up monster numbers on offense. Gonzaga is averaging nearly 90 points per game, and they can score in a variety of ways. The Bulldogs are making close to 37 percent of their three-point attempts, and they won't be afraid to shoot them in this game.
Forward Rui Hachimura was named the West Coast Conference Player of the Year and is putting up big numbers for Gonzaga. Hachimura leads the Bulldogs with 20.6 points per game and is shooting better than 61 percent from the field. Guards Josh Perkins and Zach Norvell Jr. have combined to put up more than 28 points per game this season, and are both terrific shooters. The Bulldogs are a handful for any team to try to stop.
Saint Mary's Has Some Players
There is simply no way that Saint Mary's can match the depth of their conference rival, but the Gaels have a pair of studs who can carry them. Guard Jordan Ford leads the team with 21.4 points per game and is shooting better than 43 percent from the three-point line. Forward Malik Fitts is pouring in 15.5 points per game, while also averaging 7.7 rebounds per game. If Saint Mary's is going to win this game, Fitts and Ford will have to be great.
Saint Mary's likes to play at a slow and methodical pace, but that isn't always easy to do against Gonzaga. The Gaels are giving up just over 64 points per game so far this season and did hold Gonzaga to just 69 in their last meeting. At some point, Saint Mary's is going to have to prove that they can score, and that is where the challenge comes in. Saint Mary's has a shot in this game, but they are going to have to keep the score in the 60's.
Gonzaga Holds on For Victory
There is no doubt that Gonzaga is going to win this game, but this game should be closer than most would expect. Saint Mary's is not afraid of Gonzaga, and they will keep this game close throughout. The Bulldogs are going to punch their ticket to the NCAA Tournament, but Saint Mary's will cover. Take the 14 points and bet the Saint Mary's Gaels in this matchup against Gonzaga.