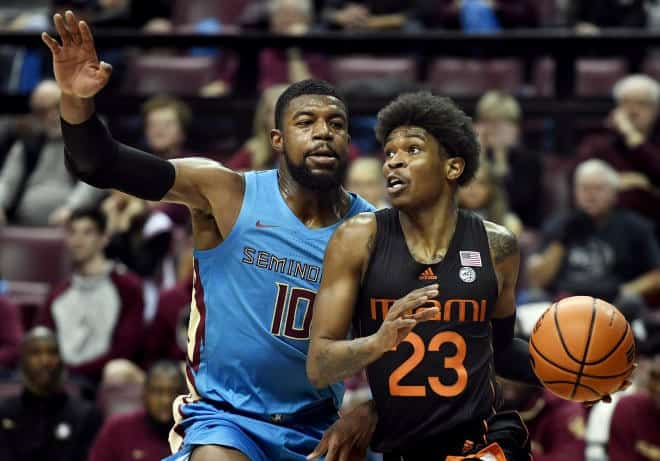 The January 22nd Florida State at Miami betting matchup looks like it will be a good one. The Hurricanes have tallied wins in 10 of their last 11 games, but their only defeat over that span came 65-64 at FSU on January 11th. Miami did bounce back on Tuesday however, destroying North Carolina 85-57.
FSU knows what's at stake as they are 5-2 in ACC play, just behind 6-1 Miami. The Seminoles have won five in a row and were even able to shake off the letdown game following their OT win over Duke by beating North Florida 88-73 on Thursday. That is a quick turnaround for a trip to Coral Gables though, a place where the Hurricanes are 9-1 on the year. The 'Canes are -2.5 favorites in this spot.
North Florida Game was Huge for FSU
If the Seminoles had to play Miami directly after their emotional 79-78 OT win at home over Duke, FSU would have been a fade just because of the letdown spot. North Florida hung tough with Florida State in being down just five points with a little over 11 minutes left, but the Seminoles were able to buckle down and get the 13-point while although failing to cover the -23 point spread.
Now Florida State has a game under their belt as they prepare for the trip to the Watsco Center. Miami is going to be out for vengeance as the Seminoles' 65-64 win on January 11th is the only blemish on what would be an 11-game Hurricanes win streak. RayQuan Evans hit two free throws with 0.8 seconds left to give FSU the edge in what was a very evenly matched contest. Evans also hit a buzzer beater to force OT and hit the game winning free throws to lead the win over Duke.
FSU and the Hurricanes are very evenly matched heading into the January 22nd Florida State at Miami betting contest. They both average 74-76 ppg and allow 69-72. The Seminoles are just 2-3 on the road though, falling at Florida (71-55), Purdue (93-65), and Wake Forest (76-54).
What Does Miami Have to Do?
The Hurricanes might be the most underrated team in Division I, still not in the top 25 even with a 14-4 record which includes going 6-1 in the rough and tumble ACC. The Hurricanes' resume includes a 76-74 win over #2 Duke, beating 15-4 Wake Forest, and the nearly 30-point win over North Carolina on Tuesday.
Miami's 85-57 win over North Carolina as +2 point underdogs was the 4th time in the last six games that the Hurricanes have scored 85 points or more. Isaiah Wong scored 25 against the Tar Heels and Kameron McGusty added 20 as Miami got back on track after their loss to the Seminoles. That duo, Miami's two leading scorers, will be leaned on heavily on Saturday as well.
Free January 22nd Florida State at Miami Betting Preview
It's hard to go against the "Rodney Dangerfield of College Basketball" in this matchup as Miami keeps compiling wins despite getting no respect from oddsmakers or the top 25 voters. The Hurricanes are a -2.5 favorite and if they play as angry as they did against North Carolina this one is going to get ugly.
Miami 83 – Florida State 72
Free Pick: Miami -2.5