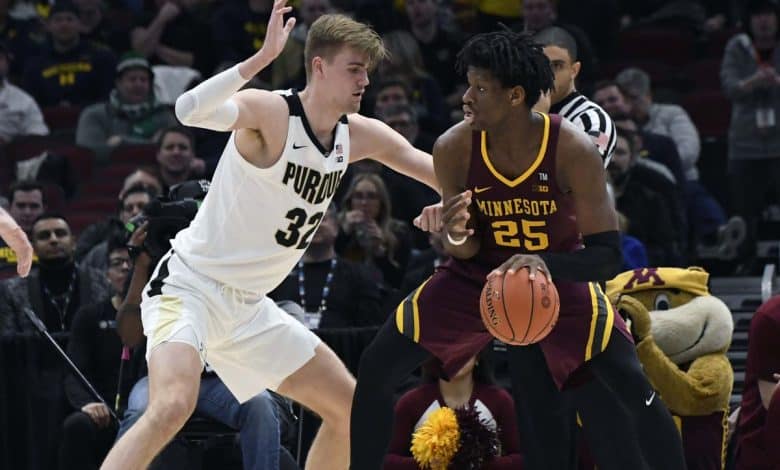 The #24 Purdue Boilermakers (13-7, 8-5 Big Ten) travel to take on the Minnesota Golden Gophers (12-7, 5-7 Big Ten) in a Big Ten Conference showdown. Purdue rolled three weeks ago in their first meeting, thumping the Golden Gophers, 81-62 in Lafayette. Thursday evening's tipoff is at 5 p.m. EST inside Williams Arena in Minneapolis, MN. Minnesota is a 2-point favorite at home in the rematch against the Boilermakers.
What to Know – Purdue Boilermakers
Purdue has won six of their last eight conference games, including wins over three ranked teams, to find themselves back in the top 25. The Boilermakers close out the season with a favorable schedule, facing just one currently ranked team over their final six contests. Purdue is tied for fourth place in the Big Ten standings, sitting only two games outside of the top spot.
The Boilermakers took down Northwestern at home on Saturday, 75-70, behind the shooting of freshman guard Jaden Ivey who had a season-high 20 points. Fellow freshman Zach Edey came off the bench to chip in 12 points and grabbed 11 rebounds, logging his first collegiate double-double.
Offensively, the Boilermakers average 70.6 points per game behind 44.4% shooting from the field. On defense, Purdue holds their opponents to 66.5 points per game and 41.7% shooting.
A pair of juniors, forward Trevion Williams (15.4 ppg) and guard Sasha Stefanovic (10.6 ppg), lead the Boilermakers scoring attack. Williams scored 17 points and snagged 14 rebounds in the earlier win over Minnesota.
Purdue is 9-10-1 against the spread this year, but 6-2 ATS over their last eight games. The Boilermakers are 4-4 away from home and 6-6-1 in conference play. Purdue is 1-4 against the Golden Gophers in their last five matchups.
What to Know – Minnesota Golden Gophers
Minnesota ended a three-game losing streak with a home victory over Nebraska on Monday night. The Golden Gophers have won just three out of eight games played in the new year, falling to ninth in the league standings. Minnesota is 12-1 at home this season.
In the 79-61 victory over the Cornhuskers on Monday night, the Golden Gophers had four players score in double figures. Leading the way was junior guard Marcus Carr with 21 points. Senior forward Brandon Johnson added 13 points and ten rebounds, the first double-double of his senior campaign.
Minnesota scores an average of 76.0 points per game while shooting 40.5% from the floor. The Golden Gophers defense surrenders 72.4 points per game on 42.4% shooting.
Carr is the squad's leading scorer, pouring in 19.9 points per game. Minnesota's second-leading scorer is junior center Liam Robbins who averages 13.2 points.
The Golden Gophers are 9-9-1 ATS this year, with a 5-5 mark over their last ten contests. Minnesota sports a 6-6 record in conference play, with a 5-1 showing on their home floor.
The Pick is In
Minnesota is a different team on their home floor, and the line reflects that. Purdue has one of the youngest lineups in the Big Ten and has gone only 3-5 in road games this season. This will be a close contest, with neither team wanting to walk off the floor with a loss. In the end, give us the home team fighting for their NCAA Tournament bid in the rematch.
The Pick: Minnesota -2