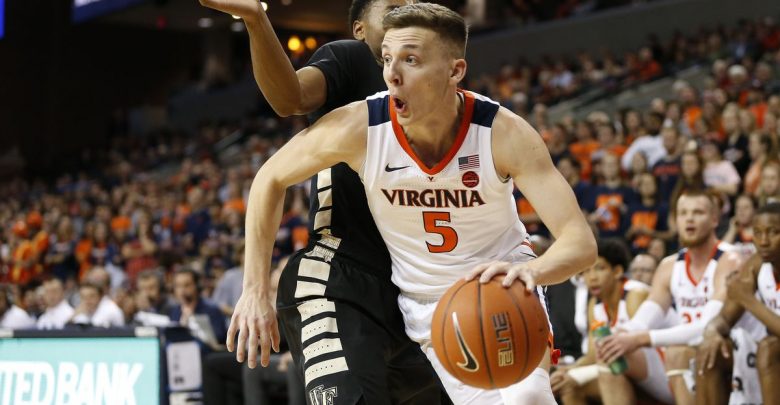 On Tuesday night, the Virginia Cavaliers will go on the road to take on the NC State Wolf Pack in an ACC showdown. Virginia comes in at 18-1 and are the number 3 team in the country. NC State comes in with a 16-4 record and are ranked number 23.
Virginia Coming in Hot
Virginia is coming off an 82-55 demolition of Notre Dame on Saturday. The Cavaliers had 5 players score in double figures, led by Deandre Hunter, who tallied 19 points on 9 of 15 shooting and grabbed 7 rebounds to go with it. Kyle Guy scored 15 points and went 3 for 5 from three-point range and added 5 boards. Ty Jerome was the do it all man in this one, as he scored 13 points on 6 of 10 shooting and led the team in both rebounds with 9 and assists with 6. Mamadi Diakite had 10 points and 7 rebounds.
NC State is coming off a miraculous 69-67 come from behind victory on Saturday against Clemson. The Wolf Pack trailed by 6 with 26 seconds left but scored the final 8 points of the game to win on a deep Braxton Beverly 3 at the buzzer. Markell Johnson was the leading scorer with 16 points on 6 of 10 shooting. He was followed by CJ Bryce, who tallied 15 points and was a perfect 3 for 3 from deep. Bryce also led the team in rebounds with 7. Beverly was the only other player in double digits with 12 on just 3 of 10 shooting and led the Wolf Pack in assists with 5.
Both Teams Boast Strong Scorers
Virginia is led by sharpshooter Kyle Guy who averages 15 points per game. He is followed by Deandre Hunter, who scores 174.7 a game, and Ty Jerome, who adds 13.1 a game. Jerome is also the leading assister with 4.9 a game. Braxton Key leads the Cavaliers in rebounding with 5.7 a game and chips in 7.2 points per contest. Virginia has once again been one of the best defensive teams in the county as they are holding opponents to just 52.6 points a game. The offense has been solid as well, scoring 74.1 a game while shooting 48.1% from the floor.
NC State boasts 4 players averaging double figures, led by Torin Dorn who scores 14.3 points a game and grabs 6.9 rebounds a game which is also a team high. He is supported by CJ Bryce and Markell Johnson, who are both deadly from beyond the arc. Bryce averages 12.5 a game and is shooting 45.5% from 3 and Johnson averages 11.8 a game and shoots 46.4% from deep. Johnson is also the leading assister with 4 a game. Devon Daniels adds 10.3 and Braxton Beverly chips in 9.7 each game. The Wolf Pack have been an offensive powerhouse this season, scoring 85.3 points a game on 49.1% shooting, but are allowing teams to score 69.4 a game on the other side.
NC State vs. Virginia Prediction
Virginia comes in at -7.5. These are two teams who get it done in different ways. Virginia is a team that locks you down defensively and NC State is looking to outscore you. I think the difference in this one will be the home crowd. This place will be rocking, and I think that will cause problems for Virginia on offense. NC State will not be able to score like they have all season long but will do enough on offense to have a chance to win this one outright. Take NC State +7.5.