#11 Syracuse Orange vs. #2 Duke Blue Devils Free O/U Pick
A Defensive Struggle With the Zone Defenses or a High Scoring Affair?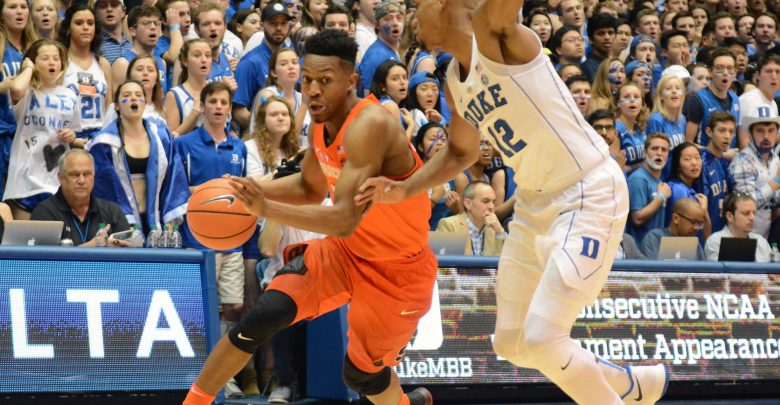 For the 3/23 NCAA tournament free pick Duke is giving up a ton of points (-11) to their ACC conference rival Syracuse. The Orange have rattled off three tourney wins when some experts didn't think they belonged in the field of 64 – or the field of 68 for that matter. The actual game is a toss up with Duke's interior big men possibly being the difference. Perhaps there's easier money to be had on the over/under however. Oddsmakers have set it at the lowest of the night (132) and the lowest Duke has seen all year as they expect both teams to play it close to the vest and rely on their defense. Which side of that total is the right one though?
There's a Strong Case for the 'Under'
If you were to simply rely on past results for the 3/23 NCAA tournament free pick, the 'under' would be a strong play considering Duke won 60-44 in their only head to head matchup this year. Syracuse scored just 16 points in the first half of that game and they shot a miniscule 14-48 (29.2%) from the field. That game was the 5th since Duke switched to the 2-3 zone defense – one that Syracuse coach Jim Boeheim made famous – and it likely solidified the Blue Devils switching away from their patented man-to-man floor slapping attack for the remainder of the year.
In the 60-44 contest from earlier this year, it was the lowest points Duke allowed all season – but it was also the second fewest they scored so some credit has to go to Boeheim and the Orange. The 104 points fell 28 shy of what oddsmakers have set for Friday night's game. The Orange haven't broken 60 points scoring in any of their three tourney games – but they haven't allowed over 60 either. The Duke side of the total is what scares 'under' bettors as they've averaged 88.0 ppg through the first weekend of the tourney.
Justifying an 'Over' Bet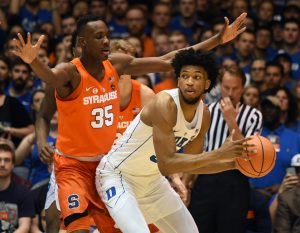 At the end of the day, the teller can't scoff at you for taking the over in the 3/23 NCAA tournament free pick. After all, it's only 132 points – a number that three of four games rose above last night. Just looking at the Duke side of scoring, potential NBA #1 pick Marvin Bagley is averaging 22 ppg through his first two NCAA tournament games. Syracuse has the size to try and stop Bagley in 7'2″ Paschal Chukwu, but that could open up things for Duke's 6'10" Wendell Carter, Jr. Plus, the way to beat Syracuse's 2-3 zone is with outside shooting and Duke has gone 23-51 (45%) from beyond the arc through two tourney games.
It's hard to take the 'over' Friday night when Syracuse put up just 44 points in their first meeting of the year against Duke. Then again, if anybody knows how to exploit the 2-3 zone wouldn't it be the man who made it famous, Boeheim? Plus, can Syracuse really shoot that bad again on Friday night? In the February 24th contest against Duke, Tyus Battle was 4-12 from the field, Frank Howard 2-11, and Oshae Brissett 1-10.
3/23 NCAA Tournament Free Pick – Betting
About 24 hours prior to tip, oddsmakers are saying that 6.7 of every 10 'total' bets for the Syracuse / Duke game have been on the under. There isn't a bad hedging opportunity in the fact that if Syracuse keeps it close, it's probably going to be a 60-55 type, low scoring game. If Duke covers the -11.5, they're probably going to put up 75+ points meaning it wouldn't take much from Syracuse to push an 'over.' As far as straight up bets go though, tonight is a contrarian play in that both teams know how to exploit the 2-3 zone that they see in practice every day. EVERYBODY thinks this game is going to be a snoozer at 62-55, but don't be surprised if both teams hit in the 70's.
Free Pick: Syracuse Orange / Duke Blue Devils 'Over' 133.5