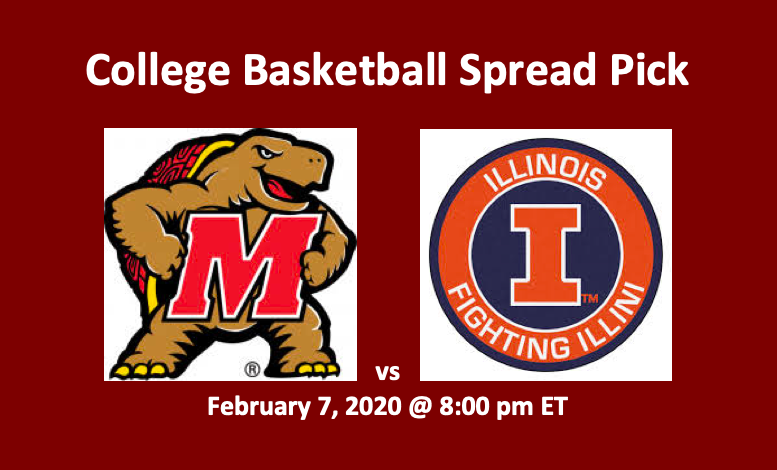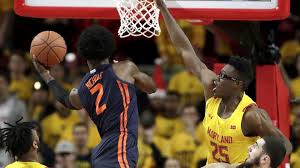 Our Maryland vs Illinois pick offers the #20 Fighting Illini at -3.0. This Maryland vs Illinois prediction notes that the #9 Maryland Terrapins (18-4 Overall, 8-3 Big Ten) are tied with the #20 Illinois for first in the Big Ten. This season, the Illinois Fighting Illini (16-6 Overall, 8-3 Big Ten) have already played the Terrapins. On December 7, the Terrapins edged the Fighting Illini 59-58. This game will be played Friday, February 7, 2020 at 8:00 pm ET. The venue will be the State Farm Center in Champaign, Illinois. After reading our college basketball pick, see our Atlanta vs Boston NBA pick.
Maryland vs Illinois Pick – Recent Performance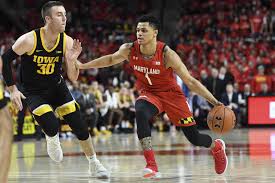 The Terrapins have won eight of their last 10 games and five in a row. The two losses, which occurred one after the other, were to Iowa 67-49 and Wisconsin 56-54. In those 10 games, Maryland beat #11 Ohio State 67-55. The other big win came the second time they met Iowa. In that game, the Terrapins beat the now-ranked #18 Iowa Hawkeyes 82-72. Maryland last played on February 4 beating Rutgers 56-51.
Illinois is also 8-2 for their last 10 games. They had won seven straight games and then on February 2 they met the #18 Iowa Hawkeyes. Iowa beat the Fighting Illini 72-65. Illinois has had a tough time against nationally-ranked teams. Of the four top-25 clubs they've played, the Fighting Illini have beaten just one. That was #5 Michigan 71-62.
Terrapins at Fighting Illini – Stats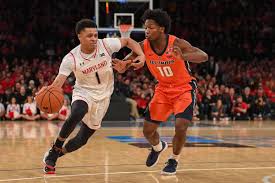 Statistically, these two college basketball teams are, for the most part, quite close. Our Maryland vs Illinois pick notes that Illinois tops Maryland in points scored 74.2 to 72.5 while the Terrapins are stingier on defense allowing 61.7 PPG to 64.2.
The Fighting Illini are better in field goals (45.6% to 41.3%) while the teams are neck-and-neck on threes and frees. They're also close on steals, rebounds, and assists. The Terrapins are a bit better on blocks (4.9 to 3.0).
Player and Roster Assessment
For Maryland, Anthony Cowan Jr. controls the backcourt. Cowan is averaging 4.3 APG and 16.3 PPG. Forward Jalen Smith is a double-double threat. He's bringing down 10.0 RPG and scoring 15.2 PPG. Two guards, Aaron Wiggins and Darryl Morsell, are solid inside-out players. Wiggins is averaging 10.6 PPG and Morsell 8.3 PPG. Both are bringing down five-plus rebounds per contest.
The Fighting Illini feature four double-digit scorers. Three of those point-makers are guards. In the backcourt, Ayo Dosunmu leads all players with 15.8 PPG and 3.4 APG. He's also good for four rebounds per game. Also at guard, Andres Feliz is recording 11.1 RPG, 4.8 RPG, and 3.0 APG. Both Dosunmu and Feliz are hitting over 48% of their field goals. Guard Trent Frazier is good for 10.0 PPG. In front, forward Kofi Cockburn, a 53.0% shooter, is averaging 14.0 PPG and 9.2 RPG.
Our Maryland vs Illinois Pick
The Fighting Illini certainly have an edge being at home. However, as noted, Illinois has had a tough time against top-25 teams. The battle in the paint looks fairly even. But we do like the Terrapins D. They have an edge there. Our Maryland vs Illinois pick is the Terrapins at +3.0.
#9 Maryland Terrapins vs #20 Illinois Fighting Illini Prediction – Summary
#9 Maryland Terrapins at +3.0