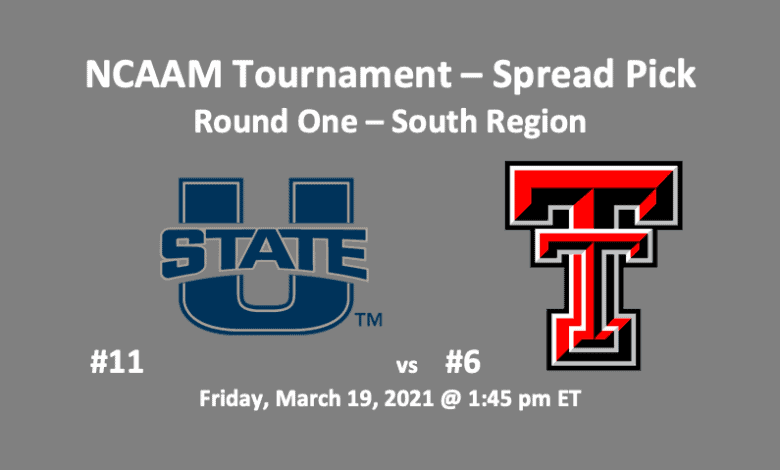 Our Utah State vs Texas Tech pick offers the underdog Aggies vs the favorite Red Raiders. This South Region matchup has Utah State at +5.0 (-110), while Texas Tech can be bet at -4.5 (-108). This is the fourth game of the First Round of the NCAA Men's Tournament. Utah State finished second in the Mountain West Conference, which was won by San Diego State. In the Mountain West Championship Final, the SDS Aztecs beat Utah State 68-57. Over their last five games, the Aggies have gone 4-1. The Texas Tech Red Raiders, who've won three of their last five games, finished sixth in the Big 12. The Red Raiders lost in the Big 12 Quarterfinals 66-67 to the Texas Longhorns. The Aggies and Red Raiders will meet on Friday, March 19 at 1:45 pm ET. The game will be held at Simon Skjodt Assembly Hall in Bloomington, IN. Also, check out our Virginia Tech vs Florida pick.
Utah State vs Texas Tech Pick – Stats
On paper, these two teams are relatively evenly matched. Utah State is averaging 73.3 PPG, while Texas Tech is recording 73.0 PPG. The Aggies are averaging 40.8 RPG and 16.3 APG while making 13.6 TO. The Red Raiders have recorded 35.1 RPG, 13.0 APG, and 11.0 TO. Both teams are recording approximately eight steals per contest, while USU is good for 4.9 BPG and Tech 4.1. Shooting percentages for both teams are very close with each club completing 44.5% of their shots from the court and 34% of their threes. When it comes to free-throw percentage, both teams are in the low 70s.
Key Players
For Utah State in the backcourt, Marco Anthony and Rollie Worster are major contributors, scoring 10.0 and 9.2 PPG respectively. Together, they're recording 6.7 APG and 8.8 RPG. In the paint, center Neemias Queta is a massive force. A consistent double-double threat, Queta is averaging 15.1 PPG and 10.0 RPG. He leads the team in both areas. He's good for 3.2 BPG. Forward Justin Bean is averaging 11.3 PPG and 7.7 RPG. Both forwards are 51-percent-plus shooters,
For the Red Raiders, forward Marcus Santos-Silva and guard Kevin McCullar are both though in the paint grabbing 6.5 and 6.1 RPG while scoring 8.5 and 10.1 PPG respectively. Santos-Silva hits 54.2% of his field goals. In the backcourt, Mac McClung leads the team with 15.7 PPG. Additionally, guard Terrence Shannon Jr. is good for 12.7 PPG. Also, in back, Kyler Edwards is recording 10.0 PPG and 4.6 RPG.
Utah State vs Texas Tech Pick – Final Thoughts
Our Utah State vs Texas Tech pick notes that Utah State brings a top-notch frontcourt to this game. On the other hand, Texas Tech has a flexible backcourt. In many ways, these two teams are fairly close in terms of stats. Still, we find that the Aggies have a rebounding edge, which could serve them well in this game. We're taking Utah State at +5.0 (-110).
#11 Utah State Aggies vs #6 Texas Tech Red Raiders
Utah State Aggies at +5.0 (-110)