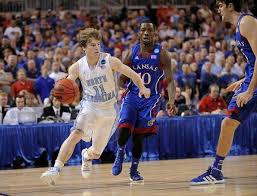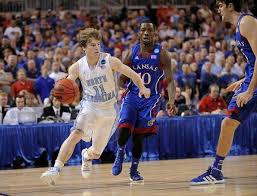 Friday in the 2017 NCAA Sweet 16 starts at 7:09 p.m. ET as the #4 Butler Bulldogs are at the #1 North Carolina Tar Heels. The spread and over/under on this South Region game has stayed fairly stable. The Tar Heels are at -7.5 and the totals bet stands at 153.0. The winner will play either UCLA or Kentucky. That game between the Bruins and Wildcats will tipoff at 9:35 p.m. ET. Our Butler plays North Carolina 2017 Sweet 16 free pick features two teams on a roll
The Bulldogs, who were second in the Big East, started March Madness playing against #13 Winthrop. They beat the Eagles 76-64. They then met #12 Middle Tennessee and beat them 74-65. For the Bulldogs this game against UNC is their first major test of the tourney.
Of the eight teams from the ACC that made it into March Madness, North Carolina, which took the regular season ACC title with a 14-4 record and lost the finals of the ACC Tournament to Duke (17) 90-83, is the only club left standing. In March Madness UNC has beaten #16 Texas Southern 103-64 and #8 Arkansas 72-65. The Tar Heels are a very tough team.
Butler Bulldogs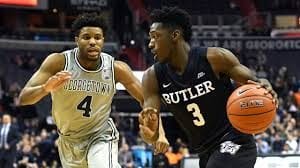 The Bulldogs will try to slow down the pace of this game, as that will work to their advantage. They are holding opponents to 68.2 points per game. Averaging 11.1 PPG, 4.5 RPG, and 3.1 APG, Andrew Chrabascz, a 45% shooter, will be a major factor in this contest. In the paint, Keelan Martin's contributions cannot be in any manner understated. He leads Butler in average points and rebounds per game with 16.0 and 5.8 respectively.
Kamar Baldwin, who's shooting 49% from the floor and 39% from beyond the arc, is averaging 10.0 PPG. He also got quick hands on defense and possess a penchant for causing turnovers. Avery Woodson is contributing 8.9 PPG while Kethan Savage offers 8.0 PPG. Tyler Lewis won't usually give you a lot of points, but he's a solid playmaker and setup man. The Bulldogs are averaging 76 PPG.
North Carolina Tar Heels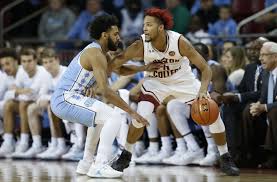 For UNC, who are averaging 85 PPG, having a few days off has been good. It should help Joel Berry III, who's averaging 14.4 PPG, 3.1 RPG, and 3.7 APG, and the distress he was feeling from rolling his ankle the other day. Kennedy Meeks is UNC's top rebounder, averaging 9.1 per game. He's also good for just over a dozen points per game. The tough Tar Heel inside game, which is bringing down a hefty 44 RPG, includes Isaiah Hicks with 5.7 RPG and Tony Bradley with 5.3 RPG. Hicks is also averaging 12.4 PPG. By the way on defense, Meeks and Berry are key.
We haven't mentioned UNC's top scorer, Justin Jackson. Jackson, a 39% three-point shooter and 45% field goal maker. He is averaging 18.1 PPG. Jackson brings solid skills and a level head to the court. He's averaging 31.5 MPG.
Butler Plays North Carolina 2017 Sweet 16 Free Pick
Butler finds itself in the Sweet 16 for the first time since 2011. In this game, they face the ACC champs. An ACC team has knocked Butler out of the tournament the past two seasons and in three of the last five years in which they have played in March Madness. Our Butler plays North Carolina 2017 Sweet 16 free pick is the Tar Heels at -7.5 and under 153.0.
Butler Plays North Carolina 2017 Sweet 16 Free Pick: UNC at -7.5 and under 153