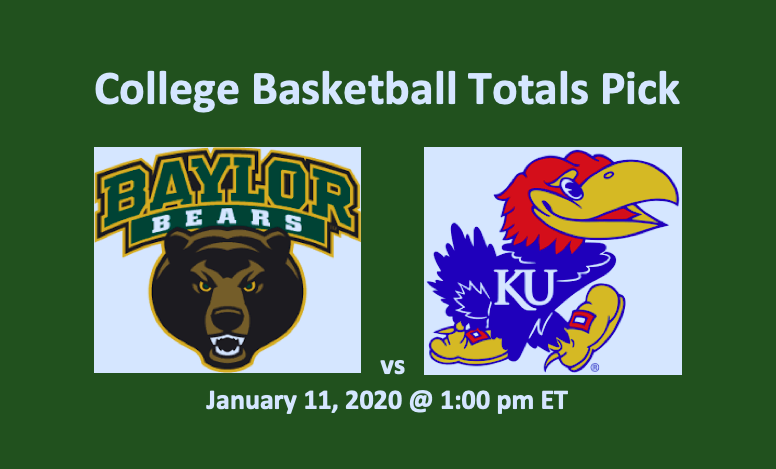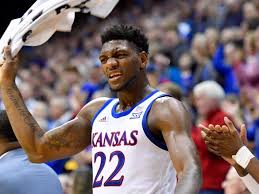 Our Baylor vs Kansas totals pick offers an over/under of 131.5. That 131.5 O/U for this Baylor vs Kansas totals is a low ceiling. Especially for two teams that can put up a decent number of points on the scoreboard. Both the #4 Baylor Bears (12-1 Overall, 2-0 Big 12) and the #3 Kansas Jayhawks (12-2 Overall, 2-0 Big 12) sit atop the Big 12. Then again, so are two other teams, the TCU Horned Frogs and Oklahoma Sooners, both of which are unranked. This time of the year, due to a lack of conference play, there's a lot of clutter near the top of the standings of many college basketball conferences. The Big 12 is no exception. Our Bears vs Jayhawks totals pick is for Saturday, January 11, 2020. The game has a 1 pm ET start time and will be played at Allen Fieldhouse in Lawrence, Kansas.
Baylor vs Kansas Totals Pick – Stats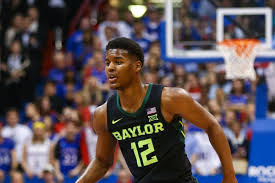 Together, these two offenses are averaging 153.6 PPG. That's 79.4 PPG for Kansas and 74.2 for Baylor. Defensively, the Jayhawks are permitting opponents 61.0 PPG while the Bears are giving up just 58.4. That total adds up to just 119.4 PPG. Adding together the combined point scored and points allowed and dividing by two, you get a combined over/under of 136.5. That pushes us toward the over.
On the road, the Bears have been averaging 72.25 PPG while at home, the Jayhawks are allowing 62.75 PPG. The Baylor road defense is tough, permitting only 61.75 PPG. On the other hand, the Kansas offense at home is scoring 84.50 PPG. That's five points better than their overall average. Combining these stats and averaging them out, we come up with a total of 140.6. Again, well over,
Bears at Jayhawks – Trends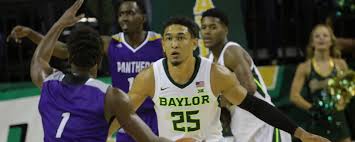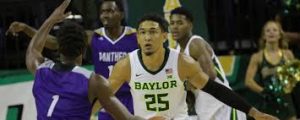 Our Baylor vs Kansas totals pick notes that this season both teams have been under in a majority of their games. In five of Baylor's last seven games, the total has gone under. In addition, in four of the Jayhawks' last five games, the score has been under. Plus, in 10 of 13 games between Baylor and Kansas, the result has been the under. The one fly in the ointment here occurs in Baylor's Big 12 matchups. In 14 of the Bears' last 20 conference contests, the total has gone over.
Our Baylor vs Kansas Totals Pick
Trends are tough to buck, but we are going to buck this one and pick the over. That's based on statistical evidence from this season and not on historical trends. Both teams can score and both have fine inside players with excellent field goal percentages. The Baylor defense is solid, but the Jayhawks have some awesome and productive offensive players. And, Kansas is at home where they tend to soar offensively. Our Baylor vs Kansas totals pick is over 131.5. It may not hit 140, but the total score should be higher than 131.5. Be sure to read our #4 Baylor Bears vs #3 Kansas Jayhawks point spread prediction.
#4 Baylor Bears vs #3 Kansas Jayhawks Over/Under Prediction – Summary
Totals – Over 131.5