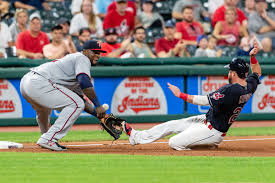 Our Cleveland Indians vs Minnesota Twins pick for 7:10 pm ET, Saturday, July 13, 2019, has the Indians at -139. This Cleveland Indians vs Minnesota Twins pick offers the Twins at +128. The Cleveland Indians (50-39 Overall, 25-19 Home) are second in the AL Central. They're 7-3 for their last five and sit 6.5 games behind the division-leading Twins. The first-place Minnesota Twins (57-33 Overall, 29-18 Away) are 5-5 for their last 10 games. In this season's series with the Indians, Minnesota is 4-3. The Twins have won the last two games, 5-4 and 5-3.
Cleveland Indians vs Minnesota Twins Moneyline Pick – Pitching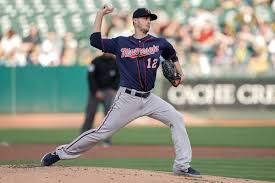 Righty Jake Odorizzi (10-4 W/L, 3.15 ERA, 1.12 WHIP) takes the mound for the Twins. After going 0-2-1 in his first three starts, Odorizzi posted 10 wins, two losses, and two no-decisions. In his last three starts, Odorizzi has lost two and received a no-decision. In those last three starts, he's gone had a of 12.1 IP. In his last start, which was against Oakland, Odorizzi lasted just three innings. He allowed six runs on four hits including two homers. Five of those runs were earned. The 29-year-old, who has a 1-4 record with a 5.25 ERA in 10 starts versus the Indians, matched a career high by posting 11 strikeouts in a no-decision on March 30 against the Tribe. In that game over six innings, he allowed just one run. Odorizzi, who last pitched July 2, is coming off the IL for a blister.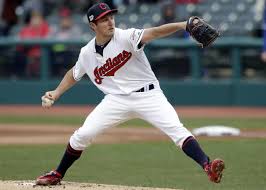 In his last six starts, Trevor Bauer (8-6 W/L, 3.61 ERA. 1.17 WHIP) has a 4-0 record with a 2.90 ERA. However, versus the Twins, he is 6-8 with a 4.35 ERA in his career. In his two starts this season against Minnesota, Bauer is 0-1 with a 3.60 ERA. In his June 6 game against the Twins, he allowed five runs on five hits, including three homers, over eight innings in a 5-4 loss. In his last start, which was on July 7 against Cincinnati, Bauer allowed just one run on four hits over seven innings. The final score in that game was 11-1. If he is on, Bauer can be tough to beat.
Indians vs Twins Moneyline – Stats and Offense
The Twins are batting .271 with 168 homeruns. Opponents are batting just .245 against Twins pitchers. Minnesota hurlers have allowed just 110 round trippers. The Twins' slugging mark is .496, while opponents are at .400. Shortstop Jorge Polanco, who leads the team with a .311 BA and .368 OBP, has hit just .219 in the month of July. Right fielder Max Kepler, who leads the team with 21 homers, has not had a four-bagger in July. Left fielder Eddie Rosario leads the team with 60 RBI. He has a .282 BA and a .529 SLG%. Unfortunately, he's on the 10-day DL. Over the last week, the Twins have hit just .234 and smacked just three HRs.
The Indians come to this game batting .310 over the last seven days and having hit eight homeruns. Cleveland is hitting .243 as a team. They've posted 116 homeruns and have a .416 SLG%. Opponents are batting .238 against Indian pitching and have allowed 117 homers while recording a .424 SLG%. Although Carlos Santana is batting just .167 for the last seven days, he's hitting .348 for July and .297 for the season. Along with leading the team in BA, Santana tops the tribe in homeruns (20), RBI (53), and OBP (.416). Shortstop Francisco Lindor, who's hitting .292, has smacked 14 homeruns and 17 doubles whole driving in 32 runs.
Our Cleveland Indians vs Minnesota Twins Pick
This should be a fairly close matchup. In the series opener last night, the Twins rallied to beat the Indians 5-3. Pitching is key here. Odorizzi has had a good season until recently. But coming off the IL with his injury healed, we expect him to be back in form. Cleveland starter Bauer has struggled versus the Twins but is having a solid season. Minnesota has a better offense, but it has been asleep as of late. Last night, it did seem to wake up. Taking everything into consideration, our Cleveland Indians vs Minnesota Twins pick is the Twins at +128.
Summary MLB Moneyline Pick – Cleveland Indians vs Minnesota Twins
Minnesota Twins at +128