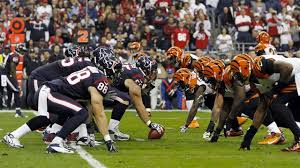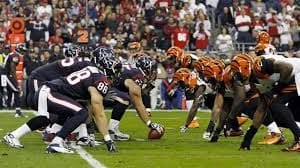 We've got our Cincinnati Bengals play Houston Texans free pick with the Texans favored by 3 points. The teams play on Saturday night in a Christmas Eve contest. Houston needs a win this week to keep their edge in their battle with the Titans for first in the AFC South. Tennessee lost today, putting them at 8-7. If Houston (8-6) wins this game, they'll be on top of the division. The Bengals (5-8) are third in the AFC North and can only play spoiler in this game. They have no chance at a postseason berth.
The Cincinnati Bengals (5-8-1) are 2-3 for their last five games. Those three losses, to Pittsburgh, Baltimore, and Buffalo were by five or fewer points. Their two wins were 32-14 against the Eagles and 23-10 against the Browns.
As noted, the Houston Texans (8-6) need this win, as it will give them sole possession of first place of the AFC South. They too are 2-3 for their last five games. From Nov. 21 to Dec, 4, they lost to Oakland 27-20, San Diego 21-13, and Green Bay 21-13. They won their last two beating Indianapolis 22-17 and Jacksonville 21-20.
Cincinnati Offense vs. Texans Defense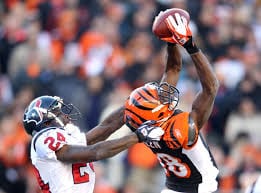 Bengals QB Andy Dalton (64.4 COMP%, 16 TDs, 7 INTs, 37 Sacks) would certainly like more protection from his frontline. He has been battered this year. One of his two primary receivers may not play in this game. WR A.J. Green (66 REC, 964 YDs, 14.6 AVG, 4 TDs) may not play in this game due to a hamstring. WR Brandon LaFell (51 REC, 665 YDs, 13.0 AVG, 5 TDs) is set to go. RB Jeremy Hill (215 ATT, 831 YDs, 3.9 AVG, 9 TDs) is set to play despite a bad knee and being listed as questionable. They are scoring on average 26.0 PPG.
The Texans are giving up 21.0 PPG. That stat might be fine if the team was averaging more than 17.9 PPG. Losing JJ Watt early in the season. Of the team's 26 sacks, 15.5 can be attributed to three players. The team's defensive figures are rather paltry and include nine interceptions and eight forced fumbles. Safety Quintin Demps (7 PD, 4 INTs) leads the team in picks.
Houston Offense vs. Bengals Defense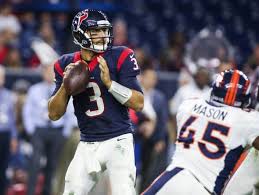 Tom Savage will run the Houston offense, which is averaging 17.9 PPG. Savage replaced Brock Osweiler at QB last week partway through the Jacksonville game. Houston, which had been behind, took that contest by one point. WR DeAndre Hopkins (66 REC, 788 YDs, 11.6 AVG, 4 TDs), the team's leading receiver, is questionable. WR Will Fuller V and TE C.J. Fiedorowicz each have 40-plus receptions and will be part of the offensive scheme in this game. RB Lamar Miller (268 ATT, 1.073 YDs, 4.0 AVG, 5 TD), who is also an able pass catcher, leads the team with over one thousand rushing yards.
On defense, the Bengals are giving up 21.0 PPG. The defense's strength lies in its secondary, which has made 17 interceptions while defending 69 passes. They have 26 sacks and 41 TFL; both of these stats are on the low side. Also extremely low are their forced fumbles, which stand at three. In the secondary, safety George Iloka has grabbed three passes while defending seven. Big DE Carlos Dunlap has been good for 7.0 sacks and 15 PD. DT Geno Atkins leads the team in sacks with 7.5.
Cincinnati Bengals Play Houston Texans Free Pick
Our Cincinnati Bengals play Houston Texans free pick sees this game as being fairly close. Texan QB Tom Savage is a wild card in this contest. It's hard to say exactly how well he will do. The Texan have has a tough time scoring. The Bengals have done a good job of keeping teams close. We are going with Cincinnati in week 16 at 3.0.
Cincinnati Bengals Play Houston Texans Free Pick: Cincinnati at plus 3.0