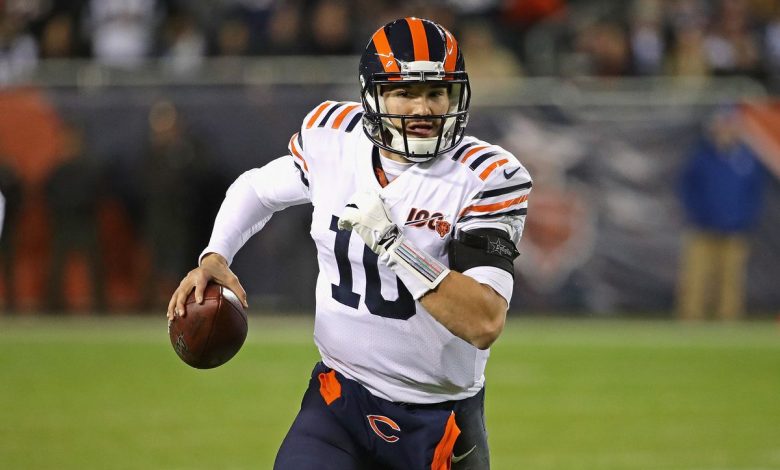 NFC North rivals are set to meet up Sunday at Lambeau Field in Green Bay, and this game has some serious playoff implications. The Green Bay Packers will be hosting the Chicago Bears, and this game is a rematch of the season opener. The Packers are trying to win the NFC North, while the Bears are clinging to playoff hope.
Green Bay comes into this game with a record of 10-3 and sits in first place in the NFC North. The Packers could also wind up with the top overall seed in the NFC. Chicago has now won three straight games and has improved to 7-6 on the season. The Bears are out of the playoff picture for now, but they are making things interesting. Green Bay is a 4.5-point favorite over Chicago in this game.
Trubisky Turning It Around For Bears
Bears quarterback Mitchell Trubisky has been sharp of late, with six touchdown passes in his last two games. The Bears are still averaging just 204 passing yards per game, but Trubisky can also make some plays with his legs.
Rookie running back David Montgomery has struggled to get things going as well, and the Bears are averaging just 84.8 rushing yards. An improved Trubisky will have to lead his offense to some points in this game.
Chicago's defense has been great again this season, although it hasn't been taking the ball away as much. The Bears are still allowing less than 18 points per game and held the Packers to just 10 points in the first meeting. Akiem Hicks will also be back on the field in this game, and that should be a huge boost to this defense.
Packers Finally Getting Some "D"
The Packers have also been playing some terrific defense this season, which is a change from previous seasons. Green Bay has given up close to 21 points per game this season, but its quick-strike offense has it out on the field a ton.
The Packers have a pair of terrific linebackers in Preston and Za'Darius Smith, who have combined for 18 sacks this season. Green Bay held the Bears to just three points in Week 1 and should have confidence for this one.
Quarterback Aaron Rodgers has thrown 23 touchdowns to just two interceptions this season, and he remains one of the best in the league. The Packers are scoring close to 24 points per game, and Rodgers is a big reason why.
Running back Aaron Jones has 779 rushing yards this season and has found the end zone 12 times. Green Bay will need some balance on offense to beat the Bears.
Bears Keep it Close; Packers Win
The Bears and Packers always seem to play a tight game when they meet up, and this weekend should be no different. Chicago has finally been getting solid play from Trubisky, and you know that its defense will show up.
Green Bay has not been explosive on offense this season, but it still has Rodgers, who has a history of beating the Bears, which will happen again this weekend. Take the +4.5 points as the Bears keep it close, but the Packers win the game.