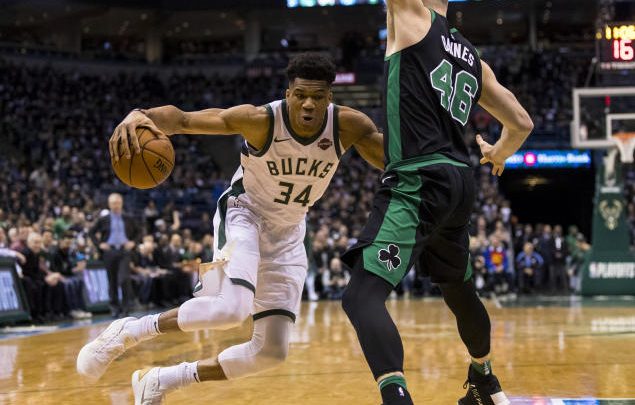 The Milwaukee Bucks are riding high off of back-to-back wins on their own court to tie up their first round playoff series at 2-2. Things will get interesting in the 4/24 NBA playoffs free pick as the Bucks head back to Boston, a place where they dropped the first two games by a combined 20 points. Are the injury depleted Celtics vulnerable in going down 3-2 tonight or is this just an example of the proverbial saying that the 'series doesn't start until somebody loses on their home court?'
Can the Khris Middleton Show Continue for Milwaukee?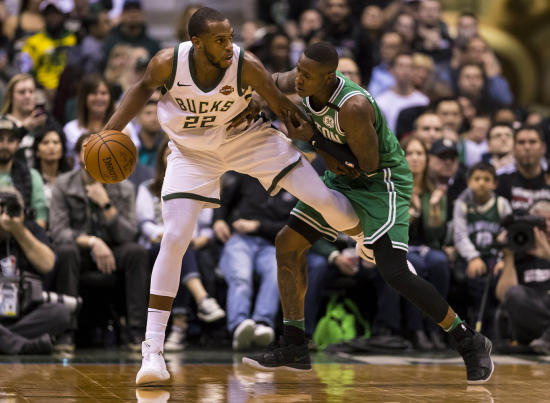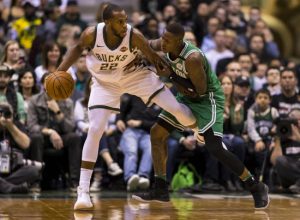 One of the biggest bright spots for Milwaukee so far in their first round playoff series has been SF Khris Middleton. He has posted 23+ in all four games so far, providing a nice complement to the Bucks' Giannis Antetokounmpo who has went for 27+ in three of four contests. The Bucks are confident even heading back to TD Garden mostly because of contributions from players such as Jabari Parker, who has come to life with 16, and 17 points in back-to-back games. If Milwaukee can get any type of contribution from Eric Bledsoe in the 4/24 NBA playoffs free pick could have the Bucks eyeing up an upset at +155 Tuesday.
What's fueled Milwaukee comeback in the series is some hot shooting as they've went for 57% and 52.1% from the field in back-to-back games including 48.5% and 43.5% from long distance. Milwaukee has actually shot great all series, posting 48.2% from the field in Game 1 and 59.7% in Game 2. What has to be a bit disheartening however is shooting that good and still being only 2-2 for the series overall.
Who Steps Up For Boston in Game 5?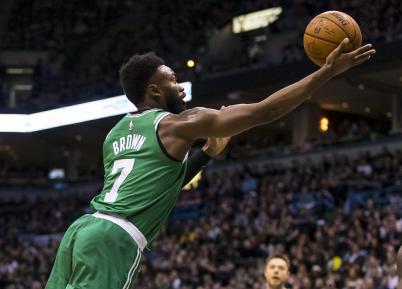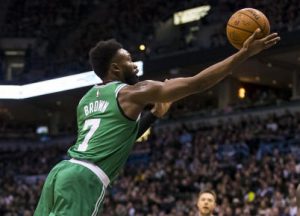 Have the Celtics shown balance so far in the series, or has their output been an example of not having a clear cut leader to step up and take over a game? Jaylen Brown could be a solid bet as he has two 30+ point games through 4 but is the second year player too young for a big moment like this? Terry Rozier had 23 points in each of games 1 and 2, but combined to put up just 19 in the two games in Milwaukee. Al Horford scored 24 in Game 1, but has regressed to not top 16 in any of the last 3.
Is Milwaukee suddenly the more consistent and reliable team heading into the 4/24 NBA playoffs free pick? Game 2 was a free throw fest as the two teams combined for 51 points from the charity stripe in a 113-107 Boston OT win. Boston could get a boost if Marcus Smart is able to return from thumb surgery as he's actually been upgraded to questionable for Tuesday night. Then again, how sharp can a guy be who hasn't played since March 11th?
4/24 NBA Playoffs Free Pick Betting
Oddsmakers are expecting a close one tonight, setting Boston at just -3.5 favorites. Nearly 70% of the public are backing the C's, thinking that home court advantage is enough to turn the series back in Boston's favor. There are a few things working in the Celtics favor tonight, for one they've never lost a playoff series after winning the first two games The Bucks are also 0-17 in their franchise playoff series history after falling down 0-2. Those were the Milwaukee teams of old and thanks to a rash of injuries to Boston the Bucks feel like they can bring home this upset. It's unknown if they can, but expect a very spirited effort in a huge swing game at TD Garden.
Free Pick: Milwaukee Bucks +3.5