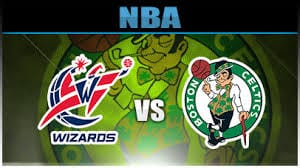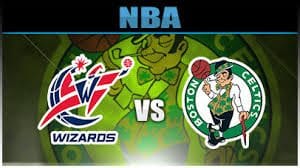 The Boston Celtics play the Washington Wizards tonight in game four of their Eastern Conference Semifinals series. The Celtics lead the series, which is clearly a grudge match between these two teams, two games to one. The Celtics took the first two in Boston by scores of 123-111 and 129-119. That second games went to OT. The third game, which was played on Washington's home court, ended with the Wizards on top 116-89. The fourth game is set to tip off at 6:30 p.m. on Sunday, May 7 on the Wizards' home court. Our Celtics play Wizards 2017 NBA East Semifinals free pick has Washington at -4.5 in what has been a very emotional series where tempers have been frayed.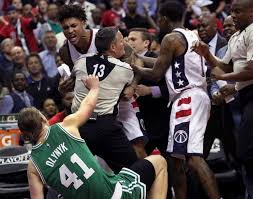 The third game got especially contentious, as an altercation between Washington's Kelly Oubre Jr. and Boston's Kelly Olynyk developed in the second quarter. Olynyk set a hard pick on Oubre, and the Wizard player took umbrage and knocked Olynyk to the floor. Oubre was ejected from the game. Later in the second-half a reserve player from each of the teams was also tossed. There's been bad blood between these two teams throughout the season, and there's not telling what might happen tonight.
Important Players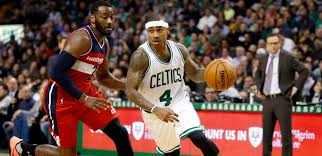 Isaiah Thomas has been big all season and massive in the playoffs. This is partly due to his ability to turn it up in the fourth quarter and in OT, and also due to the fact that Thomas lost his sister in a car accident a few weeks ago. Thomas has performed at a very high level, including leading an amazing second game comeback where he scored 53 points. Boston reserve center Kelly Olynyk, who is seven feet tall, is al,so a major factor due to his lightening rod status as an instigator, whether intended or not. Starting center Al Horford, who's averaging 16.0 PPG, 8.2 RPG, and 6.1 APG, is a massive force while SG Avery Bradley and SF Jae Crowder have been major contributors.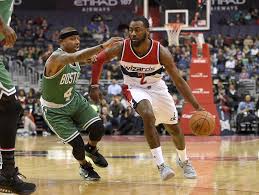 PG John Wall and SG Bradley Beal, who are averaging 29.0 PPG and 23.0 PPG respectively, have been a major asset to the Wizards. Wall has been all but impossible to stop. Center Marcin Gortat has averaged better than 11 rebounds and two blocks per game while PF Markieff Morris and SF Otto Porter Jr. have combined for 23 PPG and 12 RPG. SF Oubre has contributed 6.3 PPG while averaging about 17 MPG. How he reacts to the incidents from the other night could color tonight's game.
Five keys to the Game
Isaiah Thomas and Al Horford to the Celtics
John Wall and Bradley Beal for the Wizards
How each team handles their emotions
The inside game, including how much banging goes on
How quick the refs are to whistle a foul
Celtics Play Wizards 2017 NBA East Semifinals Free Pick
The Celtics may be underdogs, but they are worth betting on in this game for a few reasons. Isaiah Thomas is the primary one, as he has something to prove tonight. Plus, Boston wants to take home one win from this trip. Our Celtics play Wizards 2017 NBA East Semifinals free pick is Boston ay +4.5.
Celtics Play Wizards 2017 NBA East Semifinals Free Pick: Boston +4.5