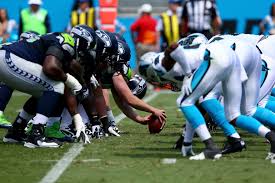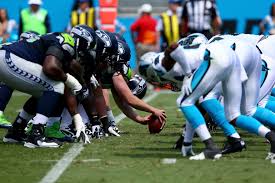 Our Carolina Panthers play Seattle Seahawks 2016 NFL free pick will kickoff Sunday night at 8:30 p.m. ET. It's no secret that the Panthers (4-7) are struggling this years, as they sit in last place in the NFC South, while the Seahawks (7-3-1) have a solid lead in the NFC West. Carolina needs every game at this point and even of they run the table, it's doubtful they will make it into the playoffs. Seattle is looking solid for a postseason berth. They are the only team in their division with a winning record.
Carolina has won three of their last five. That includes a 30-20 victory against Arizona on Oct. 30 and another win the next week versus Los Angeles with that score being 13-10. Nov. 13 saw the Panthers lose to the Chiefs 20-17 and then pick up a win 23-20 against the Saints. Last week, they lost to Oakland 35-32. For their last four games they will play the Chargers, Redskins, Falcons and Buccaneers.
The Seahawks are coming off a 14-5 loss to the Bucs last week. Prior to that, the last time they lost was on Oct. 30 when New Orleans beat them 25-20. Between those two losses, they beat Buffalo 31-25, New England 31-24, and Philadelphia 26-15. Their final games for 2016 include the Packers, Rams, Cardinals, and 49ers.
Carolina Offense vs. Seahawks Defense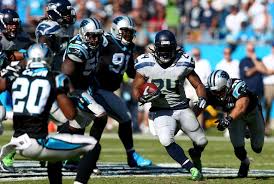 The Panther offense is scoring 25.1 PPG while their defense is allowing 25.5 PPG. Of their 371.7 yards of offense, 262.3 is in the air. Cam Newton (55.8 COMP%, 13 TDs, 8 INTs, 27 Sacks) is a dual threat quarterback. But his passing has not been all that accurate of effective. As a runner, he's averaging 4.2 YPA and he has five TDs. Jonathan Stewart is the team's main running back. He has seven touchdowns on 127 attempts. He's gained a total of 461 yards, averaging 3.6 YPA. TE Greg Olsen (58 REC, 790 YDs, 13.6 AVG, 3 TDs) is the teams leading pass catchers while WR Kelvin Benjamin (48 REC, 738 YDs, 15.3 AVG, 5 TDs) leading all receivers in touchdowns.
Seattle, which is allowing opponents 17.0 PPG, has a tight defense. They have 31 sacks, 10 INTs, and 14 FF. They have also defended 51 passes and made 33 tackles for a loss. LB Bobby Wagner (117 TCKLs, 2.5 Sacks, 5 TFL, 1 INT, 2 PD) leads the club in tackles and is one of those consistent defenders every team needs. CB Richard Sherman (4 INTs, 9 PD) is one of the best in the NFL. DE Cliff Avril (10 Sacks, 1 TFL, 3 PD, 4 FF) is an all-round beast when it comes to harassing QBs. This is a very tough defense. and they are for the most part healthy.
Seattle Offense vs. Panthers Defense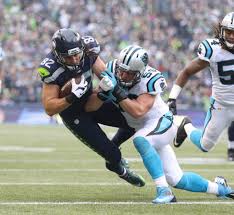 The Seattle offense, which is averaging 20.4 PPG, has been off and on this season. They're hoping they are on tonight. QB Russell Wilson (64.7 COMP%, 11 TDs, 4 INTs, 26 Sacks) is having a good season overall. His top receiver, wideout Doug Baldwin (61 REC, 767 YDs, 12.6 AVG, 5 TDs) is ready to go, but his other primary outlet, TE Jimmy Graham (51 REC, 706 YDs, 13.8 AVG, 4 TDs), is questionable. RB Christine Michael (117 ATT, 469 YDs, 4.0 AVG, 6 TDs) offers some decent running chops.
The Carolina defense is allowing 292.4 yards of passing. Still, they are a fairly sound unit. They come to this game with 31 sacks, 11 INTS, and 12 FF. Plus, they have 38 TFL and 46 PD. DE Mario Anderson is out. He leads the team with 6.5 sacks, and he also has two forced fumbles. The team's leading tackler and all around defender, Luke Kuechly is also out. He has a total of 102 tackles, plus two sacks, seven TFL, one interception and six PD. DT Kwann Short, who has three sacks and six TFL, is questionable. The Panther D is beat up.
Carolina Panthers Play Seattle Seahawks 2016 NFL Free Pick
The Seahawks are much healthier and more productive and dependable than the Panthers. Look for them to rebound from their loss last week to Tampa Bay. Our Carolina Panthers play Seattle Seahawks 2016 NFL free pick is the Seahawks at -7.5. The game is on Sunday Night Football at 8:30 p.m. ET.
Carolina Panthers Play Seattle Seahawks 2016 NFL Free Pick: Seattle at -7.5