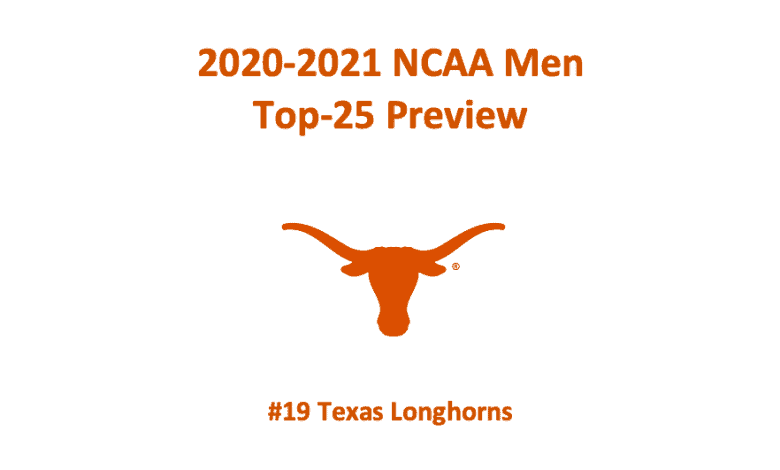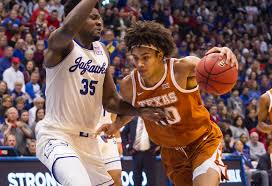 Our Texas basketball preview 2020 – 2021 notes that last season the Longhorns were amazingly inconsistent. After starting the season 9-1, Texas went 4-6. Then it got worse, as they lost four of their next five.
On the precipice of utter annihilation, coach Shaka Smart's guys pulled it together and won five straight games. Then, the Longhorns lost their last game, which was against Oklahoma State. The final score was 81-59. There overall record was 19-12, while their Big 12 mark came down to 9-9. The Longhorns ended up in a four-way tie for third place with the Texas Tech Red Raiders, Oklahoma State Cowboys, and West Virginia Mountaineers. This year, with a slew of starters and veterans returning and a top-10 freshman forward on the roster, this team looks ready to compete.
Stats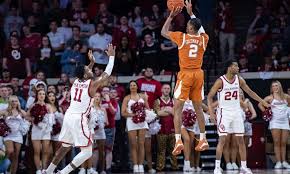 A major problem for this team was its lack of scoring. The Longhorns averaged 64.2 PPG (324th Nationally, 10th Big 12), while they allowed opponents 63.3 PPG. (27th Nationally, 4th Big 12). Consequently, the Longhorns' PF/PA differential was -0.9. Other areas the were in need of vast improvement included free-throw percentage (68.5% – 259th Nationally, 6th Big 12), rebound margin (-3.8 – 313th Nationally, 10th Big 12), and assists per game (11.6 PG – 288th Nationally, 10th Big 12). Their field-goal percentage on offense and defense was approximately 42%, while their three-point completion rate came in at 33.4% (170th Nationally, 5th Big 12), which was middling.
Texas Basketball Preview 2020 – 2021 – Players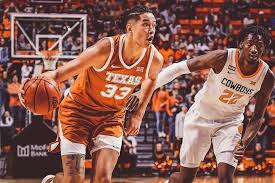 Five starters return to the Texas Longhorns. Those starters provided plenty of points for Texas. Their point production ranges from 9.3 PPG to 12.7 PPG. All of these avid point producers are upperclassmen and come into this season with a lot of valuable experience. Of those five, included are guards Matt Coleman III, Andrew Jones, and Courtney Ramey and forward Jericho Sims. We expect that freshman forward Greg Brown III, who's one of the top recruits in the country, will get the nod to start. Also, in the frontcourt, junior Gerald Liddell will see action. In the backcourt, senior Jase Febres and sophomore Donovan Williams will contribute.
Frontcourt
Senior forward Jericho Sims heads what is a very deep frontline. Last year, Sims averaged 9.7 PPG, converting 65.8% of his field goals. He averaged 8.2 RPG and 1.2 BPG. Incoming freshman Brown will need to hit the ground running. The very athletic Brown, who is 6-9, is noted for being a fine offensive and defensive player. Forward Liddell, who averaged 4.4 PPG and 3.3 RPG, can shoot from virtually anywhere. He converted 33.3% of his three-point shots. Other returning players in the paint who could contribute include Kai Jones, Kamaka Hepa, Will Baker, and Royce Hamm.
Backcourt
Senior Matt Coleman III takes the point. On either side of him will be juniors Andrew Jones and Courtney Ramey. Last season, both proved to be avid scorers, as each put up double-digit scoring numbers. Coleman averaged 12.7 PPG while converting 44.1% of his field goals and 39.5% of his threes. A sound defender, he also made 1.3 SPG. Coleman also averaged 3.4 APG and 3.0 RPG. Jones, who averaged 11.5 PPG, shot 41.0% from the floor and 38.3% from beyond the arc. Wing Courtney Ramey, who averaged 2.9 APG and 1.0 SPG, scored 10.9 PPG. With a field-goal success rate of 40.1% and a three-point conversion rate of 31.3%, Ramey was a major contributor.
Our Texas basketball preview 2020 – 2021 notes that this backcourt trio comprised the number one, two, and three scorers on this team. However, despite this, the trio needs to perform at a much-higher level this season. Also, look for Jase Febres, who averaged 9.3 PPG, to come in for a good number of minutes. He hit 34.7% of his field goals and threes.
Longhorns – Make or Break for 2020-2021
Our Texas basketball preview 2020 – 2021 finds that on the defensive end this team looks golden. They should be able to control opponent offenses, keeping point-production low. But can this Texas Longhorn team generate more points? It starts with the backcourt. However, it does not end there. More offensive production is required from the paint. One way Texas can increase the number of points per game scored is by creating more second shots. Last year, opponents outrebounded the Longhorns by 3.8 PG. That meant fewer second shots for the Longhorns and more extra shots for their opponents. That situation must be remedied. Finally, at forward Brown could be a game-changer.
Texas Basketball Preview 2020 – 2021- Final Word
Our Texas basketball preview 2020 – 2021 finds that this team looks, to a degree, improved. But you really have to wonder about a few things. First, does the five-game winning run at the end of last season really mean anything? Should that give one hope for this team in 2020? Many people felt that the end-of-the-season streak was a positive sign that Texas will have a better 2020 – 2021 season. Of course, that's not necessarily so. It was impressive that two-of-five teams the Longhorns beat, #20 WVU and #22 Texas Tech, were nationally ranked. However, also note that in their final game of the season, the Longhorns played the 7-11 Oklahoma State Cowboys. OSU hammered the Longhorns 81-59.
Also, for this team to excel, they will need to get major output from freshman Brown in the frontcourt, while the starting backcourt trio must expand their point production. Can coach Smart engineer that change? We won't be sure about this team until they are deep into conference play. They'll need to prove themselves then. In the meantime, we can't help but ask, will the real Texas Longhorns please stand up?
Texas Longhorns – 2020-2021 NCAA Projection
Big 12 Finish – Fifth
NCAA Tournament Finish – Second Round