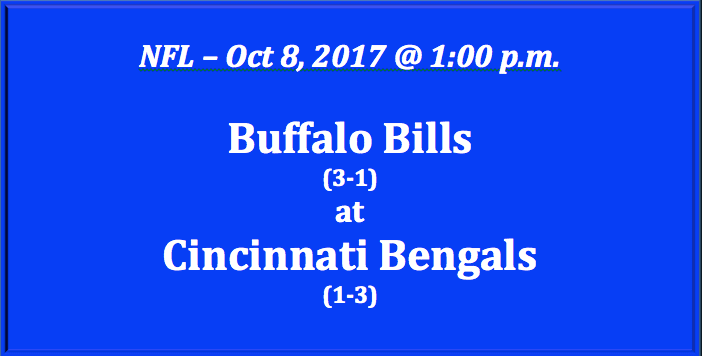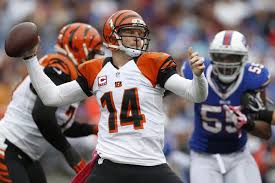 The AFC East Division-leading Buffalo Bills (3-1) are at the AFN North Cincinnati Bengals (1-3) today at 1 p.m. E.T. The Bills have lost one game thus far and that was 9-3 to the Carolina Panthers. Before last week, they had beaten the New York Jets and Denver Broncos. And then last week, they surprised just about everyone by going to Atlanta and taking down the Falcons 23-17. The Bengals got their first win of the season last week, as they easily beat the Cleveland Browns 31-7. Prior to that this season, they had lost to the Baltimore Ravens 20-0, Houston Texans 13-9, and Green Bay Packets 27-24. Our Buffalo Bills play Cincinnati Bengals 2017 NFL pick has the home team at -3.5.
Buffalo Pluses and Minuses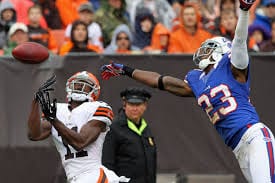 It's no secret that the Buffalo defense has carried this team. They are holding opponents to 13.5 PPG and 93.3 YPG on the ground. They have six picks, five forced fumbles and 26 passes defended. Plus, the Bills D has accumulated 11 sacks and 16 tackles for a loss. DE Jerry Hughes has three sacks and safety Jordan Poyer and linebacker Lorenzo Alexander each have two QB bring downs. In the secondary, Poyer (25 TCKL, 5 PD, 1 INT), Micah Hyde (15 TCKL, 4 PD, 3 INTs), E.J. Gaines (5 PD, 1 INT, 2 FF, 1 TD), and Tre'Davious White (8 PD, 1 INT, 1 TD) have proven to be very effective.
On offense, QB Tyrod Taylor (67.7 COMP%, 5 TDs, 1 INT) has played well. TE Charles Clay (18 REC, 12.6 YPC, 2 TD) has been Taylor's go-to guy. The Bills are using LeSean McCoy as a dual threat. McCoy has 21 catches for 168 yards and 68 rushed for 216 yards. If he can have a breakout game today, that would help this offense, which is averaging 18.3 PPG, a lot.
The minuses are important here. Even though the Bills have 11 sacks, they have also allowed 12. The Bengals have nine sacks and 22 TFL, which means they may be able to put some pressure on Taylor and what is mainly a passing offense. Another big question has to do with whether or not certain players in the secondary will be on the field today. Standouts Hyde (SS) and Gaines (CB) were both limited this week. Hyde has a knee problem and Gaines aggravated a shoulder injury. Both are expected to play, but for how long and how effective they will be is anyone's guess.
Bills Summary
Bills can use more offense
Injuries on D could be costly today
Taylor needs to continue to be conststent
Cincinnati Pluses and Minuses
QB Andy Dalton (66.7 COMP%, 6 TDs, 4 INTs) had a great game against the Browns last week as he completed 83 percent of his passes and threw four TD passes and no interceptions. But that was against a Cleveland team that allowing over 26 PPG and 236.8 YPG passing. How will he do against the Bills, who can blitz decently and have a very fine secondary?
The Bengals defense has played well overall. They have a dozen sacks, 15 PD, and three picks. Those stats are good, but taken together are not spectacular. They have yet to force a fumble. LB Nick Vigil (34 TCKLs, 1 SCK, 3 TFL) leads the team in tackles. He has two passes defended and one pick. CB William Jackson III, who leads the team in passes defended with four, has an interception and a touchdown.
The minuses include the fact that there has not been much room for error with this team. They are allowing only 16.8 PPG, but the Bengals are scoring just 16.0 PPG. Their ground game is listless. On the defensive side, they are vulnerable to the ground attack. Dalton has been sacked 14 times thus far. He could be in for more pressure in this game.
Bengals Summary
Dalton is coming off a very fine performance and needs another today
Defense is decent
Minus 0.8 PF/PA differential is very tight
Three Takeaways
Our Buffalo Bills play Cincinnati Bengals 2017 NFL pick offers these three important takeaways:
Injuries to the Bills D could hurt their effectiveness today
Cincy has no rush attack so needs Palmer to have a big day
Buffalo has an edge in this one on defense and offense.
Our Pick
As noted, the injuries to Bills secondary are worrisome. But this is a deep group. Palmer has had one good game, and that was against a weak defense. Buffalo just beat the NFC champs. Our Buffalo Bills play Cincinnati Bengals 2017 NFL pick is the Bills at +3.5.
Bills Play Bengals Pick: Buffalo at +3.5