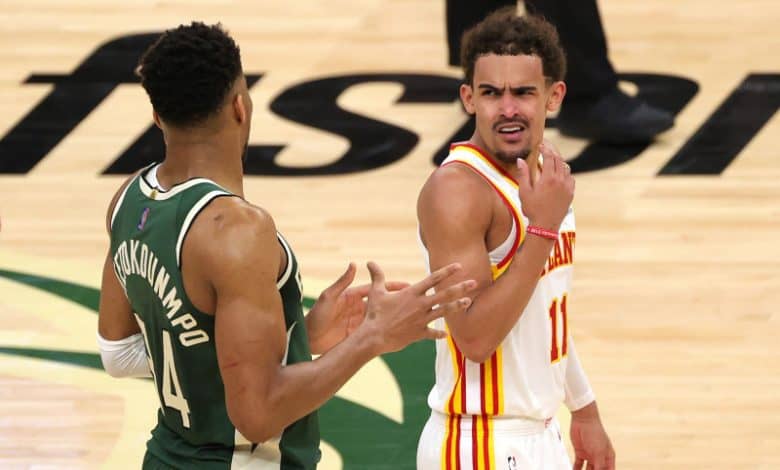 The Bucks at Hawks game 4 betting matchup relies largely on the status of Hawks guard Trae Young, whose status is questionable with a bone bruise after stepping on a referee's foot on Sunday.
Game 3 was close until Young injured his ankle at the end of the 3rd quarter, and the Bucks went on to outscore the Hawks 30-17 in the 4th for the 113-102 win as -5 point favorites. Can Atlanta find enough help to cover the +7 on Tuesday night, or will a couple of rest days leave Young in better condition for the game 4 meeting?
Middleton Arrives for Milwaukee
It may not matter who does or doesn't play for Atlanta in the Bucks at Hawks game 4 meeting if Khris Middleton performs like he did on Sunday. The Bucks guard went for 38 points, 11 rebounds, and 7 assists to bounce back from a couple poor shooting nights in Milwaukee. Middleton was just 12-38 prior to Sunday's 15-26 performance.
Of course Middleton wasn't a one man show in game 2, with Giannis Antetokounmpo pouring in 33 points and grabbing 11 boards. Milwaukee dominated on the post with Bobby Portis also adding 15 points off the bench. The Bucks held a 50-35 rebound advantage in game 3, and 47-34 in game 2.
Milwaukee has now won two in a row in the series, which includes Friday's 125-91 blowout in which the Bucks held a 77-45 lead at halftime. Atlanta was able to temporarily steal home court advantage with a 116-113 win in game 1, but that was behind 48 points from Young. Can the Hawks keep things close even if their star is not 100%?
Atlanta Basically Has Season on the Line
Milwaukee has definitely looked like championship favorites the last two games, and the Hawks are in a do-or-die situation on Tuesday as they do not want to go back to Fiserv Forum down 3-1. The Hawks have looked great this whole postseason, but is it time to return the glass slipper?
If Young can give it a go at or near close to full strength, the +7 points does have some value as the Hawks were 25-11 at home this season. Atlanta has now dropped two of their last three at home this postseason though, falling on Sunday despite shooting 51% from the floor.
It's obvious Atlanta is going to need somebody else to step up on Tuesday night, regardless of Young's status. John Collins had 23/15 in game 1, but has just 24 points total the last two games. The Bucks had the 6th best defensive efficiency in the NBA during the regular season, so Atlanta getting loose may be tougher than expected. The total (218.5) has gone 'under' in six of the last seven these playoffs for the Hawks.
Free Bucks at Hawks Game 4 Pick
65% of the betting public like Milwaukee tonight, and it wouldn't be far fetched to see a Bucks blowout win coming especially if Young's foot / ankle is a legitimate concern. Atlanta may have had a hard time covering that number even if Young was healthy, but oddsmakers never make it that easy. Taking the points in this against the grain play on a number that seems like it should be higher.
Hawks 109 – Bucks 112
Free Pick: Hawks +7