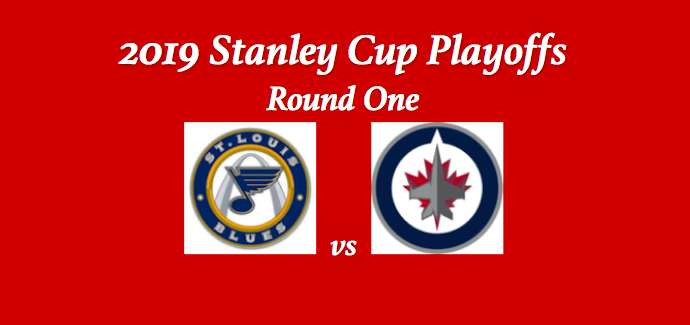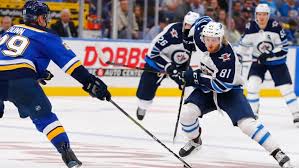 Our Blues vs Jets Playoff Preview will look at how a playoff matchup between the Blues and Jets, the two strongest Western Conference clubs, will unfold. At one point during the season the St. Louis Blues found themselves in the NHL's basement. They looked likely to be in line for a draft lottery pick until turning around their season in January. After a coaching switch, the Blues' woke up, eventually climbing the standings to the third Central Division position. In contrast Winnipeg had a very consistent season. They both started and finished strong. Both clubs finished the season with 99 points but the Jets will have home ice advantage due to having more non-shootout wins.
Blues vs Jets Playoff Preview – Goaltending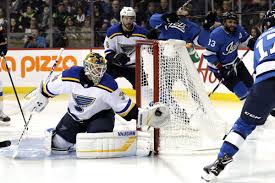 Jordan Binnington has been the biggest surprise for St. Louis this season. Binnington came in partway through the season as a rookie and immediately made an impact. In his first start he pitched a 25-save shutout against Philadelphia. He has been rock-solid ever since compiling a .927 save percentage and a 1.89 GAA on the year. This will be Binnington's first playoffs although he has no lack of confidence and should be expected to keep play strong. If he does falter, St. Louis will have to rely on Jake Allen. Allen had very shaky year before losing his starting position. While he did start the majority of the club's games he finished with a 2.83 GAA and a .905 save percentage. He hasn't seen playoff action since 2017, and while he played well in them (1.96 GAA, .925 sv%), he has been too unreliable this year.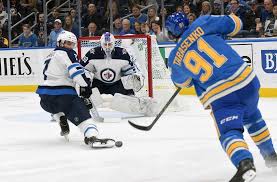 Winnipeg will start Connor Hellebuyck. Hellebuyck had a solid season although his stats took a dip compared to last year. He finished with a 2.90 GAA and a .913 save percentage in 63 games. Hellebuyck has maintained this level of play recently as well. In his last five games he stopped .913 of his shots and allowed 15 goals. He was very good in the postseason last year compiling a .922 save percentage and a 2.36 GAA to help the Jets to the Western Conference Final. He'll certainly be a major factor in this series and whether or not the Winnipeg Jets go deep into the Stanley Cup Playoffs.
St. Louis Blues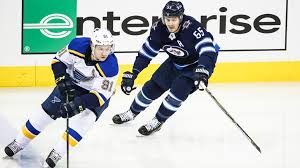 While the Blues finished in the middle of the pack in terms of scoring, their offense has the ability to be deadly. Ryan O'Reilly had a very solid first season in St. Louis. He has led the club in scoring finishing with 28 goals and 49 assists. His +22 plus minus rating was also the best on the Blues roster. While O'Reilly has had a very consistent year, the Blues' other big offensive star, Vladimir Tarasenko had a slow start. The Russian winger found his footing about halfway through the season enroute to his fifth straight 30-plus goal campaign.
St. Louis D-corps look strong as well. Alex Pietrangelo and Colton Parayko both had solid seasons. They averaged 24:05 and 22:47 minutes per night while registering 41 and 28 points respectively. While Pietrangelo was limited to 71 games due to injury, Parayko finished with the second best plus-minus rating on the roster (+20). Vince Dunn contributed significantly in his second NHL season as well. Dunn finished the year with the second most points by defenseman on the Blues' roster. Overall St. Louis' blueline has a good mix of offensive, defensive, and all-around talent.
Winnipeg Jets
Winnipeg has a very balanced offensive attack. They scored the seventh most goals in the league. All of their top three centers averaged at least a point every other game. They also have five players who scored 10 or more goals. They are led by Mark Scheifele (38-46-84) and Blake Wheeler (20-71-91), who both registered more than a point per game. One player the Jets will need to get more out of is Patrik Laine. Laine had 30 goals on the year but was projected by many to lead the NHL in this category. He has gone pointless in his last six contests.
Winnipeg is happy to have Dustin Byfuglien back in their lineup. He missed a total of 42 games due to various lower body injuries but has played in the club's last five. Byfuglien will log heavy minutes for Winnipeg along with Jacob Trouba. Trouba put up 50 points from the blueline while averaging 22:53 minutes per game. Overall defensive talent looks similar between the two clubs. Offensive potential is stronger for the Jets though, as they have three lines that can do damage if they get hot.
Blues vs Jets Playoff Preview
We see this series as being one of the closer during the first round. Both Teams finished the season with an identical 99 points and have solid groups of forwards and defensemen. There are really no weak points in either club's lineup. Our Blues vs Jets Playoff Preview sees St. Louis coming out on top. Binnington has been the hottest goaltender in the NHL and could be tough for Winnipeg to beat. On top of that St. Louis has been dominant recently going 8-1-1 in their last ten games.
Blues vs Jets Playoff Preview: Prediction
St. Louis Blues over the Winnipeg Jets in 7 games