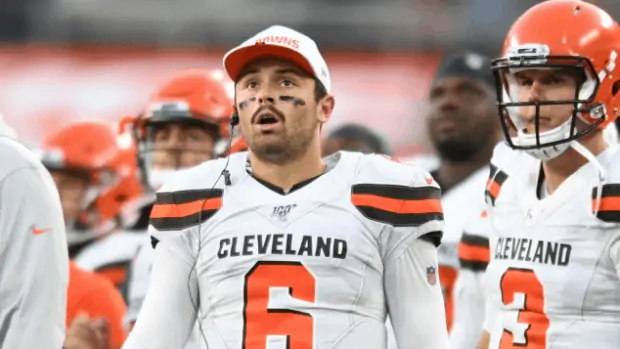 Cleveland may have snatched defeat from the jaws of victory last week in a 47-42 loss at Baltimore, but the Browns at Giants pick is still very crucial for postseason plans for both teams. Cleveland is 9-4 with a game in hand, but could go anywhere from the 4 seed to out of the playoffs depending on Sunday night's result.
The Giants are also thrust into a must-win spot after Washington fell 20-15 to Seattle earlier on Sunday. WFT is now 6-8, but the 5-8 Giants would move into first in the NFC East with a win thanks to two wins over Washington this season. There's a lot on the line for both squads, but Cleveland is a -6.5 favorite even on the road at MetLife Stadium.
Cleveland Faces a Tough Defensive Test
The Browns nearly kept their AFC North title hopes alive last week on Monday Night Football, but the Ravens just proved to be relentless in a 47-42 win in what many are calling the NFL's game of the year. A 55-yard Justin Tucker field goal with 0:02 left (followed by a safety on the game's last play) cost Cleveland a 4-game winning streak.
The Cleveland offense has definitely stepped up heading into the Browns at Giants pick, scoring 40+ for the second straight week after a 41-35 win over Tennessee in week 13 as +4 road underdogs. The Browns' run game is #3 in the league, and Nick Chubb continues to dominate with 4 TDs the last three weeks.
The real reason Cleveland has taken their game to the notch of a hard out in the postseason has been QB Baker Mayfield. He tossed for 343 yards last week vs. Baltimore, leading Cleveland on two go-ahead drives in the 4th quarter. Mayfield has 8 TD to just 1 INT the last three weeks, and is scary when playing with confidence.
Big Questions Afoot for New York
Sunday night's line has gone from NYG +3 to NYG +6.5 on the news that Colt McCoy will be back as the starting QB with Daniel Jones missing this contest with a sprained ankle. McCoy did help guide the Giants to a 17-12 win in Seattle in week 13 as +11 underdogs, but did he? The veteran was just 13/22 for 105 yards with 1/1 in that game.
New York's offense doesn't seem built for a shootout, but it's the job of their defense to make sure 20 points wins Sunday night's game. The Giants had held four straight opponents to 20 points or less prior to the 26-7 loss to Arizona last week in which the Cardinals ran for 159 and threw for 231.
One thing to note is that McCoy may be under duress in Sunday's night's matchup, as Arizona got to New York QBs 8 times last week and also recovered three fumbles. Cleveland sacked the elusive Baltimore QBs four times on Monday night, and Myles Garrett and Co. should get very familiar with the New York backfield in this one.
Free Browns at Giants Pick
It's very possible that Cleveland slips up against New York's #10 total yard offense that is also #7 vs. the run. Will that even be a problem though with this Giants offense led by McCoy? Cleveland showed how explosive they can be last week – but they won't need it this week as the Browns push their record to 5-2 on the road.
Browns 27 – Giants 17
Free Pick: Browns -6.5