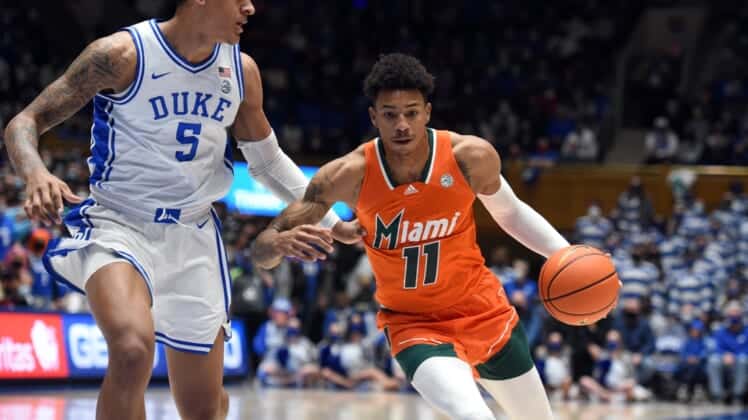 The big question for the Blue Devils heading into Monday night's Duke at Miami betting matchup is if they are building momentum or due for a letdown. Duke won their third straight game over the weekend, but it was an emotional 63-57 rivalry win over North Carolina where the Blue Devils covered the -2.5.
Both of these schools are actually in line for an emotional deflate on Monday night, with the Hurricanes picking up a big 78-74 on the road at first place Clemson on Saturday. Miami lost a hard fought 68-66 meeting on January 21st at Cameron Indoor Stadium but did cover the +6 points. The Hurricanes are -2.5 favorites for the rematch with 56% of the betting public giving the point.
Why Duke Can Cover +2.5 Points
Duke has a short turnaround from Saturday's big win at home, but they also have momentum with their third straight win over the weekend. It was an emotional victory considering North Carolina swept all three meetings last season including a win over #4 Duke in Mike Krzyzewski's last game at Cameron Indoor and then sending the legendary Coach K into retirement with a in in the Final 4.
Jon Scheyer has his first win over North Carolina as a coach, a big hurdle to get over in his debut year on the sidelines. Jeremy Roach scored 20 points in the win over UNC, his second straight game with 20+ and the Blue Devils could be maturing entering into the final month of the season – important for a team that has four freshman in their top five in scoring.
One of Duke's superb freshman is big man Kyle Filipowski who had 17 points and 14 rebounds in the first meeting with Miami. Filipowski is one of four 7-footers on the Duke roster, and Miami's only player taller than 6'9″ (Favour Aire) plays just 3 minutes per game.
Why Miami Can Cover -2.5 Points
The Hurricanes just picked up a big road win on Saturday at 1st place Clemson, and the fact Miami was just a +1.5 underdog in that away game shows the kind of respect this team has. All five 'Canes starters scored in double figures in that contest led by Nijel Pack who went for 15+ for the fifth time in the last six games.
Miami is now just a game back in the ACC, and they are back home after playing four of their last five on the road (2-2) The Hurricanes have gone a perfect 12-0 on their own court this season while Duke is 2-4 in away tilts on the year.
The Hurricanes did match up well with Duke in the first meeting, losing 68-66 despite 19 points from Jordan Miller, 18 from Pack, and a 14 rebound performance from Norchad Omier. The Hurricanes have gone 3-1 since that matchup,
Free Duke at Miami Betting Pick
Miami's impressive home record is hard to overlook, and this is also the first time Duke is making this trek to the Watsco Center since February 2021. The Blue Devils have won 7 of the last 10 head to head and have to be the play getting the +2.5.
Free Pick: Duke +2.5