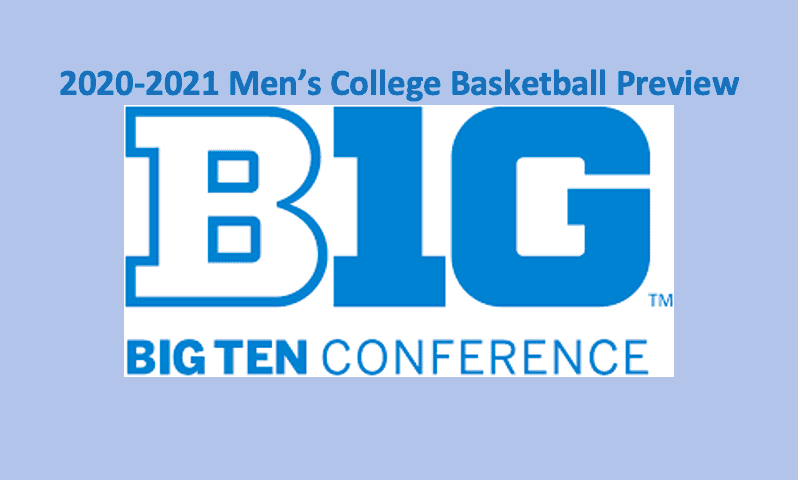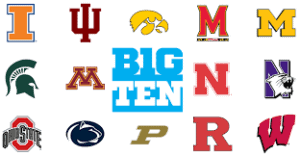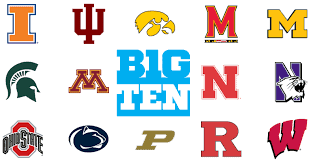 Our Big Ten basketball preview 2020 – 2021 expects this conference to be very tight. How tight? We think that any of the teams that are in our Big Ten top seven can win the regular-season title. That's how much talent each team has. Seven teams from the Big Ten made the AP's preseason top-25. The highest-ranked team is Iowa, which is fifth. The Hawkeyes are followed by the Wisconsin Badgers at number seven and the Illinois Fighting Illini at number eight. The Michigan State Spartans sit right in the middle of the pack at number 13, while the Ohio State Buckeyes, Rutgers Scarlet Knights, and Michigan Spartans are 23rd, 24th, and 25th respectively. Plus, in the Big Ten, there are potential dark horses and spoilers such as the Indiana Hoosiers and Maryland Terrapins. Our Big Ten basketball preview 2020 – 2021 projects that this will be a very interesting and unpredictable conference. Thus, it has the potential to give sports bettors nightmares.
Big Ten 2019- 2020
Last season, this conference ended in a three-way tie between three top-25 teams, Wisconsin, Maryland, and Michigan State. Of those three, the Terrapins had the best overall mark, going 24-7. Wisconsin earned their part of the regular-season championship by winning their last eight games. MSU got to the top by taking down five in a row. The Fighting Illini finished one game out of the top spot, as they were .500 over their final 10 games. As they came down the homestretch, fifth-place Iowa kept alternating wins and losses. Two other teams with 11-9 records, OSU and Penn State, finished their seasons with losses. On the other hand, the fourth team in that mix, Rutgers, won their final two. The Wolverines won six of their final 10 matchups, giving them an even 10-10 record. Purdue let its season slip away, as they were 2-5 over their last seven games. Nearing the bottom of the standings, Indiana, Minnesota, and Northwestern each managed just two road wins, while last-place Nebraska went 0-12 when away.
2019-2020 Big Ten Conference Standings and Records
Wisconsin Badgers (#17) 14-6
Maryland Terrapins (#12) 14-6
Michigan State Spartans (#9) 14-6
Illinois Fighting Illini (#21) 13-7
Iowa Hawkeyes (#25) 11-9
Ohio State Buckeyes (#19) 11-9
Penn State Nittany Lions 11-9
Rutgers Scarlet Knights 11-9
Michigan Wolverines 10-10
Purdue Boilermakers 9-11
Indiana Hoosiers 9-11
Minnesota Golden Gophers 8-12
Northwestern Wildcats 3-17
Nebraska Cornhuskers 2-18
Big Ten Basketball Preview 2020 – 2021 – Ranking the Teams
Our Big Ten basketball preview 2020 – 2021 sees this conference as stacked with quality teams. We've picked Illinois to win the Big Ten, but the fact is Wisconsin, Iowa, Michigan State, Rutgers, Ohio State, and Michigan all have a shot. There are some teams like Penn State, Maryland, Northwestern, and Nebraska, that are dealing with major deficits in terms of experience and depth. The middle of the pack, which includes Indiana, Purdue, and Minnesota could pull some surprises.
1. Illinois
Head coach Brad Underwood could have a real winner this year. The Fighting Illini see five starters return, including two players who tested the NBA Draft waters, junior guard Ayo Dosunmu and sophomore center Kofi Cockburn. Last season, Dosunmu recorded 16.6 points, 4.3 rebounds and 3.3 assists per game. He was First-Team All-Big Ten. Cockburn, who last year was Big Ten Freshman of the year, recorded 13.3 points, 8.8 rebounds and 1.4 blocks. Together, they are a dynamic one-two punch on both sides of the court. The addition this season of Holy Cross transfer Jacob Grandison, who had 13.9 points, 5.0 rebounds, 2.9 assists and 1.1 steals as a sophomore, will upgrade the backcourt. Senior guards Trent Frazier (9.1 PPG) and Da'Monte Williams (2.8 PPG) return and will contribute. Williams offers fine defensive skills. Top-40 freshman guard Adam Miller brings much-needed shooting chops. Returning to join Cockburn in the frontcourt will be junior Giorgi Bezhanishvili (6.8 PPG). Those coming off the bench to aid in front are unproven. That's a concern. Also, although his team was tops in the conference in rebounding, they will need to find more shooting to win the title.
2. Wisconsin
Our Big Ten basketball preview 2020 – 2021 notes that the Badgers were a very disciplined team last season. Wisconsin was ranked 13th nationally and first in the Big Ten in scoring defense (62.2 PPG) and fifth and first in turnovers per game (10.0 TPG). Coach Greg Gard has a strong, experienced, and skilled roster of returning players. Five seniors, D'Mitrik Trice, Brad Davison, Nate Reuvers, Micah Potter and Aleem Ford, are back to form the core starters. In the backcourt, it's Davison and Trice. At point last season, the sure-handed Trice posted 9.6 PPG and 4.2 APG. Davison averaged 10.0 PPG. The frontcourt is massive. Led by senior forward Reuvers, who put up 13.1 PPG and grabbed 5.5 RPG, they were devastating. It was helpful that Reuvers proved to be an able shot-blocker, averaging 3.0 BPG. Plus, he can pop out and knock down threes at a rate of 67%. Joining him are forwards Potter (10.3 PPG) and Ford (8.7 PPG). Look for incoming freshmen guard Lorne Bowman and forward Ben Carlson to see some important minutes. An improved scoring offense, which ranked 284th in the nation and 13th in the conference, would help ensure this team's future. Last season, the Badgers averaged just 67.2 PPG.
3. Iowa
Last season, the Hawkeyes had the best scoring offense in the Big Ten, as they averaged a healthy 77.7 PPG. Plus, they dished off 17.4 APG, which ranked second in the conference and sixth nationally. For the most part, the major elements that made this team a winner last year are back. That includes the trio of senior center Luka Garza, junior guard Joe Wieskamp, and sophomore guard CJ Fredrick. Last season, Garza, who was First Team All-American, Big Ten Player of the Year, NCAA Center of the Year, and runner up for National Player of the Year, averaged 23.9 PPG, 9.8 RPG, and 1.8 BPG. The fact that he opted out of the NBA Draft made Iowa a national-title contender this season. In the backcourt, Wieskamp averaged 14.0 PPG and Fredrick 10.2 PPG. From the arc, Fredrick was deadly, hitting 46.1% of his threes. Senior guard Jordan Bohannon, who missed most of last season due to a hip injury, is another deadeye shot from downtown. There's plenty of depth in the backcourt, however the front is thin, and the incoming class is filled with three-star recruits or lower. Although last season, Iowa put one of the best offenses in the nation on the court, their defense was lacking. They allowed 72.3 PPG (257th Nationally, 13th Big Ten). Accordingly, major improvements are needed on this side of the court if this is going to be successful. Unfortunately, they may not have enough D to make that happen.
4. Michigan State
MSU head coach Tom Izzo has to replace the contributions of guard Cassius Winston (18.6 PPG) and forward Xavier Tillman Sr (13.7 PPG). The good news is that the Spartans do see fine talent return, including junior forwards Aaron Henry (10.0 PPG) and Gabe Brown (6.8 PPG) and sophomore point guard Rocket Watts (9.0 PPG). The big question mark on this team is senior shooting guard Joshua Langford. He had averaged 15.0 PPG until foot problems pushed him out of the lineup for the past year-and-a-half. However, he is healthy and back. If he can contribute in a major way, Michigan State's fortunes could improve. Expect junior Foster Loyer and freshman A.J. Hoggard to share the point with Watts. In terms of the paint, the addition of junior forward Joey Hauser, a transfer from Marquette, will help upgrade that area. Two years ago, with the Golden Eagles, he recorded 9.7 points, 5.3 rebounds, and 2.4 assists per game. Also, forward Marcus Bingham Jr, a junior, looks ready to take the next step. Last season, this team played well on both ends of the court. We expect they will do the same this year. However, to be a major contender a few elements, primarily Langford in back and Hauser in front, must come through.
5. Rutgers
Rutgers is all about ball control especially in the area of possession minutes. Our Big Ten basketball preview 2020 – 2021 finds that fewer teams excelled in this area in the manner that the Scarlet Knights did last season. The team could improve in this category even more if they can reduce their turnovers, which averaged 12.2 PG (92nd Nationally, 11th Big Ten). Head coach Steve Pikiell has a solid roster of returning players and some freshman recruits who will be able to contribute immediately. The team foundation elements, Geo Baker, Ron Harper Jr., Myles Johnson and Jacob Young, are all back. The backcourt is exceptionally deep. Guards Baker and Young, both seniors, averaged 10.9 and 8.5 points per game respectively. Baker also dished off 3.5 APG. Guard/forward Harper returns as the top scorer, averaging 12.1 PPG. The versatile wing commands respect on both ends of the court. Myles Johnson, a 6-11 junior center, scored 7.8 PPG, while bringing down 5.7 RPG. His defense was top-notch as Johnson was good for 1.0 SPG and 3.3 BPG. The backcourt is loaded and includes returning players Montez Mathis (7.4 PPG) and Caleb McConnell (6.7 PPG). In fact, they're so deep, that the entire incoming freshmen class is comprised of five frontcourt players. Of that group, we expect 6-11 center Clifford Omoruyi to get his share of minutes. He is an intimidating presence and a defensive headache for opponents. If Rutgers can find more consistency on offense, they will be tough to stop.
6. Wisconsin
Certainly, the loss of starting guard Zavier Simpson and center Jon Teske and the 22-plus points they averaged together last season will be missed. So, too, will their leadership. However, three starters return and a top-15 recruiting class arrives as do some experienced transfers. The biggest question mark for the Wolverines is at point guard. It's hoped that Mike Smith, a Columbia graduate transfer, will be the answer. In Ivy League play last year, Smith averaged 22.8 points, 4.5 assists, 4.1 rebounds and 1.5 steals per game. Can he perform in a like manner in the Big Ten? Senior Eli Brooks, who averaged 10.6 PPG, could also contribute at point. In front, sophomore forward Franz Wagner, who recorded 11.6 PPG in his freshman year, should be even more productive this season. Joining him will be 7-2 freshman center Hunter Dickinson, junior forward Brandon Johns (6.0 PPG), and fifth-year senior Austin Davis (4.9 PPG). Michigan's defense and rebounding were the weakest part of their game last year. Thus, improvements are needed in both areas.
7. Ohio State
OSU coach Chris Holtmann sees four key players depart. However, four major contributors from last season return. Plus, there are some fine transfers, as well as some returning OSU players who are ready to go to the next level. The freshman class numbers two. One thing that defines this team is experience, there's plenty of it. That will certainly help the Buckeyes. Two players from the front, center Kaleb Wesson and forward Andre Wesson, are gone, as are two from the back, D.J. Carton and Luther Muhammad. Together the quartet was responsible for 40.6 PPG. That's about 55% of OSU's point production last season. However, Ohio State welcomes back forwards Kyle Young, a senior who averaged 7.5 PPG, and EJ Liddell, a sophomore who was good for 6.7 PPG and 3.8 RPG. Also looking to contribute up front is junior transfer from Cal State Justice Sueing and senior graduate transfer from Harvard Seth Towns. With Cal State last season, Sueing recorded 14.3 PPG and 6.0 RPG. Although he has not played for two seasons due to injuries, Seth Towns put up impressive numbers for the Crimson in the 2017 – 2018 season. At that time, he averaged 16.0 points and 5.7 rebounds. The backcourt includes senior CJ Walker (8.7 PPG), junior Duane Washington Jr (11.5 PPG), and senior graduate transfer from Utah State Abel Porter. In his last two seasons with the Aggies, Porter was their point, averaging 3.0 APG and 5.5 PPG. This season, Ohio State will be good, but will they be able to play consistently against Big Ten opponents? Arguably, that was an issue for them last season, as was the team's 12.7 TPG (134th Nationally, 14th Big Ten).
8. Indiana
In his first three years as head coach, Archie Miller has seen his Hoosiers struggle. This was partly due to injuries and partly due to adjustments that naturally occur under a new head coach. Might this be the season that Indiana puts it all together? Although guard Devonte Green (10.8 PPG) and forward Justin Smith (10.4 PPG) have departed, the Hoosiers still bring a lot of experience to this new season. Four starters return, plus there are three other players who saw action last season ready to go. Senior guard Aljami Durham (9.8 PPG) will team up with junior point guard Rob Phinisee (7.3 PPG, 3.4 APG), while sophomore Trayce Jackson-Davis (13.5 PPG, 8.4 RPG, 1.8 BPG) and senior Joey Brunk (6.8 PPG) will attend to duties in front. Also returning are sophomore guard Armaan Franklin (3.7 PPG) and forwards Jerome Hunter (3.7 PPG), a sophomore, and Race Thompson (3.5 PPG), a junior. The trio will see their court time expand. Five-star freshman recruit Khristian Lander will definitely see action in the backcourt. Our Big Ten basketball preview 2020 – 2021 notes that last season Indiana struggled from the foul line, turned the ball over too much, and suffered from poor ball movement. Improvements in these areas will help this team greatly. However, we doubt they'll make progress in all three categories.
9. Purdue
Last year, coach Matt Painter's Boilermakers shot 41.8% (279th Nationally, 12th Big Ten) and averaged 68.2 PPG (267th Nationally, 12th Big Ten). Although Purdue sees Matt Haarms and Nojel Eastern depart, they have managed to retain three key players. The fact that junior forward Trevion Williams returned is huge, as he averaged a healthy 11.5 PPG and 7.6 RPG. Also back are guards Eric Hunter (10.6 PPG) and Sasha Stefanovic (9.1 PPG). Both are juniors. Last year, forward Aaron Wheeler seemed to suffer a sophomore slump, as his shooting percentage came in at 27.5% and point totals shrunk to 3.4 PG. It's hoped that he'll enjoy a renaissance this year. Four-star freshmen guards Jaden Ivey and Ethan Moten could see action this season. It's rare for the Boilermakers to utilize freshmen. But, there's a lack of depth. Consequently, they may need to involve the new guys sooner than they would like.
10. Minnesota
Head coach Rick Pitino loses center Daniel Oturu (20.1 PPG), forward Alihan Demir (7.1 PPG), and guard Payton Willis (8.6 PPG) and all that they contributed. However, two transfers, center Liam Robbins (Drake) and guard Both Gach (Utah), could be difference-makers immediately. With Drake, Robbins, who's 7-0, posted 14.1 PPG and 7.1 RPG, while with Utah, Gach was good for 10.7 PPG, 3.6 RPG, and 2.9 APG. Two key backcourt players return, juniors Marcus Carr (15.4 PPG) and Gabe Kalscheur (11.6 PPG). Forward Eric Curry, who's played little the past two years due to injuries, could be a difference-maker. Isaiah Ihnen, Tre' Williams, Jarvis Omersa and Sam Freeman will all be important role players. Our Big Ten basketball preview 2020 – 2021 notes that this is a solid team that could certainly finish better than 10th. However, in order for this to happen, Pitino will need to get them all on the same page.
11. Maryland
With the departure of guard Anthony Cowan (16.3 PPG) and forward Jalen Smith (15.5 PPG), Terrapins' coach Mark Turgeon has a lot of adjusting to do. After all, along with the loss of over 31 points of offense, Maryland also lost their court general, four-year starter Cowan. Plus, Smith, who was an intimidating presence, was a master at controlling the rim. Turgeon has choices but none seem adequate at this point. We expect that he will use juniors Aaron Wiggins and Eric Ayala, senior Darryl Morsell, and freshman recruit Aquan Smart in the backcourt. Wiggins returns as the team's top scorer, averaging 10.4 PPG, while Ayala has been a key role player for this team. It is now time for him to step up and contribute more. In his unique role, Morsell offers quality defense. The front is dependent on the health and skill of 7-2 center Chol Marial and the abilities of Alabama graduate transfer Galin Smith. Smith saw limited action with the Crimson Tide. Certainly, sophomore forward Donta Scott (5.9 PPG) will be in the mix. This team will need to make up for offensive losses. However, with Morsell, Ayala, Aaron, and Scott as the core, we don't see that happening. Consequently, they'll have a tough time bringing down high-scoring teams.
12. Penn State
Head coach Pat Chambers resigned one month before the start of this season. The Nittany Lions named assistant and former Duquesne head coach Jim Ferry as the interim helmsman for the 2020 – 2021 season. Starting out on the wrong foot is not good for any team, and losing your head coach just as the team is trying to come together has to be disruptive. Plus, Penn State will be without playmakers Lamar Stevens and Mike Watkins. The good news is that the backcourt is strong. Junior Myreon Jones, who had a fine season last year, will run the offense. Last season, he averaged 13.3 PPG, 3.0 APG, and 1.3 SPG. Plus, Jones connected on 40.3% of his threes. Myles Dread and Jamari Wheeler, both of whom possess years of experience, will work with Jones. The front is problematic. We expect forward Seth Lundy (5.3 PPG) to start. Izaiah Brockington (8.1 PPG) looked good last season and could move into a starting role. Also, forward John Harrar, who averaged 4.3 PPG and 4.6 RPG, will certainly see minutes. The Nittany Lions are a bit of a hodgepodge at this point. Thus, Ferry and his players will need to figure this out as the season progresses.
13. Nebraska
Head coach Fred Hoiberg, who came in last season, is trying to get Nebraska on track. But that takes time, and he's going to need more of it. Seven players from last season departed including the team's three top scorers. Senior guard Thorir Thorbjarnarson (8.8 PPG) is the leading returning scorer, while sophomore forward Yvan Ouedraogo (5.7 PPG) is back after a good freshman season. There are transfers galore, including JUCO transfer Teddy Allen who averaged 31.4 PPG. He's a high caliber player, but he's had issues off the court. Other promising transfers include guard Shamiel Stevenson (Nevada), guard Kobe Webster (Western Illinois), and junior forward Derrick Walker (Tennessee). Last season, the Cornhuskers were last in the conference in a slew of statistical categories, including free-throw percentage, rebound margin, field-goal percentage, field-goal defense, and scoring defense. At thisnpoint, we don't see much improvement this year. Consequently, the 'Huskers have a long way to go.
14.Northwestern
Our Big Ten basketball preview 2020 – 2021 observes that this is a young team. This season is about gaining experience and developing chemistry. However, Northwestern is not without talent. Sophomore point guard Boo Buie has a huge amount of potential and could become a premium Big Ten player. Also, junior wing Miller Kopp offers excellent penetration and fine scoring chops from anywhere on the court. Other foundation elements include sophomore Ryan Young and junior Pete Nance. Three-star freshman guard Ty Berry and center Matt Nicholson will start getting experience immediately. This season expect a few conference wins for the Wildcats and no more. However, we think they'll be an interesting team to watch.
Big Ten Basketball Preview 2020 – 2021 – Final Word
As you can see, this conference is loaded with teams that have the potential to take the title. Our Big Ten basketball preview 2020 – 2021 finds that a few factors will play into who ends up on top by the end of the season. In the age of COVID-19, staying healthy will be imperative. Thus, discipline off the court as well as on will be more important than ever. Depth and resilience are key considerations. The team that can bounce back quickly after a loss will win the Big Ten. We thinking that team will be Illinois, a dark horse to many. Follow this link back to our NCAAM homepage.