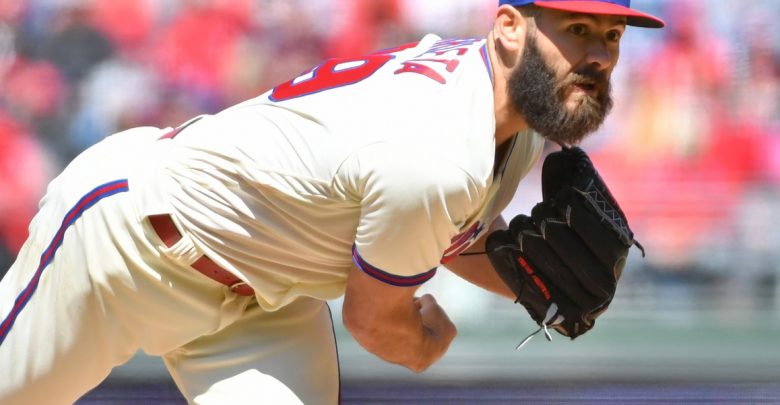 One of the quietest stories in the MLB this year is the Philadelphia Phillies, who were picked to finish near the bottom of the NL East but are off to an impressive 7-5 record. The Phils' have been especially good lately, winners of four straight and six of their last seven. Regardless, Gabe Kapler's team finds themselves slight +119 underdogs in the April 14th MLB free pick up against the 3-10 Tampa Bay Rays (-129). The Rays drop the first game of the series 2-1 last night, but look to get back on track against a Philadelphia team that is just 2-4 on the road so far in 2018.
Do We Get a Better Arrieta in Start #2?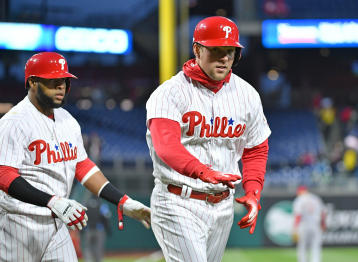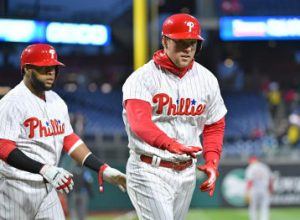 It's not like Jake Arrieta pitched horrible in his Phillies debut, but allowing a HR to the second batter he faced did put Philadelphia behind the 8-ball in what was eventually a 6-3 loss to the Marlins. Arrieta served up 3 runs in the first (2 ER) but settled down to retire 10 of the last 11 batters he faced. A pitch count in his 2018 debut limited to Arrieta to 74 pitches in that game, but he did strike out 5 Marlins batters in 4.0 IP – giving up just 3 hits. The Philadelphia right-hander should be able to go a bit deeper in his 2nd start of the season, plus he'll be up against a Rays offense that is 28th or worse in runs/game, average, OPS, and HR.
Philadelphia actually has a pretty good offense to go with their improved pitching staff which is why being the underdog in the April 14th MLB free pick is a bit confusing. Maikel Franco is near the top in the majors with 12 RBI while Rhys Hoskins is hitting .333 on the season. Yes, Philadelphia is up against TB's ace Chris Archer today, but only one Phillies player has seen the right hander an extended amount of times. That batter is Carlos Santana and he's hit Archer well going 6-16 (.375) with two doubles.
Can Archer Return to Form In His Third Start of the Year?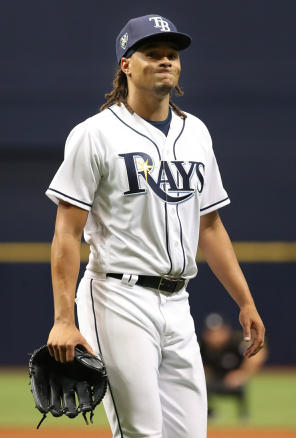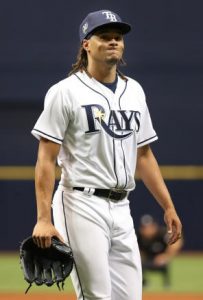 Yes Archer is Tampa's supposed ace, but he's allowed 7ER in 10.2 IP this season for a 5.94 ERA so far through 2018. The right hander has allowed a HR in each of his two starts but is averaging 8.0 SO per game. Archer also did get his first win of the year in his last start against the White Sox, giving up 3ER in 5.2 IP in the 5-4 Rays win. For whatever reason, Archer does have a tendency to struggle in his own ballpark. He is just 22-31 in 80 career starts at The Trop, but his ERA is respectable at 3.21. Philly has a top 10 run scoring offense as well.
Of course the Rays are going to need some runs to capture the win in the April 14th MLB free pick. Tampa has scored 2 or less runs in 4 of the last 8 and has put up back-to-back 1-run outings. The Rays should have the advantage of returning home after an 8-game road trip, but they managed just 4 hits in the loss last night and are 1-4 in front of their home fans in 2018. Only two Tampa Bay players with more than 20AB this year are hitting better than .255. That's not exactly the greatest show on turf.
April 14th MLB Free Pick Betting
Saturday night's contest is kind of flying under the radar as just 56% of the public are backing Philadelphia even with great value. Oddsmakers aren't sure what to expect from Arrieta while they're counting on Archer bouncing back into form. The under is a good lean even though it's only listed at 7. That being said, the Phillies are playing great baseball lately and are worth a wager in this game.