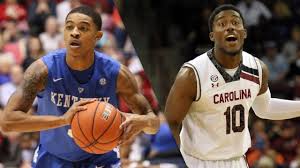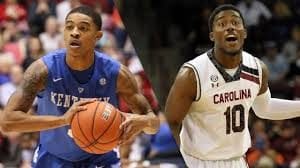 The #24 South Carolina Gamecocks (15-3 Overall, 5-0 SEC) play the #5 Kentucky Wildcats (16-2 Overall, 6-0) on Saturday, Jan. 21 at 6:00 p.m. ET. Carolina is one-half game out of first and have beaten the three nationally ranked teams they've faced. The Wildcats, who are first in the SEC, bring a dynamic offense to their home court. In our South Carolina plays Kentucky free pick, the Wildcats are at -14.0.
In out of conference games, the Gamecocks beat #25 Michigan 61-46 and #18 Syracuse 64-50. They then beat the SEC #19 Florida Gators 57-53. Recent wins include 70-60 against Tennessee on Jan. 11 and 67-56 at home against Mississippi on Jan. 14.
The Wildcats got by Mississippi State 88-81 on Jan 17 and took down Auburn 92-72 on Jan. 14. They won a close 87-81 game against Vanderbilt on Jan. 10. Kentucky's two losses were to #11 UCLA 97-92 and #10 Louisville 73-70. They had a big win when they played #7 North Carolina. The final score was 103-100.
#24 South Carolina Gamecocks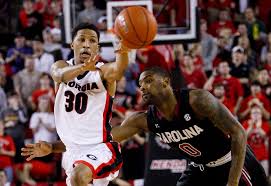 The Gamecocks will look to do two things, push their offense up the court quickly and defend vociferously against the Wildcats. Senior guard Sindarius Thornwell (18.2 PPG, 6.9 RPG, 3.3 APG) is hitting 45% of his shots and 41% of his threes. He's also making 2.5 SPG. Guard P.J. Dozier (14.6 PPG, 4.7 RPG, 2.9 APG) is also an excellent scorer, hitting 43% from the floor and 39% of his three-point tries. In the frontcourt, forwards Chris Silva (9.8 PPG, 6.3 RPG, 56 FG%) and Maik Kotsar (7.3 PPG, 5.7 RPG, 52 FG%) are solid scorers and defenders.
From the field the Gamecocks are a good seven percentage points lower than the Wildcats. But their D is limiting teams to 59.4 PPG. When compared to Kentucky, they are +2 on steals.
# 5 Kentucky Wildcats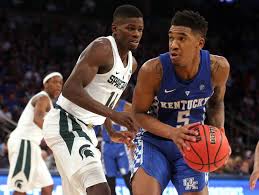 The Wildcats outmatch the Gamecocks when it comes to size in the frontcourt. They're also a better shooting team, averaging 93.3 PPG and hitting 50% of their shots. Guard Malik Monk (21.4 PPG, 50 FG%, 41 3PT%) is the team's top scorer, while freshman De'Aaron Fox (16.7 PPG, 5.0 RPG, 6.3 APG) is a solid playmaker and shooter. Also in the backcourt, Isaiah Briscoe (15.3 PPG, 4.3 RPG, 4.2 APG) offers a 50% success rate from the field. In the frontcourt, forward Edrice Adebayo (12.8 PPG, 7.2 RPG, 60 FG%) and Wenyen Gabriel (5.9 PPG, 6.2 RPG, 49 FG%) have solid scoring chops and fine rebounding skills. Adebayo is blocking 1.8 SPG and Gabriel 1.2 SPG.
The Wildcats are giving up 72.2 PPG. That gives South Carolina some hope. They are plus 1.3 over the Gamecocks on blocks. With Kentucky's big guys and rebounding chops, you'd expect that number to be closer to two rather than one.
South Carolina Plays Kentucky Free Pick
In our South Carolina plays Kentucky free pick, we expect the Wildcats to win. But the 14-point spread may be excessive. If the Gamecocks can slow the game down, play solid defense, and hot from the outside, they could keep the differential to 10 or less. We're taking South Carolina at +14.0.
South Carolina Plays Kentucky Free Pick: Gamecocks +14.0