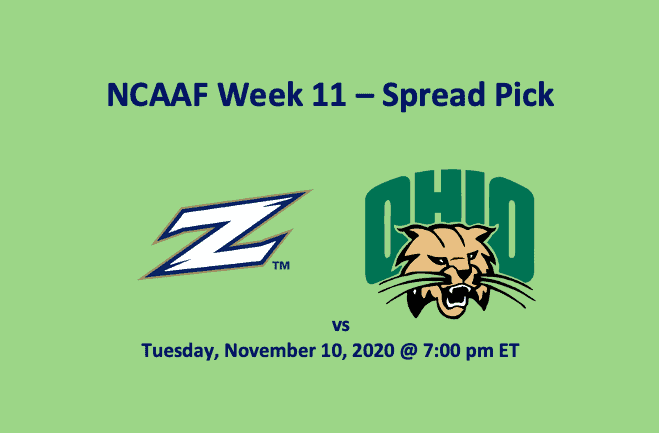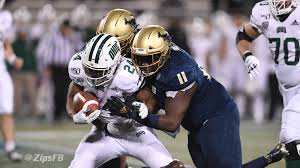 Our Akron vs Ohio pick for the second week of play in the Mid-American Conference features two 0-1 teams. The Akron Zips at +27.5 (-105) are the underdogs in this one. In the first week of play, the Zips lost to the Western Michigan Broncos 13-58. Also, last week, the Ohio Bobcats lost to the Central Michigan Chippewas 27-30. In this one, the Bobcats are favored at -27.5 (-105).
The game will be played at Peden Stadium in Athens, OH. Kickoff is scheduled for Tuesday, November 10, 2020 at 7:00 pm ET. The weather at game time will be clear, 68 degrees with the wind at 5 mph out of the SSE. Be sure to read our over/under prediction for this Zips vs Bobcats contest.
Akron vs Ohio Pick – Stats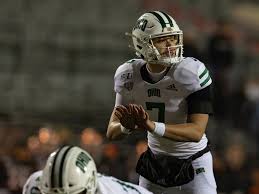 The Zips come to tonight's game having scored just 13 points in week one. They gave up 58, which means their PF/PA differential is -45. They're playing a team that scored 27 points their first time out and gave up 30. The Bobcats' PF/PA differential comes to -3.0. That gives Ohio an overall PF/PA combined advantage of 42 points.
Last week, the Bobcats recorded 235.0 passing yards. The Zips' defense allowed 266.0 yards in the air. They also gave up 218.0 ground yards. Look for Ohio to take advantage of what is a weak Akron D. On the other hand, we doubt that the Zips have enough offense to exploit what is a fairly modest Bobcat defense. In their first game, Akron posted just 126.0 passing yards. The Zips did record 130 rushing yards. They could make a dent in the Ohio rush defense which allowed 184.0 rushing yards in week one. However, find that the Zips advantage is minimal.
Zips vs Bobcats Spread Pick – Key Players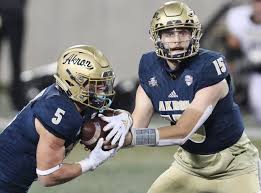 In our Akron vs Ohio pick, Zips quarterback Zach Gibson will look to connect with WR Michael Mathison. Mathison has six receptions for 44 yards and one TD. Gibson's completed 60.0% of his passes for one TD and one INT. Ginsob's been sacked three times. Teon Dollard, who has 16 carries for 64 yards, is the team's primary running back, while wideout Jeremiah Knight is a dual threat, ably gaining yards rushing and receiving.
For the Bobcats, QB Kurtis Rourke has two TD passes and a 63.2 completion percentage. He has yet to toss a pick and has been sacked four times. WRs Isaiah Cox has four receptions for 102 yards and one TD. Other viable outlets include TE Adam Luehrman and WR Shane Hooks. Running back B De'Montre Tuggle comes to this game with 79 yards on 16 carries with one score.
Akron vs Ohio Pick – Final Word
In creating our Akron vs Ohio pick, we note that the last time these two teams met, which was November 26 of last year, the Bobcats hammered the Zips 52-3. We expect Ohio to put a good number of points on the scoreboard. We also find that the Zips will struggle to score. We're taking the Ohio Bobcats at -27.5.
Akron Zips vs Ohio Bobcats Summary
Ohio Bobcats at -27.5 (-105)