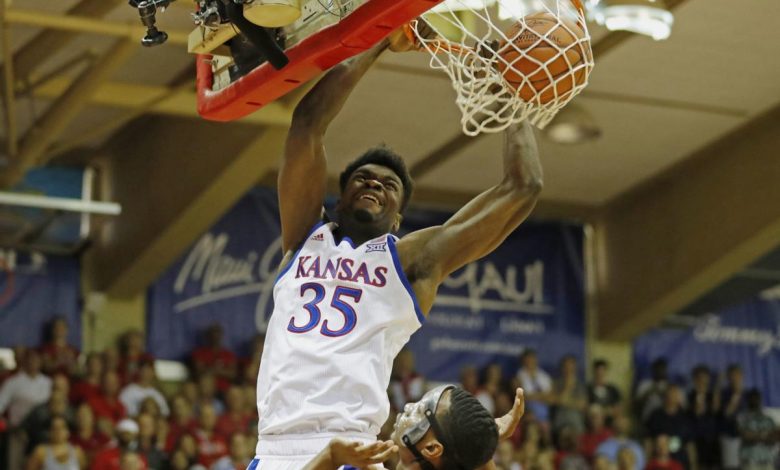 In one of the most underrated non-conference matchups of the year, No. 20 Colorado looks to announce its arrival by collecting a quality win against Kansas in Phog Allen Fieldhouse. The Buffaloes are currently 7-0 on the season but only have wins against Arizona State and Clemson that are worth talking about, and even then, you may find yourself being generous.
Kansas finds itself ranked No. 2 in the nation as the carousel at the top of the college basketball world continues to turn. The Jayhawks have been flawless since their opening-night loss to Duke at the Champions Classic. Since then, Bill Self's group has collected quality wins against East Tennessee State, BYU and Dayton while avoiding the craziness that has befallen Kentucky, Duke, Michigan State, and Florida.
Colorado's No. 20 ranking is its highest since 2013-14 when it was ranked 15th in the nation. The Buffaloes are led by 6-7 forward Tyler Bey, who might be the most underrated player in the country and is averaging 14 points and 12 rebounds per game. Point guard McKinley Wright IV (12.4 points, 4.0 rebounds, 3.7 assists) is also a floor general that deserves recognition and is egregiously underrated on a national level.
Kansas is a nine-point favorite in this game, while the over/under has been set at 137.
Can Colorado Establish Itself As A Contender?
Bey is starting to earn the respect he deserves on the court if not yet off of it. He is a hybrid 4 man who can play in the paint as well as step out and knock down the jumper from deep. It is almost a foregone conclusion that Bey and Wright will produce; the question will be whether or not they will get any help from big man Evan Battey, who will have his hands full with Udoka Azubuike, and D'Shawn Schwartz, who is shooting 52 percent from beyond the arc on the season. If Colorado is going to pull this upset (2-4-1 ATS), it will need to be a total team effort.
Dotting I's And Hitting Threes
It has been an interesting season for Kansas as, while it is 6-1 and ranked No. 2 on the season, Azubuike has been somewhat exposed as one-dimensional, and the Jayhawks' wing scorers haven't been overly efficient. Kansas currently ranks 120th in three-point percentage despite a stable of wing scorers that looks very good on paper.
Sophomore point guard Devon Dotson is living up to his billing so far, averaging 19.7 points, 4.3 rebounds, and 4.0 assists per game, but he hasn't shot the ball well. Given the talent that Isaiah Moss, Tristan Enaruna, Ochai Ogbaji, and Myles Garrett all possess on the wing, it is only a matter of time before the offense starts clicking and outperforms its current percentages.
Pick and Prediction
Colorado comes into this game needing a signature win, but it's never an easy task at Phog Allen, where the Jayhawks are 140-3 since February 2007. Both teams have losing records against the spread and, given Kansas's difficulties shooting the three, it makes sense that the Buffaloes can keep this game close.
Betting against Kansas at home is not good for business, so take the Jayhawks to win, but the Buffaloes to cover as the nation will know Bey's name on Sunday morning.