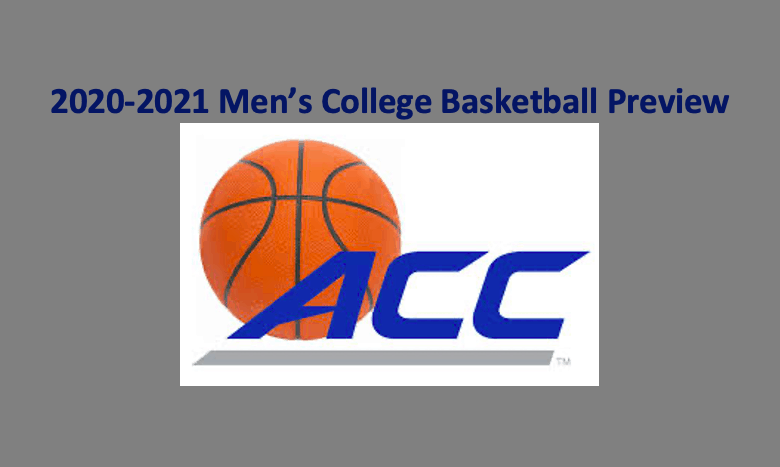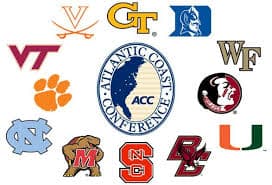 Our ACC basketball preview 2020 – 2021 observes that of the 15 teams in the Atlantic Coast Conference four made the AP's Preseason Top-25. The Virginia Cavaliers are ranked fourth by the AP, while the Duke Blue Devils start off in the ninth spot. After that, it's the North Carolina Tar Heels at 16th. Finally, the Florida State Seminoles come in at number 21. There are other basketball teams in the ACC that may have legs this season, including the Georgia Tech Yellow Jackets, Syracuse Orange, Miami Hurricanes, and Louisville Cardinals.
The ACC is an exciting and competitive conference. And although it's not one of the five NCAA majors, the high-quality of play it demands from teams certainly makes it an honorary sixth major conference. Consequently, we find that this year's NCAA Tournament Champions could come from the Atlantic Coast Conference. After all, the last time March Madness played out, which was in 2019, the champs were from the ACC.
ACC 2019- 2020
Last season, there was a major traffic jam at the top of the ACC standings. The FSU Seminoles managed to capture the conference by one game. With that, the Virginia Cavaliers, Louisville Cardinals, and Duke Blue Devils all finished at 15-5, which was good enough for second place. After that, there was a major fall off as the Georgia Tech Yellow Jackets went 11-9, finishing fifth and five games out of first place. In sixth place, there were three teams at 10-10, the NC State Wolfpack, Notre Dame Fighting Irish, and Syracuse Orange.
The rest of the basketball teams in the ACC posted losing marks. The Clemson Tigers captured ninth place on their own with a 9-11 record. After that, it was the Miami Hurricanes, Boston College Eagles, and Virginia Tech Hokies at 7-13. The Pittsburgh Panthers, North Carolina Tar Heels, and Wake Forest Demon Deacons all finished in last place at 6-14. We expect some major changes in the ACC this season, as some teams find their way back to the middle of the pack, and at least one of the bottom dwellers from last season flirts with first place.
2019-2020 Conference Standings and Records
Florida State Seminoles (#4) 16-4
Virginia Cavaliers (#16) 15-5
Louisville Cardinals (#14) 15-5
Duke Blue Devils (#11) 15-5
Georgia Tech Yellow Jackets 11-9
NC State Wolfpack 10-10
Notre Dame Fighting Irish 10-10
Syracuse Orange 10-10
Clemson Tigers 9-11
Miami Hurricanes 7-13
Boston College Eagles 7-13
Virginia Tech Hokies 7-13
Pittsburgh Panthers 6-14
North Carolina Tar Heels 6-14
Wake Forest Demon Deacons 6-14
ACC Basketball Preview 2020 – 2021 – Ranking the Teams
This ACC basketball preview 2020 – 2021 definitely finds that the Virginia Cavaliers are a bit better than all of the other teams in the ACC. However, the North Carolina Tar Heels, Duke Blue Devils, and Florida State Seminoles all possess the potential to capture first place. Plus, the Georgia Tech Yellow Jackets, Syracuse Orange, and Miami Hurricane all have the right stuff that can help one of these teams, or more, to succeed.
1. Virginia
In 2019, the Virginia Cavaliers won the national championship. They still hold it. However, they are the present champs not because they successfully defended their title but because COVID-19 canceled the tournament. At the end of last season, the Cavs looked as if they could have gone deep into the tournament. This season, Virginia will be without forwards Mamadi Diakite (13.7 PPG) and Braxton Key (9.9 PPG). Those are big losses, however, there's good news as all other players return, including the other three starters. Plus, the team welcomes a strong freshman class, that includes four-star prospect guard Jabri Abdur-Rahim. Abdur-Rahim, who's 6-5, is ranked as a top-40 recruit. Another four-star guard, Reece Beekman, is a top-70 player.
Returning starters include junior point guard Kihei Clark (10.8 PPG, 5.9 APG, 4.2 RPG, 1.2 SPG) and senior guard Tomas Woldetensae (6.6 PPG). Senior forward Jay Huff (8.5 PPG, 6.2 RPG, 2.0 BPG) is a solid two-way player. Marquette transfer Sam Hauser, a senior, was All-Big East in his junior year. Consequently, it's expected that Hauser, who averaged 14.9 points, 7.2 rebounds, and 2.4 assists per game at Marquette, will be a major asset. By the way, he was also deadly from beyond the arc, hitting 40.2% of his threes. Look for guard Casey Morsell (4.0 PPG) to play important minutes. With so many weapons, Coach Tony Bennett has everything he needs win the ACC and take this team deep into the tournament.
2. North Carolina
The Tar Heels lost star guard Cole Anthony early in the season, and then there were other injuries to other players. After that, it was downhill. Thus, last season, the UNC Tar Heels tied the Wake Forest Demon Deacons for last in the conference. Head coach Roy Williams sees a fine core of starters and backups return. Plus, there's a slew of five-star and four-star prospects.
The frontcourt includes senior Garrison Brooks (16.8 PPG, 8.5 RPG, 2.0 APG) and sophomore Armando Bacot (9.6 PPG). Note, Brooks has developed into a stellar player, while in his freshman year, Bacot was a bit underwhelming. This season, Bacot is expected to make substantial progress. In the backcourt, freshman guards Caleb Love and R.J. Davis will hit the floor running. Love is a five-star prospect along with Day'Ron Sharpe and Walker Kessler. Davis is a four-star freshman as are Puff Johnson and Kerwin Walton. Of those recruits, all but Sharpe are guards. There's depth in front and in back. Thus, it's a new season for a new Tar Heels basketball team.
3. Duke
Coach Mike Krzyzewski sees some of his best players leave as he welcomes back some solid vets and four five-star recruits. It's a good mix, but this team is not the best in the ACC. Still, under the tutelage of Coach K anything is possible. Sophomore forwards Matthew Hurt (9.7 PPG) and Wendell Moore (7.4 PPG, 4.2 RPG) are back. Hurt is a solid shooter inside and out. He led the Blue Devils in threes last season with 42. Hurt had a 39.3% success rate. Thus, both Hurt and Moore had very fine freshman seasons.
One important note, senior Jordan Goldwire (4.7 PPG, 2.3 APG, 1.5 SPG) is the only returning guard. Last year, he was a starter. Consequently, freshmen Jeremy Roach and DJ Steward will put in time at point guard. Both are five-star prospects, as is small forward Jalen Johnson. As can be seen, this is a team with a lot of potential. They could take down the ACC. However, we don't think that they will. In order to win the top spot, our ACC basketball preview 2020 – 2021 finds that Duke needs more depth.
4. Florida State
Seminoles' head coach Leonard Hamilton will be without top guards Devin Vassell and Trent Forrest and their combined 24.3 PPG. But he's got a solution. It's 6-9, five-star point guard Scottie Barnes. He's big, tough, and driven. Thus, Barnes comes ready to play and produce. Joining the freshman will be a bunch of smart, experienced veterans, including senior guard M.J. Walker (10.6 PPG) and JUCO transfer Sardaar Calhoun, also a guard. Additionally, junior forwards Malik Osborne (6.0 PPG) and Raiquan Gray (6.0 PPG) are on hand. Sophomore center Balsa Koprivica, who's 7-0, looked good last season until a back injury took him out of the game. In 2020 – 2021, he could be a major force in the paint. Three veteran guards are ready to lend support. As can be seen, this is a quality group.
5. Georgia Tech
Our ACC basketball preview 2020 – 2021 finds that the Yellow Jackets are primed for this season. Four of five starters and five of six top scorers come back. This season, head coach Josh Pastner supplements his vets with three freshmen and two transfers. The Jackets return guards Michael Devoe and Jose Alvarado. Last season, the duo combined for 30.4 points, 7.3 rebounds, 7.4 assists and 3.4 steals per game. Many consider Devoe and Alvarado to be the best backcourt tandem. Guard/forward Jordan Usher (8.2 PPG) and forward Moses Wright (13.0 PPG, 7.0 RPG, 1.1 BPG), both seniors, come back. Wright is the glue up front. Although the new players offer depth, don't expect to see them getting many minutes. After all is said and done, this team could be a force in the conference.
6. Syracuse
Of note, Syracuse will be without star forward Elijah Hughes (19.0 PPG). However, four starters and six of seven top scores are back for another season. Top scorer Buddy Boheim, head coach Jim Boheim's son, comes back as the team's top scorer. Last year, the guard put up 8.2 threes a game, hitting 37% of his attempts. Sophomore guard Joseph Girard was solid in his freshman season. Last year, he averaged 12.4 points, 3.5 assists, 3.0 rebounds per game. Additionally, Girard posted 1.5 steals per contest.
In the frontcourt, the paint and rim will be the purview of senior forward Marek Dolezaj (10.4 PPG, 6.4 RPG) and senior center Bourama Sidibe (6.0 PPG). Sidibe is a top D-man. Last year, he grabbed 7.4 rebounds, while blocking 1.3 shots, and making 1.4 steals. Our ACC basketball preview 2020 – 2021 notes that coach Boeheim will need to put in quality time with his seven freshmen recruits in order to get everyone on the same page. For this team to succeed, the frosh will have to be involved. Boheim is certainly capable of making sure they are ready to go. However, the road is never easy in the ACC.
7. Miami
The last two years have not been kind to the Hurricanes. After putting in four-straight 20-win seasons, they have been under .500 for the last two. But this team is back and ready to compete. Four starters and seven of the team's top eight scorers return. The Miami Hurricanes are one of the most experienced teams in the ACC. Two freshmen join Miami, top-40 recruit guard Earl Timberlake and top-100 small forward Matt Cross. Center Nysier Brooks, a transfer from Cincinnati, offers offensive and defensive chops. Of those players returning, 5-7 guard Chris Lykes (15.4 PPG, 2.4 APG, 1.1 SPG) is a sound player.
Senior Kameron McGusty (12.5 PPG) joins him in the backcourt. Plus, sophomores Isaiah Wong and Harlond Beverly, both of whom had fine freshman seasons in 2019 – 2020, offer fine depth. Playing in front are senior center Rodney Miller (7.2 PPG) and senior forward Sam (5.9 PPG). All in all, in 2020 -2021, the Hurricanes have a lot going for them.
8. Louisville
The Louisville Cardinals and coach Chris Mack are dealing with preseason injuries to forward Malik Williams and San Francisco grad transfer Charles Minlend, a guard. Williams, the top returning scorer and team captain, will be out at least 12 weeks and possibly the entire season. Minlend, who was a two-time All-WCC team member and who averaged 14.4 points, 4.7 rebounds and 1.8 assists per game, is out for six weeks with a knee injury. Consequently, even before a shot is taken, this team's projected fortunes have fallen. Plus, it doesn't help that the Cardinals see five starters and six of the team's top point makers leave.
Subsequently, that means that Radford transfer guard Carlik Jones (20 PPG) and sophomores David Johnson (6.3 PPG), a guard, and Samuell Williamson (4.4 PPG), a forward, must carry the Cardinals. An NBA-level player, Johnson is 210 pounds and 6-5. He's a physical point guard who can take it to the paint or set it up from outside. Williamson came to Louisville as a top recruit who possesses fine offensive skills. Although we think offense won't be an issue for these players, there is concern about their defensive prowess. Accordingly, the Cards may find it difficult to win a majority of their conference games. Ironically, last season, one of the high points for this team was defense. Unfortunately for Louisville, that will most likely not be the case this season.
9. Clemson
Head coach Brad Brownell loses top guard/forward Tevin Mack, while welcoming what many consider to be the Tigers' best freshman class. The group of recruits includes a triumvirate of four-star players. Those are steely guard P.J. Hall, 6-8 wing man Olivier Maxence-Prosper, and hulking center Lynn Kidd. Along with these fine recruits, Brownell sees three quality starters return. That group includes senior forward Aamir Simms (13.0 PPG, 7.2 RPG, 2.6 APG), sophomore guard Al-Amir Dawes (9.0 PPG, 2.5 APG), and junior guard John Newman III (9.5 PPG). Last season, the Tigers allowed just 64.1 PPG (37th Nationally, 3rd ACC), while they scored only 66.5 PPG (296th Nationally, 12th ACC). Our ACC basketball preview 2020 – 2021 finds that for this team to succeed, they must score a lot more. However, that looks to be a major problem.
10. North Carolina State
The Wolfpack loses their two best players. However, they see five players come back with each having had at least 15 starts last season. Head coach Kevin Keatts likes his teams to play an up-tempo game, and there's no need to expect that this version of NC State will slow down. As a result of his style of play, this team will score a decent number of points. However, at the same time, they will give up a good number of points.
Three seniors who understand Keatts' system will implement it with aplomb. Those are guard Devon Daniels, forward D.J. Funderburk, and guard Braxton Beverly. Together, last season, they averaged 32.6 PPG. Junior forward Jericole Hellems (9.5 PPG) and sophomore center Manny Bates (5.1 PPG, 5.5 RPG, 3.5 BPG) are major enforcers in the backcourt and frontcourt. Guard Thomas Allen (8.7 PPG, 2.o APG, 1.3 SPG, a junior transfer from Nebraska, could be a major two-way player for the Pack. This team has a lot of young talent. Consequently, the NC State Wolfpack are an up-and-coming team.
11. Notre Dame
Our ACC basketball preview 2020 – 2021 finds that the Fighting Irish come into this season seeing three starters depart. Those players were responsible for 34.7 PPG. But six experienced players come back, including junior guard Prentiss Hubb (12.1 PPG) and senior forward Juwan Durham (7.8 PPG). Both showed improved performance last year. As a result, they're expected to reach new levels this season. Junior guard Dane Goodwin, (10.8PPG) is another quality performer. Junior forward Nate Laszewski (7.4 PPG, 4.6 RPG) looks to go to the next level. Finally, Stanford transfer Cormac Ryan (8.7 PPG), a guard, offers some extra offense. Although the Irish look to be fairly sound, there is a big question concerning their rebounding, which was weak and in deficit last year. Thus, we ask can they upgrade their rebounding, which is essential for Notre Dame to move up in the ACC.
12. Virginia Tech
This is a team in a descending spiral. Head coach Mike Young came to the Hokies from Wofford last season. He found a weak and thin roster, which, amazingly, got off to a decent 14-5 start. After that, the wheels came off the bus and Virginia Tech finished the season at 16-16. Then, Hokie top-freshman Landers Nolley (15.5 PPG) left to seek his fortune with the Memphis Tigers. Three starters do return to the roster. Two of those starters, guards Tyrece Radford (10.2 PPG) and Nahiem Alleyne (8.8 PPG), were freshman last year. They proved to be overall solid. With a year of experience, they should be ready to get to the next level. Senior guard Wabissa Bede (5.2 PPG) will be an anchor for this team. Although the Hokies have added some transfers and a few decent freshmen, they will be severely challenged this season. A lack of depth in both the front and back will make winning difficult. Subsequently, they will finish near the bottom of the standings.
13. Pittsburgh
In his first two years as the head coach for the Panthers, Jeff Capel started to bring the team back. This is Capel's third year with Pitt. Remember, he had to deal with the damage former coach Kevin Stallings had inflicted on the team. Rebuilding does, after all, take time. Returning players include junior guard Xavier Johnson (11.7 PPG, 4.9 APG), sophomore forward Justin Champagnie (12.7 PPG, 7.0 RPG), and junior forward Au'Diese Toney (9.5 PPG, 4.8 RPG). The Panthers could use Miami (Ohio) transfer Nike Sibande, who could really have a positive impact on this team. However, the NCAA has ruled that Sibande is ineligible for this season. The Panthers were 6-14 in the ACC last season. That was good enough for a three-way tie for last with North Carolina and Wake Forest. However, this team looks better than last year's club. Accordingly, they should do a tad better this season.
14. Boston College
This ACC basketball preview 2020 – 2021 finds that Eagles' head coach Jim Christian cannot seem to get this team together. This season, he starts his seventh year at the helm of the Boston College Eagles, and yet his best conference record over a half-dozen years is 7-11. If it were not for the pandemic, Christian probably would have been let go at the end of last season. This could be another year of what has been a losing venture. There is some good news. That news is that guard Wynston Tabbs, who as a freshman in 2018–19 averaged 13.9 PPG, looks to be ready to take the court again. Due to injury last year, Tabbs missed all of the 2019 – 2020 season. Providence transfer Makai Ashton-Langford offers support. The guard could help upgrade this team's shooting and defense. Forward Steffon Mitchell has double-double potential. Still, Boston College will struggle this season. They are a long way from being a competitive team.
15. Wake Forest
The last time that the Demon Deacons posted a winning ACC mark was 2009 – 2010 when they were 9-7. That season, that record was good enough for a tie for fifth. Head coach Steve Forbes comes in to replace coach Danny Manning. In six years as the Wake Forest head coach, the best Manning did in the ACC was 9-9, and his best overall record was 19-14. Both of those marks were recorded in the 2016 – 2017 season. That was the season that the Demon Deacons had their best finish under Manning, which was 10th. Former East Tennessee coach Forbes arrives in an attempt to get this team back on track. This will be a major rebuilding year for the Demon Deacons. They are very lacking. Accordingly, the best teacher will be the experience the team garners throughout the season. Subsequently, it will be interesting to see what this team looks like at the end of the 2020 -2021 season, and also what they will look like next year after Forbes secures some new recruits. Accordingly, three to five wins are possible this year.
ACC Basketball Preview 2020 – 2021 – Final Word
Our ACC basketball preview 2020 – 2021 does project the Virginia Cavaliers as winning the regular-season title. Additionally, the UNC Tar Heels, Duke Blue Devils, and Florida State Seminoles will be in the battle for the top spot. Plus, we find that the Georgia Tech Yellow Jackets and Syracuse Orange could be dark horses, or, at the very least, spoilers.
However, in the end, we do think that the Virginia Cavaliers will win the Atlantic Coast Conference. Also, we've determined that the Cavs have a very good shot at making it to the Final Four, and that they could even end up in the championship game. However, there's a lot of college basketball to play until March Madness unfolds and a new men's college basketball champion is crowned. Follow this link back to our NCAAM homepage.