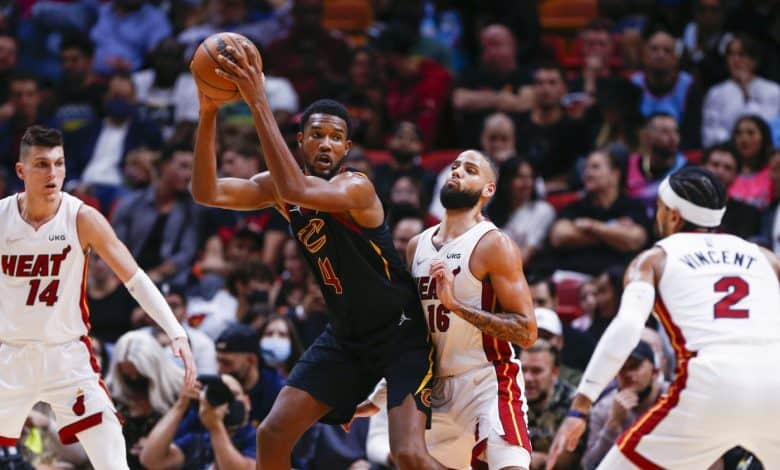 Cleveland is a -5.5 favorite in the December 13th Heat at Cavs matchup. Part of that has to do with the Cavaliers playing much better as of late and being at home, but Miami is also very shorthanded as they continue to be without Jimmy Butler (tailbone) and Bam Adebayo (thumb) among others.
The Cavaliers do come into this game on a three game win streak, each one by 14 points or more. Cleveland has scored at least 115 points in each of those wins, but Miami has held four of their last five opponents to 105 points or less. Oddsmakers are expecting more of a low scoring affair, with the betting total just 208 points.
Who Steps Up for Miami?
Jimmy Butler has played just one game in December, a 105-90 loss to Memphis on the 6th. Bam Adebayo has been out since November 29th as well so that's a combined 41.5 points/game out of the lineup. The Heat have still managed to go 3-2 in the games that both Butler and Adebayo have missed.
Even with the injuries, +5.5 points still seems like a lot for Miami to be giving on the road in the December 13th Heat at Cavs matchup. Miami has won two in a row, including 113-104 over the Bucks as +6.5 underdogs and 118-92 vs. a depleted Bulls team on Saturday night.
Caleb Martin picked up the slack in Wednesday's 113-104 win over Miami, scoring a season high 28 points. Just his luck he had to check into COVID protocols and missed Saturday's 26 point win over the Bulls, who have 9-10 of their own guys out right now. Duncan Robinson finally found his shooting stroke going 9 for 13 en route to 26 points vs. Chicago.
Can Cleveland Pull Out the -5.5?
Kyle Lowry also has 13+ assists the last two games for Miami and Dewayne Dedmon had 20/12 vs. the Bulls so this team still has some talent to contend with. Cleveland is clicking in their own rights though with a 115-92 victory over Chicago, beating the T'Wolves 123-106, and most recently taking down Sacramento 117-103 on Saturday.
Darius Garland continues on his path towards an all-star berth as 12+ assists in the last two games. Jarrett Allen has double digit rebounds in 9 of the last 10, Evan Mobley had 15/15 vs. the Kings on Saturday and Kevin Love contributed 18 points and 13 rebounds against his old squad Minnesota last Friday.
The Cavs were playing on leg two of the back to back on Saturday night and still pulled out the 117-103 win to cover the -6.5 spread. Seven Cleveland players scored in double figures in that game which is the type of depth that makes them a very appealing play against a shorthanded Miami squad.
December 13th Heat at Cavs Pick
Cleveland has covered the spread in 11 straight games so they've been a pretty profitable follow lately. 76% of the public are jumping back on that bandwagon on Monday night but there's something that feels off about this game. The Heat are very depleted, but also still have a lot of talent in that lineup, including Tyler Herro coming off the bench. Maybe Cleveland gets the W, but that's just too many people on a big Cavs win.
Heat 104 – Cavs 106
Free Pick: Heat +5.5