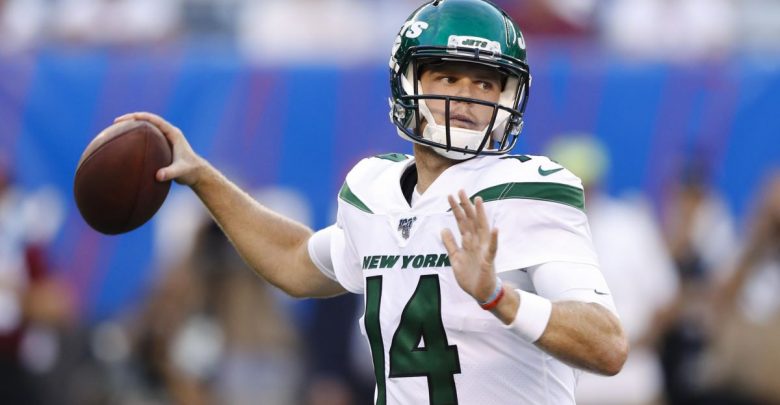 Week 2 of the preseason is set to begin on Thursday night, and there are five games on the schedule. The Atlanta Falcons will host the New York Jets in one of these games, and each team is looking for their first victory. Both the Falcons and Jets missed out on the playoffs a season ago, but there is reason to believe that both teams will be better in 2019.
Atlanta will actually be playing their third preseason game on Thursday night, after taking on the Denver Broncos in the Hall of Fame Game. The Falcons lost that game by a score of 14-10, then suffered a 34-27 defeat at the hands of the Miami Dolphins. The Jets did some nice things in their preseason opener but were unable to beat their rivals. The Jets suffered a 31-22 defeat at the hands of the New York Giants in Week 1. Atlanta is a 1.5-point home favorite over the New York Jets on Thursday night.
Falcons Struggling in All Areas
The Atlanta Falcons have been resting many of their starters so far in the preseason, and lack of depth appears to be an issue. The Falcons were a mess on offense in Week 1, and then their defense let them down in a big way a week ago. Atlanta should have a dominant offense in the regular season, but playing without Matt Ryan, Julio Jones, and Tevin Coleman doesn't help in this game.
Kurt Benkert and Matt Schaub appear to be in a tight battle for the backup quarterback job. Each player has thrown for around 180 yards so far in the preseason, but neither quarterback has completed more than 55 percent of his passes. Brian Hill is leading the team with 80 rushing yards through two games, but the Falcons are still looking to find more balance on offense.
Jets Need to Play Some Defense
The New York Jets are supposed to have a talented defense this season, but that wasn't evident in the Week 1 loss to the New York Giants. The Jets gave up more than 420 yards of total offense in that game, and their secondary got torched. New York is fortunate that Matt Ryan is sitting this game out, but the Jets' defensive backs are still going to have to play much better in this game.
New York played four different quarterbacks in its Week 1 loss, and the same might be true in this game. Sam Darnold went 4 for 5 in his one series of work, and Trevor Semian was sharp as well. The Jets did have close to 300 yards of offense in that loss, but their defense let them down. Look for the Jets to have another solid offensive performance in this game.
Falcons Get First Preseason Win
The Atlanta Falcons are way more talented than the New York Jets, and that should be enough to win them this game. Neither team has been very impressive so far in the preseason, but this should be a chance for each team to show some improvements. There should be plenty of points scored in this game, and that plays into the Falcons' hands. Bet the Atlanta Falcons -1.5 over the New York Jets.